Government leaders could soon begin seeking consultations from young men and women on key government policies.
Kigali Global Shapers – a World Economic Forum (WEF) backed program is mentoring more than 20 young Rwandans to equip them with skills to understand policies that affect the public.
The trainees have acquired skills enabling them to bring in top government leaders and heads of private sector institutions to a round table to discuss with young Rwandan several issues affecting lives of the community.
"We don't organize these dialogues for just talks…we make sure we take action as well," Martha Mwiza Global shapers head-Rwanda chapter told KT Press.
One of the flagship programs, according to Global shapers head-Rwanda chapter, Mwiza, is to create different initiatives such as dialogues on issues affecting the community.
According to Mwiza, the program empowers the youth through spreading ideas, engaging in dialogue with top leaders in a cross-mentoring talks.
These youth also established 'Twumve twumve' a platform through which they have dialogue.
"Twumve, Twumve is based on the premise of youth listening to role models, and being listened to in return," Mwiza told KT Press.
Global shapers is a community of hubs established in Cities all over the world. In Rwanda, the community was established in 2012. Several youth engage in direct talks with top government officials, policy makers and role models on different issues affecting the nation.
"We host this dialogue on a monthly basis and invite key players in the society, government leaders and different people who are part of relevant institutions. We create this for young people to come and ask leaders different questions and this does not stop here. We also provide tangible solutions to some of these problems," Mwiza told KT Press.
Since the community was launched in Rwanda, Mwiza says it has brought to discussions leaders like the former Chairperson of the African Union Dr. Nkosazana Dlamin Zuma, former African Development Bank President Donald Kaberuka; Rwanda Foreign Affairs Minister Louise Mushikiwabo, and other leaders.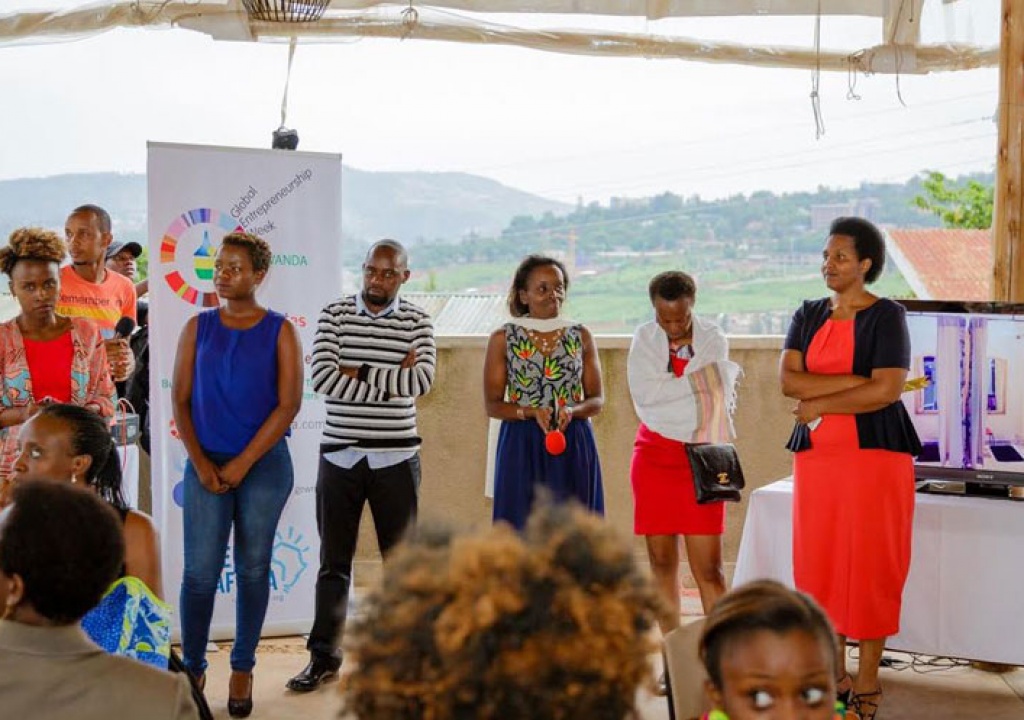 In several occasions, young Rwandans especially those completing high school and universities tend to have less knowledge of government policies until they join the workforce.
Juliana Kayibanda working at University of Tourism and Business (UTB) told KT Press that her University started partnering with Global shapers community.
"We have seen most of our students opening up eyes to the market. We release 1000 students every year from different courses and a bigger percentage of them have become entrepreneurs and others get employed before they even complete their studies," she said.
According to Mwiza, "We have decided to move our programs to the sector level launching discussions on role of youth in the country's vision 2050."
For example the government has set a target to create 1.5 million jobs.
"We have invited officials from the Ministry of youth and we challenge each other on how such a target can be achieved, "she said.
"Thousands of young Rwandans have attended these dialogues and results have been successful on both sides," Mwiza told KT Press.
According to World Employment and Social Outlook 2017 report by the International Labour Organisation (ILO), the global unemployment rate is expected to rise modestly in 2017, to 5.8% from 5.7% in 2016 – representing 3.4 million more unemployed people globally and bringing total unemployment to just over 201 million this year.
For Rwanda in particular, a report released by the National Institute of Statistics of Rwanda (NISR) puts unemployment rate 16.7%. Of this, the report says, Youth unemployment rate stands at 21%.
But Mwiza told KT Press that one of the key issues to be discussed during Global shapers dialogues is how young Rwandans can create their own jobs to reduce on the unemployment rate.
Ahead of the Global Entrepreneurship Week, set for 13-19 this month, Kigali Global shapers will be engaging youth and industrialists to discuss future entrepreneurship in Rwanda.