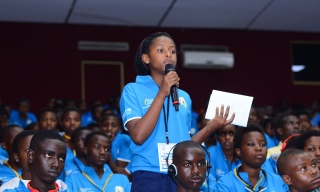 Rwandan children have requested government officials to tighten measures against irresponsible parents who fall short on positive parenting basics.
On Thursday, hundreds of children delegates had the opportunity to convey their message to decision makers including; Prime Minister Dr Edouard Ngirente, Ministers who have family promotion in their attribution and law enforcers including Rwanda National Police.
The children, clothed in blue t-shirts and dark blue trousers/skirts gathered at Rwanda Parliament with well-prepared speeches on the occasion of the 12th National Children Summit, an annual event.
"Many parents are really caring and we are very grateful for that. However, we are concerned about those parents who ignore basic principles of positive parenting. We would appreciate if government establishes laws that punish them," said Ange Karasira, one of child delegates.
The Prime Minister assured the children that his government will fight all forms of child abuse starting with teenage pregnancy, sexual abuse, forced labor which correlate with   school drop-out and drug abuse.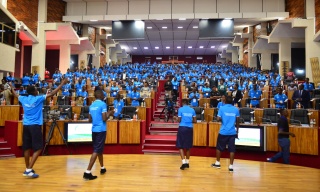 "We will spare no effort to protect our children, our future. All government officials and parents should promote positive parenting," he said.
"We cannot afford to see any of our child being deprived from adequate schooling, sufficient nutrition to raise strong children that can study and work efficiently to develop our country."
However, the Prime Minister also had a request to children; always be exemplary and adopt cleanness, obey parents and be polite children with Rwandan values.
The executive secretary of the National Children Council Ms Uwera Kanyamanza called parents to balance work and family duties.
The National Children's Summit was initiated in 2004. Ever since, the government committed to organize the summit on annual basis, and to provide an opportunity for dialogue amongst children, policy makers, government officials, civil society, and development partners.