President Paul Kagame's stance in support of women is not a recent phenomenon. The campaign for women rights and gender equality in Rwanda, on the continent and globally, is something he has been doing for years. We bring you a sample selection of the quotes Kagame has made on women over the past 15 years. Read below: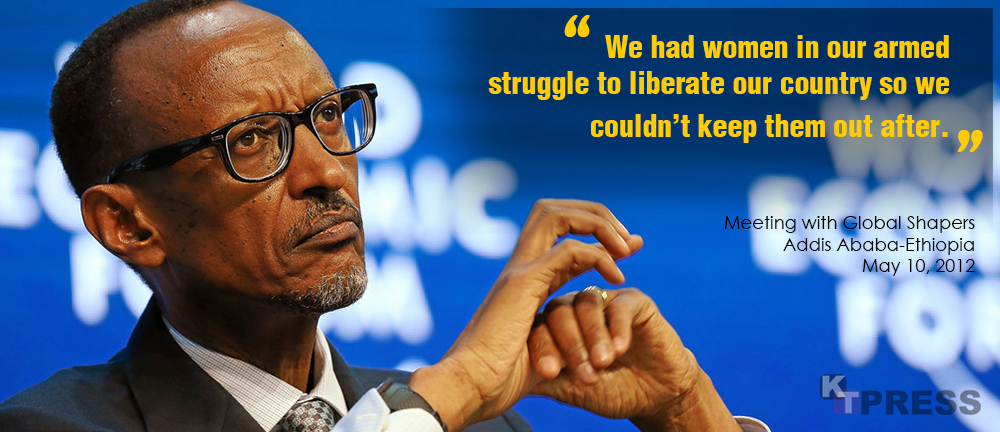 "We had women in our armed struggle to liberate our country so we couldn't keep them out after."
Meeting with Global Shapers
Addis Ababa-Ethiopia
May 10, 2012
---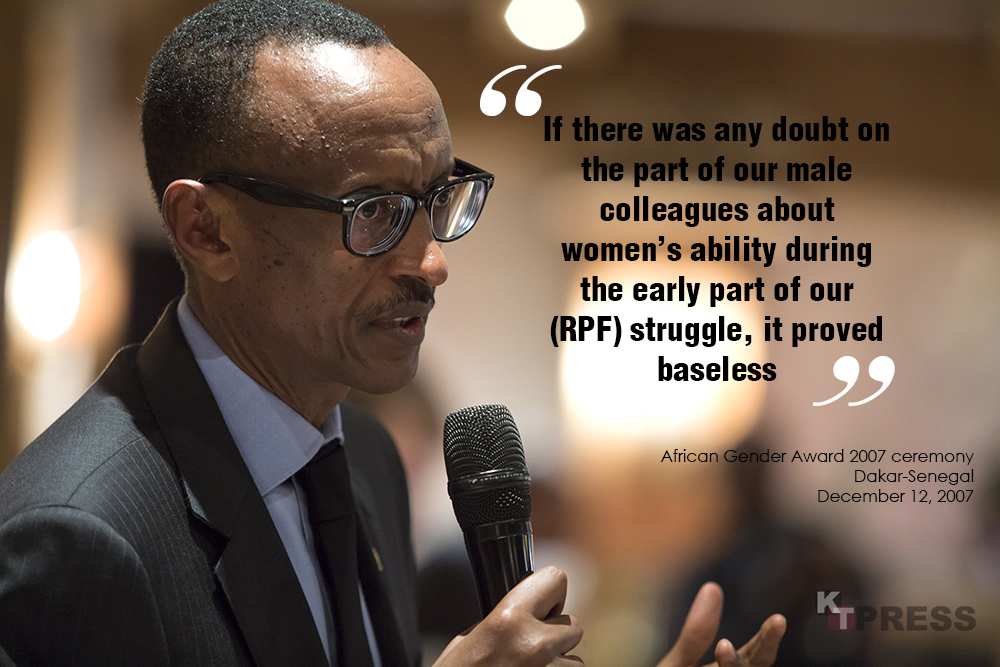 "If there was any doubt on the part of our male colleagues about women's ability during the early part of our (RPF) struggle, it proved baseless"
African Gender Award 2007 ceremony
Dakar-Senegal
December 12, 2007
---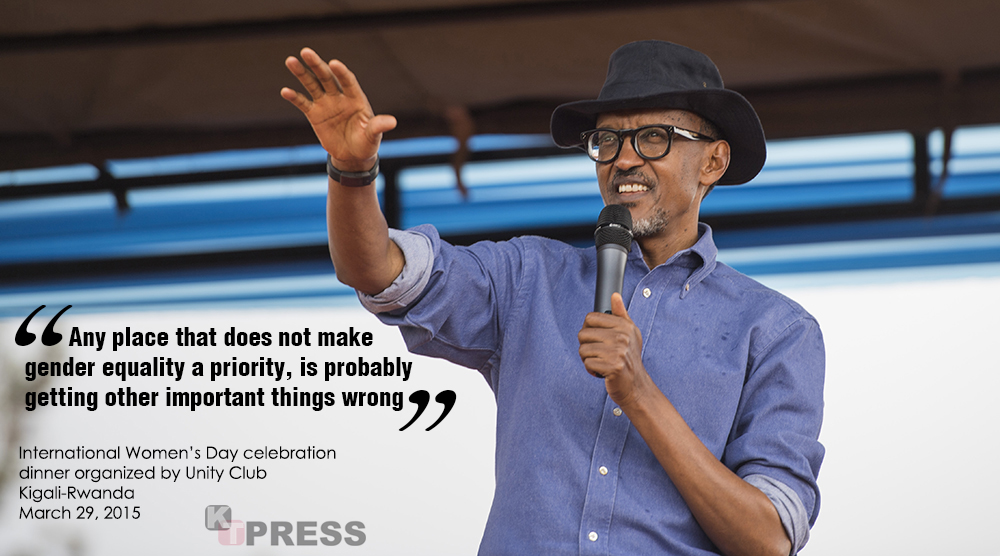 "Any place that does not make gender equality a priority, is probably getting other important things wrong too"
International Women's Day celebration dinner organized by Unity Club
Kigali-Rwanda
March 29, 2015
---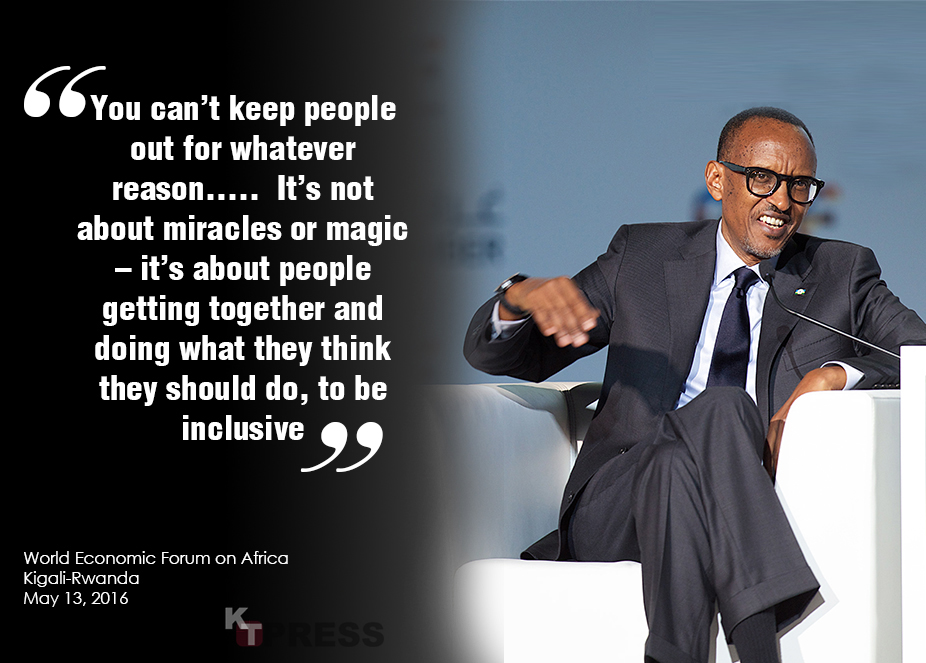 "You can't keep people out for whatever reason…..It's not about miracles or magic – it's about people getting together and doing what they think they should do, to be inclusive"
World Economic Forum on Africa
Kigali-Rwanda
May 13, 2016
---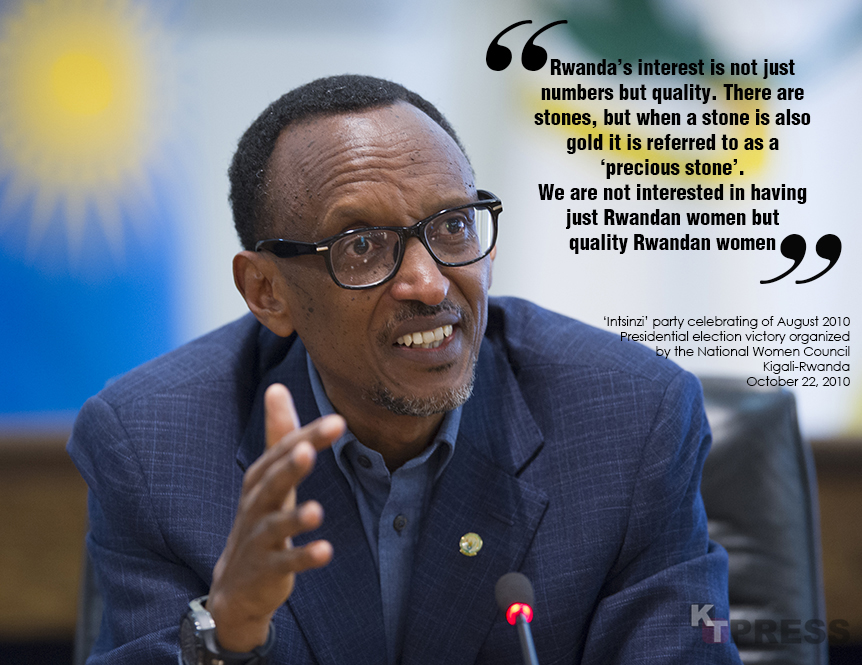 "Rwanda's interest is not just numbers but quality. There are stones, but when a stone is also gold it is referred to as a 'precious stone'. We are not interested in having just Rwandan women but quality Rwandan women,"
 'Intsinzi' party celebrating of August 2010 Presidential election victory organized by the National Women Council
Kigali-Rwanda
October 22, 2010
---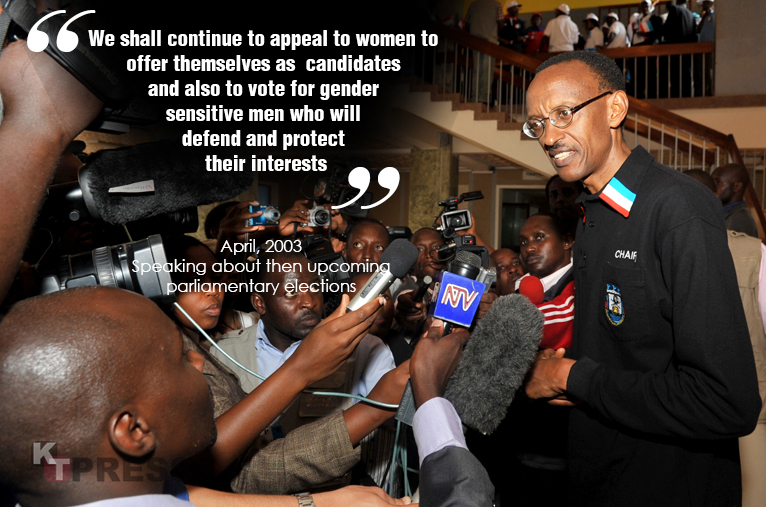 "We shall continue to appeal to women to offer themselves as candidates and also to vote for gender sensitive men who will defend and protect their interests."
April, 2003
Speaking about then upcoming parliamentary elections
---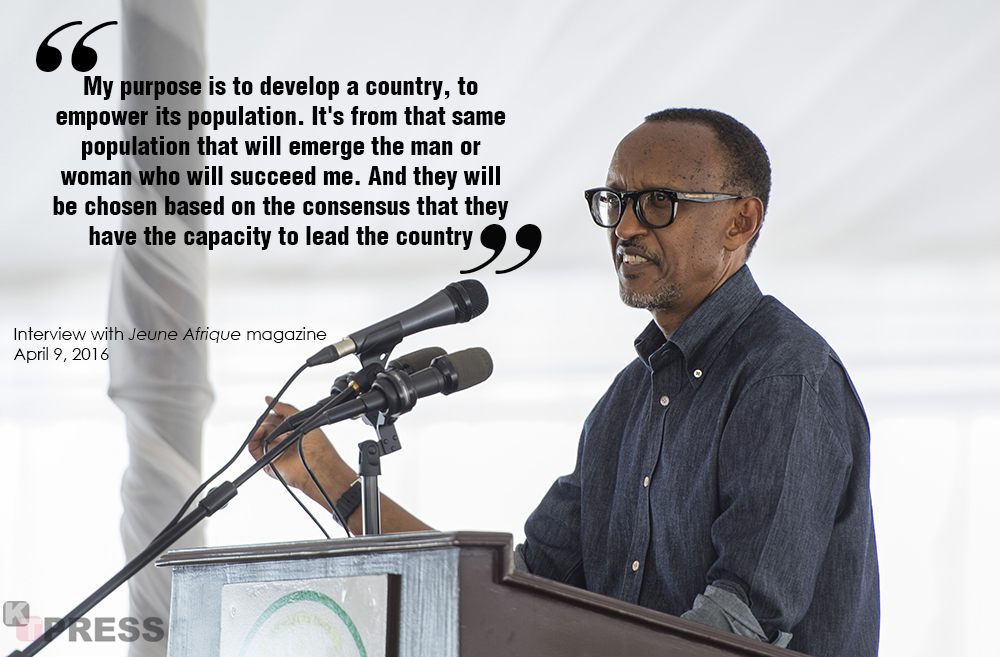 "My purpose is to develop a country, to empower its population. It's from that same population that will emerge the man or woman who will succeed me. And they will be chosen based on the consensus that they have the capacity to lead the country".
Interview with Jeune Afrique magazine
April 9, 2016
---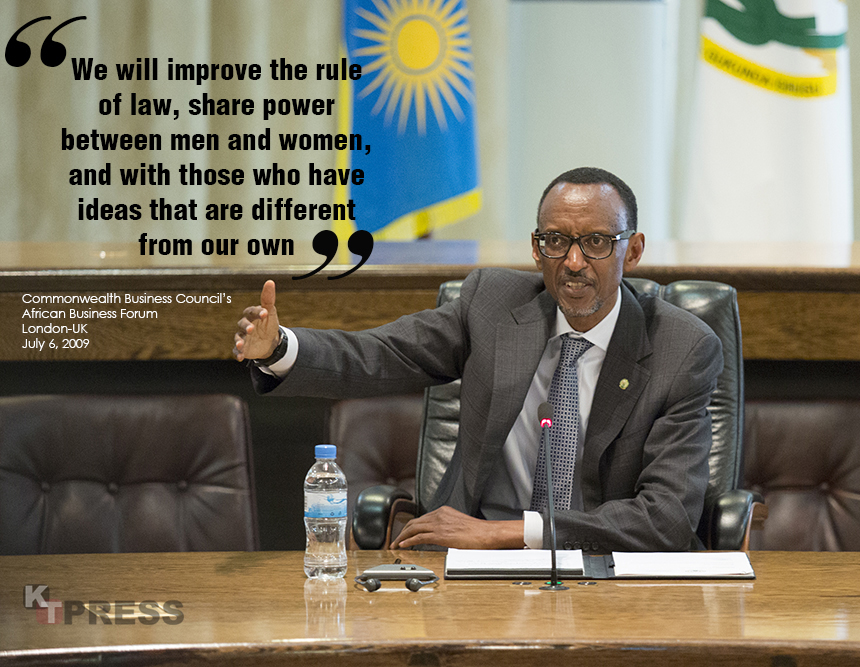 "We will improve the rule of law, share power between men and women, and with those who have ideas that are different from our own".
Commonwealth Business Council's African Business Forum
London-UK
July 6, 2009
---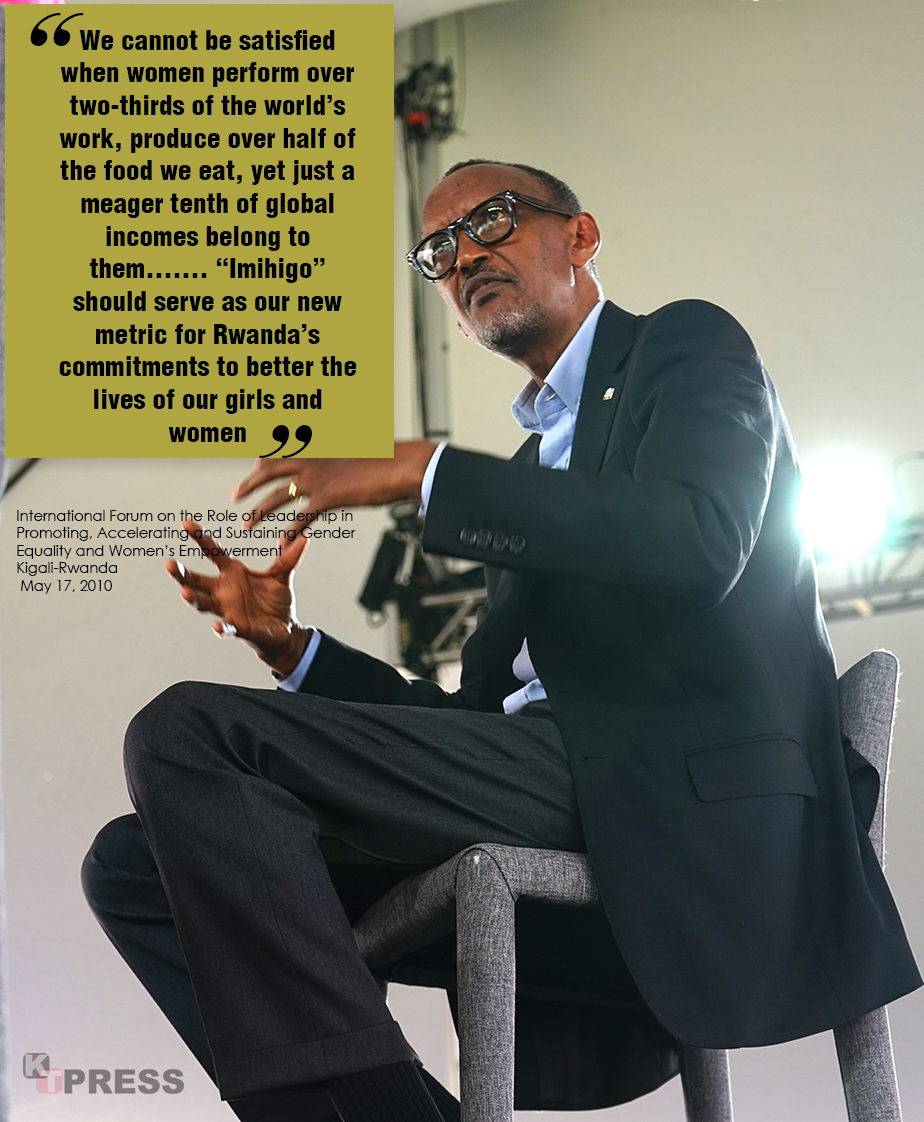 "We cannot be satisfied when women perform over two-thirds of the world's work, produce over half of the food we eat, yet just a meager tenth of global incomes belong to them……. "Imihigo" should serve as our new metric for Rwanda's commitments to better the lives of our girls and women".
International Forum on the Role of Leadership in Promoting, Accelerating and Sustaining Gender Equality and Women's Empowerment
Kigali-Rwanda
 May 17, 2010
---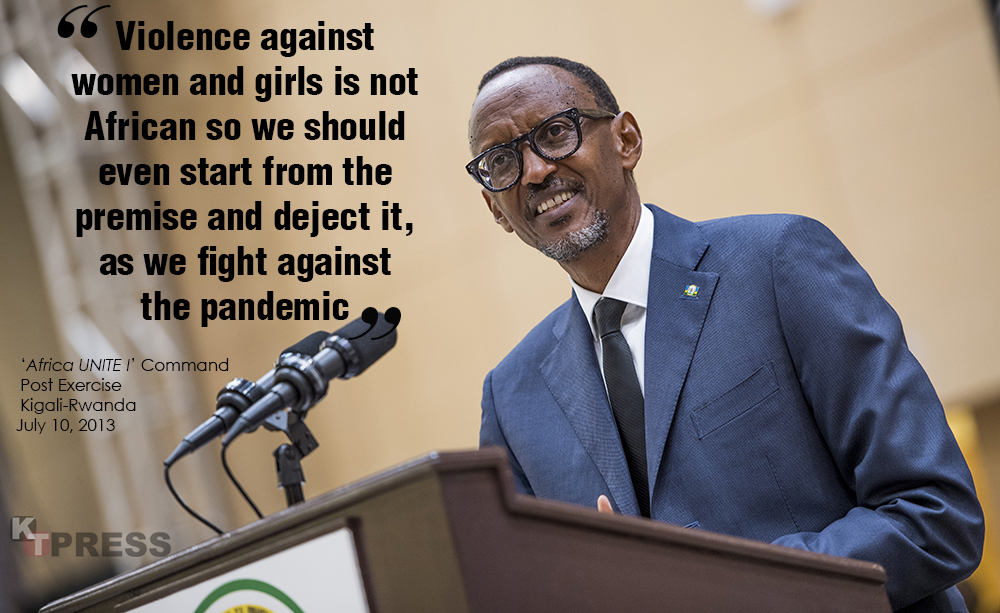 "Violence against women and girls is not African so we should even start from the premise and deject it, as we fight against the pandemic"
'Africa UNITE I' Command Post Exercise
Kigali-Rwanda
July 10, 2013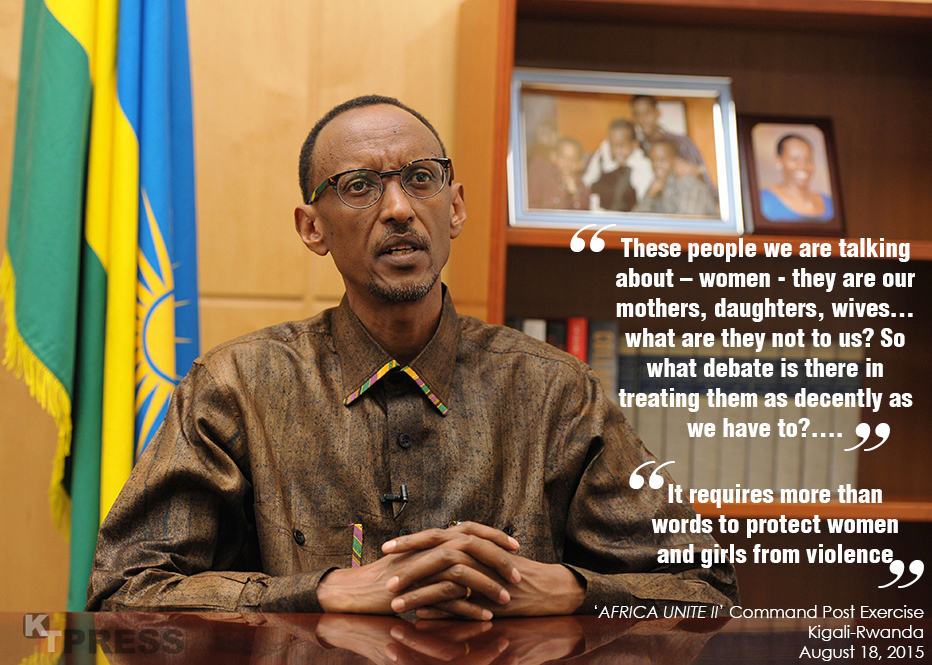 "These people we are talking about – women – they are our mothers, daughters, wives… what are they not to us? So what debate is there in treating them as decently as we have to?"
"It requires more than words to protect women and girls from violence."
'AFRICA UNITE II" Command Post Exercise
Kigali-Rwanda
August 18, 2015
---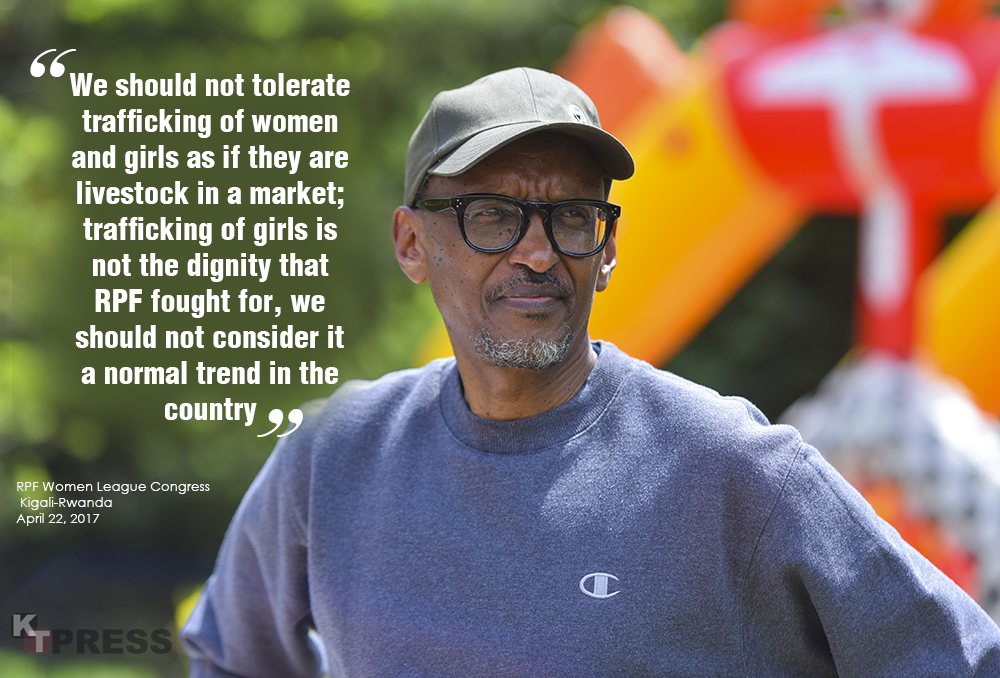 "We should not tolerate trafficking of women and girls as if they are livestock in a market; trafficking of girls is not the dignity that RPF fought for, we should not consider it a normal trend in the country"
RPF Women League Congress
Kigali-Rwanda
April 22, 2017
---
Project Compiled byJulius Rwakarema and Leonard Nshimiyimana