President Paul Kagame  has said that African countries have more issues to concentrate on within Africa than keep claiming for a permanent seat on the United Nations Security Council (UNSC) which they are not even sure if they will ever get.
Kagame who is current Chairman of the African Union (AU) said this during a joint press conference with his Zambian counterpart Edgar Lungu who concluded a 2-day state visit in Rwanda on Thursday.
President Kagame revealed that discussions on how the continent can get a permanent voice  in UNSC will go on during his AU chairmanship, but also insisted that African leaders have more things to concentrate on to bring Africa together and achieve more.
"It should have been the case but as we know things don't work the way we want. There are ongoing discussions as to how the council can be reformed and part of that being inclusion of the African voice," Kagame said reacting on Africa having a permanent seat on UN Security Council.
However, Kagame said Africa is permanently represented since African countries rotate in the UNSC, though the discussion continues to secure permanent seats.
"What is important is to know that certain seats are permanently for Africa and how to rotate them depends on us," Kagame said.
Kagame thinks that the issue of permanent seats should not be given more weight than a number of issues African leaders need to address together to achieve more, including unity, economic integration and mobility of good and people.
"My thinking is to do whatever is humanly possible together with other African leaders to bring progress and development on our continent," he said adding "I will really work with my brothers and sisters on the African continent to achieve what we can achieve."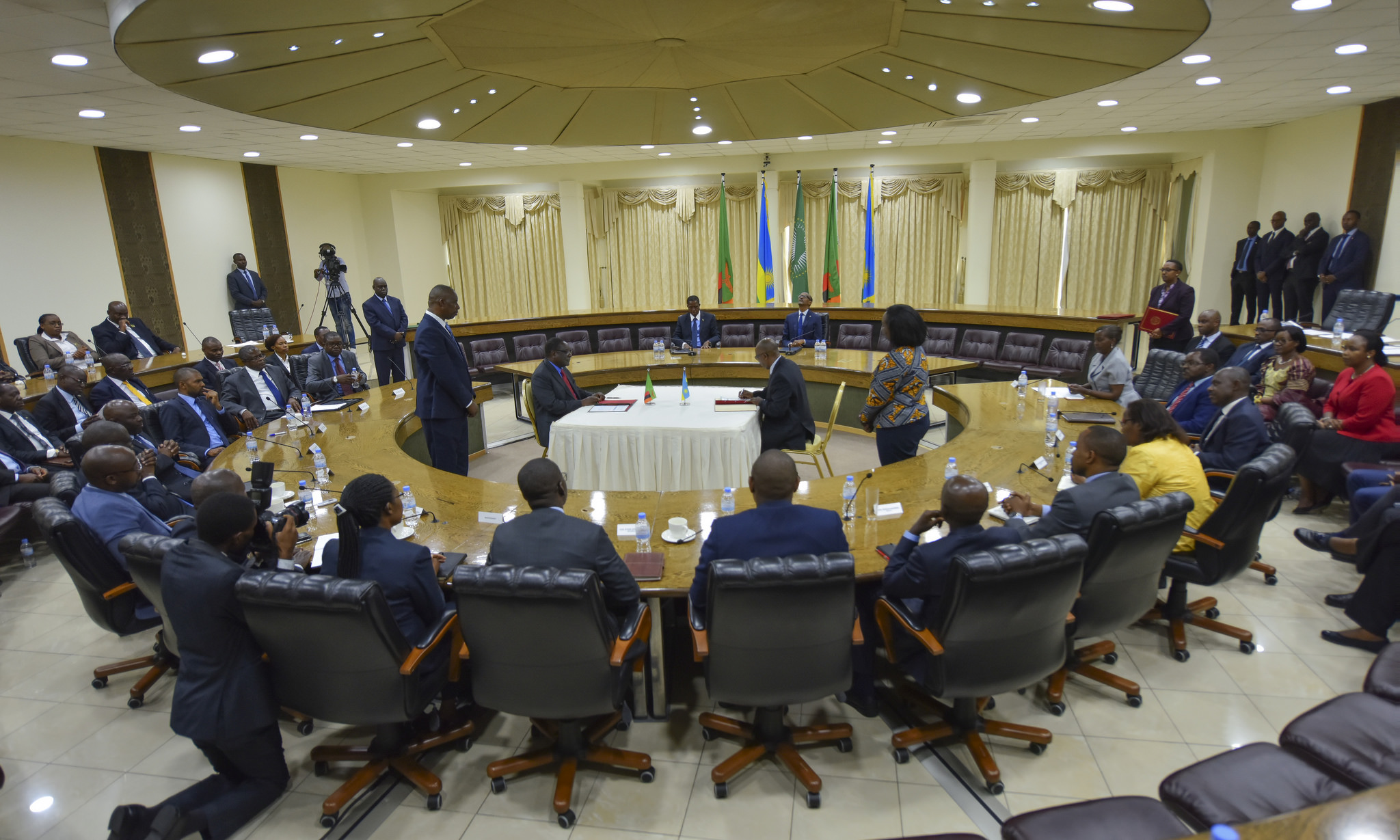 Both presidents commented on the issue of Rwandan refugees in Zambia.
President Kagame said that it is a matter of choice for those refugees whether to legally remain in Zambia or repatriate.
"The whole idea is not to make a refugee seat a permanent one. We can't keep producing and having refugees as an end in itself," he said.
Kagame also said that Rwanda has been in discussion with different countries and partners to implement the secession clause on Rwandan refugees.
He believes that "as long as the environment allows for this discussion to be properly managed, the refugee situation will get better with time."
Zambian President Edgar Lungu said that his country cooperated with the International Community to receive Rwandan refugees and to identify the fugitives who were allegedly involved in the 1994 Genocide against Tutsi, and took them to ICTR in Arusha.
"We will not allow the situation where we have permanent refugees in Zambia, whether they are fugitives who are running away from their victims or they were perpetrators," he said.
"I think the bottom line is we have to put a closure to this chapter."
Among the questions raised was also the reluctance of a number of African countries to adopt the 0.2% levy, which so far has been adopted by only 21 AU member countries.
"More countries have intention to start using the formula. Some people are not clear on what this implies; a lot of effort has been put into trying to explain this," Kagame said with an optimistic view that 21 countries is not a bad number to begin with.
President Kagame was in 2016 tasked by the African Union General Assembly, to propose the union reforms that would help its auto financing.
The president, together with a team of experts he formed for the task proposed that as a starting point, every country should contribute 0.2 % of its import levy.
Kagame acknowledged that they have the task to explain, show the origin, the need and the actual possibility of achieving other goals that are important to Africa.
"Accountability process will have to be put in place so that Africa can move forward and stop being dragged back" he said adding that "We are so behind as a continent and it's a shame that Africa has everything it needs to be where we want to be but we are still far from achieving that."
President Lungu and his delegation concluded their visit on Thursday. He was accompanied by his counterpart Kagame to Kigali international airport in the afternoon.