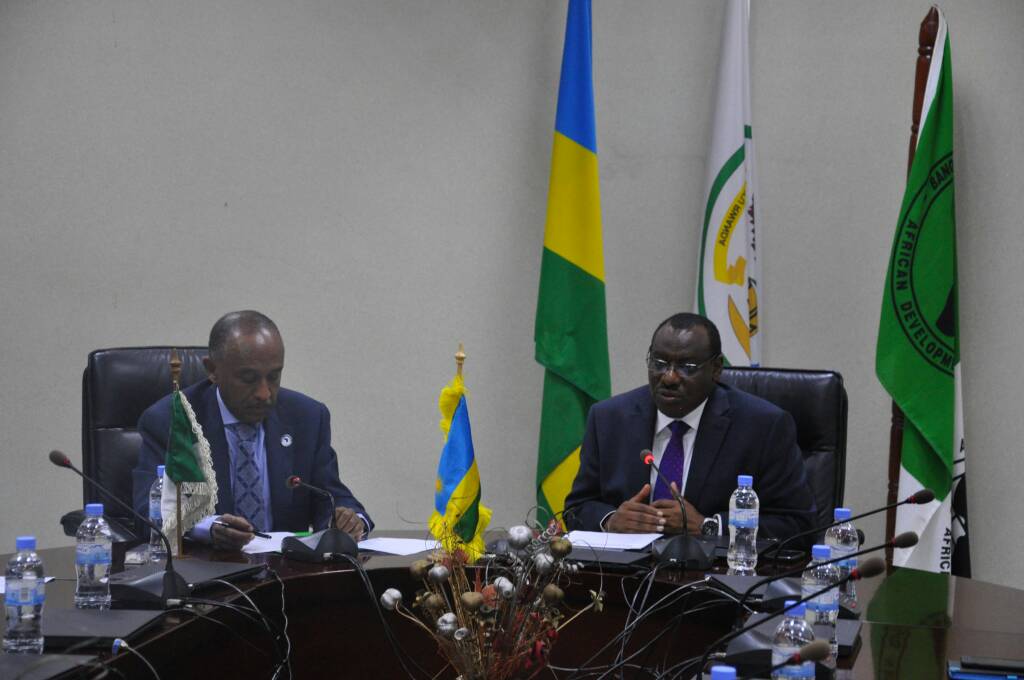 Minister Claver Gatete and AfDB Director of Private sector Abdu Mukhatar at the signing ceremony.
The African Development Bank (AfDB) has committed a $30 million loan to support the establishment of Rwanda Innovation Fund (RIF).
RIF is meant to cater for scientific innovation development, a necessary tool for the country's development. It is one of of the outcomes of the international scientific conference that was concluded in Kigali last week.
The conference found this fund as a necessity for the country to achieve innovative projects that are needed in the area of Science, Technology and Innovation, key tools to bring the Millennium Development Goals to a success.
AfDB fund will also finance small and Medium-size enterprises, train technology-oriented enterprises in business planning and management and develop world-class innovative business in Rwanda.
Minister of Finance and Economic Planning (MINECOFIN) Claver Gatete and Director of Private Sector at AfDB Abdu Mukhtar led the signing of the landmark loan agreement at the Ministry Headquarters on Thursday.
"The innovation fund will be an important aspect in developing Rwanda's financial and technology sectors," Minister Gatete said.
Gatete further said that this is in line with Rwanda's vision as the innovation and financial hub.
"The project is a strategic National importance to Rwanda as the country that seeks to open its fast growing innovation economy and promote private sector" Gatete said during the signing.
The Director at the Bank's Private sector, Mukhtar said that "by extending this loan to the Rwandan government, it will help in developing private sector and attract investors."
"The project will further enable AfDB to play a leading role in helping regional Member countries to develop sustainable innovation Ecosystems and spur entrepreneur growth".
Mukhtar noted that addressing funding gaps, reducing poverty and promoting social-economic growth will also be among the other key aspects to be done.
According to AfDB, the project is expected to support over 150 companies at various stages, investing in about 20 early growth stage opportunities and creating more than 2,000 direct jobs and 6,000 indirect jobs in a period of 10 years.
Meanwhile under the division of labor AfDB supports Rwanda in other areas including; Private Sector development, Transport, water and sanitation, energy and agriculture.