In 2016 when Daniel Habanabakize 25, completed his high school studies in automobile mechanics, he swore not to look for jobs but rather invest his energy and knowledge in finding solutions to his neighbours' problems.
Resident of Mimuli Sector, Nyagatare District, Habanabakize was touched by a section of people living with disability in his village.
Habanabakize lives near Mirama II settlement – a village of ex-combatants who were injured during the Rwanda liberation struggle.
More than 30 ex-combatants in this settlement live with disabilities especially to do with mobility.
"After realizing that we have many people with mobility impairment, I thought of my contribution to alleviate their suffering and enable them to enjoy their lives and I came up with the idea of making wheelchairs," Habanabakize told KT Press.
For making a wheelchair, Habanabakize uses spare parts of a regular bicycle which is customized according to the client's needs.
Usually, wheelchairs are imported to Rwanda but Habanabakize says that after one year observing and having conversations with disabled people, he realized that imported wheelchairs do not fit beneficiaries' health and geographic conditions.
"Wheelchairs they were using are produced for paved streets and walkways, and you can hardly find their spare parts in Rwanda," he said.
"Before making a wheelchair I first visit the client's home and neighbourhood so that I make a product that would really serve them effectively.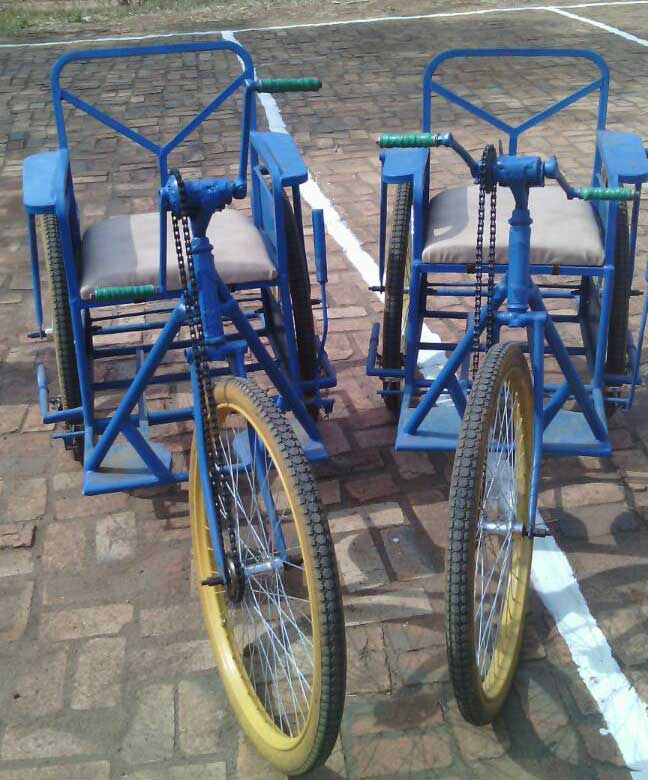 Habanabakize makes between 3 and 5 wheelchairs a month, but his production depends on the orders made by his clients.
"I can do more, but I am limited by my clients' purchasing power which is still low,"Habanabakize told KT Press.
His price ranges between Rwf80,000 and Rwf150,000 compared to the imported wheelchairs which go up to Rwf300,000.
Habanabakize has so far sold 60 wheelchairs to his Gatsibo and Nyagatare clients since 2017 when he started, but his vision is to expand to the regional level as his financial capacity increases.
"We really appreciate Habanabakize's contribution. His wheelchairs are affordable and still good quality," Jean Damascene Habanabakize, President of the people with disability in Mimuli Sector.
"We call upon charity organizations working with disabled people to also consider these locally made wheelchairs."