With less than 24 hours to the historic signing of the Africa Continental Free Trade Area agreement, President Paul Kagame has alerted Africans to get prepared for more challenges that will follow the signing.
President Kagame, who is also the chairman of the African Union, believes that the signing is a big milestone and a sign of change.
He, however, said while participating on a panel during the African Continental Free Trade Area Business Forum on "Leveraging the Power of Business to Drive Africa's Integration", that he is not satisfied with the pace at which 'change' is happening on the continent.
"Change is happening, but it is happening slowly," Kagame told participants gathered at Radisson Blu and Convention Centre.
He also said that there is still lack of political will by some African member states to support a common African integration and development.
A case is some countries that have expressed slow or no willingness to sign the continental Free Trade Area Agreement – citing invisible excuses.
"After it is signed, there will still be challenges," Kagame said.
"Any concerns or technical issues that remain should be addressed fairly, but also expeditiously."
Kagame stressed that work on some additional protocols and annexes will also continue, but reminded that "Once again, the full engagement of the private sector will be absolutely essential."
While some member states may remain adamant to sign the agreement while others put in place invisible barriers, former Nigerian President Olusegun Obasanjo issued a warning and said, "Countries should bear in mind that not supporting this agreement is criminal."
For several decades, African leaders have been putting to papers several projects that would drive the continent to greater heights.
However, most of them have remained on paper – or died in the middle of implementation.
To add on former President Obasanjo, former Africa Development Bank President and African Union high representative for Financing of the union and the peace fund, Dr. Donald Kaberuka, said the signing "is a great day for Africa and whoever has reservations about signing the agreement is a big disappointment to the continent."
To breakdown such bottlenecks, President Kagame outlined three key tasks ahead the Continental Free Trade Area signing.
"Let's now raise our ambitions even higher. Success on free trade shows that we are capable of achieving much more together. This is not the time to sit back and relax."
Kagame said that the right place to start is moving rapidly to accomplish the other flagship projects in the first Ten-Year Implementation Plan of the African Union's Agenda 2063.
On his second task, Kagame said that the agreement needs to be ratified by Member States and that the speed at which this occurs depends on them.
"Let's do our part to communicate the rationale and the urgency of the Continental Free Trade Area to our parliamentarians, civil society organisations, and chambers of commerce, as well as to the media," he said.
Thirdly, President Kagame said that the implementation of the Free Trade Area will mean reform of procedures and rules at the national level.
He however warned that: "This won't happen overnight. It will be a process requiring dialogue and flexibility."
His counterpart President Mahamadou Issoufou of Niger, who led a team that worked on the Continental Free Trade Area document, said that heads of state will sign four agreements; including African Continental Free Trade Area, 2 protocols on trade of goods and services respectively and a protocol on solving conflicts.
"But after the signature, it will not be job all done; we have appendixes and annexes to work on," President Issoufou said.
In this context, President Issoufou said that they have scheduled a meeting of negotiators which will bring together signatories to take a step further, leading to the execution of the free trade agreement.
A permanent secretariat will also be put in place. In the second phase for the countries in the agreement to start negotiating investment flows.
All these activities will also go together with a campaign across African countries encouraging communities to own the free trade agreement.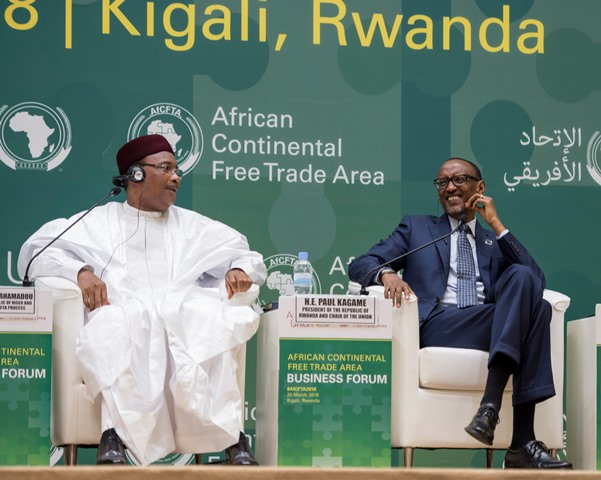 Moussa Faki Mahamat, the Chairperson of the African Union Commission, said that: "Africa has, for the last 55 years politically united, but this is not enough. Commerce has always united communities. It is time we also have it."
He said the national administration – fiscal, border infrastructures should be put in place.
Still 'Harsh' to do Business in Africa
For this Continental Free Trade Area to fully come into effect, both President Kagame and other speakers agreed that only private sector can make this happen.
However, Strive Masiyiwa – Chairman of Econet Wireless – a diversified telecommunications group with operations and investments in Africa, Europe, South America and the East Asia, shocked participants when he revealed to them the feedback from investors within and outside Africa.
"I speak to fellow investors in Africa and those abroad. They say it is still hard to do business in Africa," Masiyiwa said.
According to Masiyiwa, Africa's Growth Domestic Product (GDP) is nearly $3.3 trillion – just the size of India.
 "We need to ratify Africa Continental Free Trade Area quickly and make it really benefit business. We want one $3 trillion African market. We want to move our people. We want to trade our goods across Africa freely," said Masiyiwa.
But is Africa ready for this movement? The biggest question is whether Africa is 'fully' ready to speed up the implementation of this trade agreement.
Dr. Vera Songwe, the Executive Secretary of the United Nations Economic Commission for Africa (UNECA) said that her office had made an index that highlights what needs to be done for the agreement to be fully implemented.
For instance, by giving some numbers, Dr. Songwe said that in 2025, the African market will be $3.6 trillion. Of this, the continent will have $2.2 trillion worth Business-to-business.
"For business to business to work, we are creating supply chain which means basically that you have to start trading across borders on the continent to build the kinds of African conglomerates that we need to power the continent," said Dr. Songwe.
According to Dr. Songwe, looking at how Africans are doing business-to-business, "We are not doing so well. Most of our big businesses actually import their inputs from out of the continent because of the time it takes to bring in goods onto the continent."
UNECA is doing 'African Country Business Index' and according to Dr. Songwe, after the signing of the Continental Free Trade Area, the first index that we will be measuring is the implementation, the national strategies on how countries implement the CFTA, easing trade in Africa by looking at what kind of cross-border logistics are needed, among others.
Meanwhile, Kagame reminded participants that "The Africa we want is clearly visible on the horizon. And today, more than ever before, so too is the road we will travel together to get there."