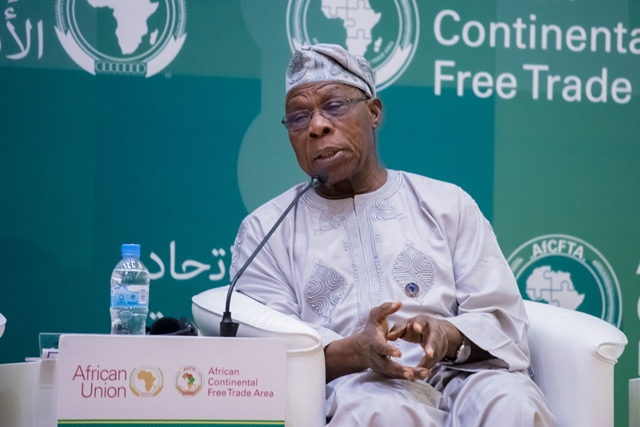 Former Nigerian President Olusegun Obasanjo has said that he finds it "criminal" for some African leaders to doubt the benefits of African Continental Free Trade Area.
Tomorrow, March 21, will mark the historic signing of the much anticipated Continental Free Trade Area (CFTA) – an agreement that seeks to create one market for Africa's 1.2 billion people.
By signing and ratifying the CFTA, African leaders would be entering a new phase to make the continent a global player while promoting its economic interests as one, through a single African market.
Several African leaders have already arrived in Rwanda's capital Kigali for the signing of the agreement tomorrow. However, some such as Nigeria's President Muhammadu Buhari have cancelled trip to Kigali while others are still adamant to sign.
Former President Obasanjo who attended todays CFTA Business forum on "Leveraging the Power of Business to Drive Africa's Integration", said: "I am surprised that any African leader at this time would be doubting or debating the benefits of what is going to be signed here and fail to show up. I find it criminal," Obasanjo said.
Former African Development Bank President Donald Kaberuka who also attended the forum, said it is disappointing for leaders to boycott such a big day.
"This is a great day for Africa and whoever has reservations about signing the Africa Continental Free Trade Area is a big disappointment to the continent," he said.
By this afternoon, Presidents of South Africa, Niger, Kenya, Zimbabwe, Central African Republic, Zimbabwe, Prime Minister of Morocco as well as Vice President of Seychelles had arrived in Rwanda ahead of the signing.