President Paul Kagame has hailed Ellen DeGeneres – American TV personality for her new initiative to promote gorilla conservation.
The President, who tweeted his picture with daughter Ange Kagame, and another with Ellen DeGeneres and partner Portia de Rossi, said he was impressed the gorilla population has significantly grown in the last eight years.
"Encouraging to see the mountain gorilla population in the Virungas has grown 25% in the last eight years.
Conservation efforts must continue. Thank you @TheEllenShow & Portia for coming to Rwanda & getting involved," Kagame tweeted.
Mountain gorilla population has risen above 1,000 – representing a 25% growth since 2010, according to latest census.
The survey found the population in Rwanda's Volcanoes National Parks has risen to 604, in 41 social groups, compared to the 480 individuals counted in the last survey in 2010, with 400 more living in Uganda's Bwindi Impenetrable national park.
The population growth in Rwanda's mountain gorillas have been triggered by the country's efforts on conservation.
In the picture, President Kagame and his daughter wore T-shirts that promote Ellen DeGeneres Wildlife Fund.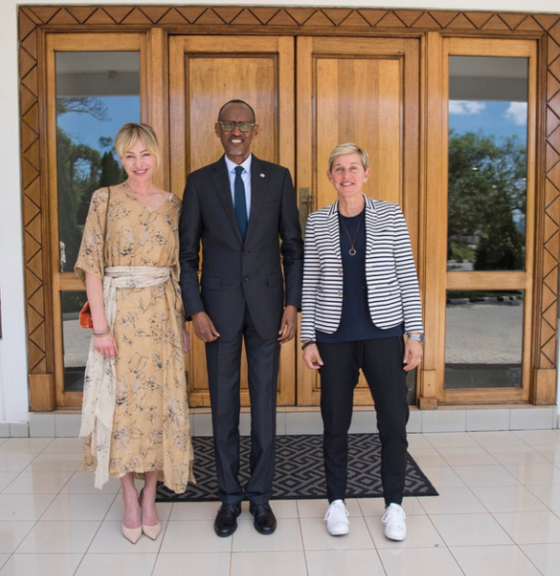 On Tuesday this week, Ellen DeGeneres who launched the fund was hosted by President Paul Kagame at his office in Village Urugwiro.
Recently, Ellen turned 60 and partner Portia de Rossi gave her a present on air in February, despite having almost entirely lost her voice.
Inspired by Ellen's personal hero Dian Fossey, de Rossi gave her a gift to set up a fund and campus in Ellen DeGeneres' name at the Dian Fossey Gorilla Fund in Rwanda.
The $10 million will be up and running in the next two years, according to Tara Stinski – President and Chief Executive Officer at the Dian Fossey Gorilla Fund.
"I love animals, and I want to protect them, especially when they're endangered. We need these incredible creatures and they need our love and compassion to help save them," says Ellen DeGeneres.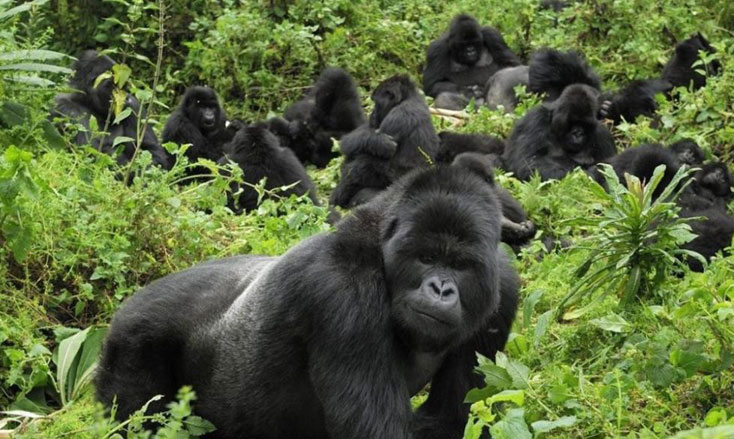 Rwanda's Volcanoes National Park rakes in more than 90% of all revenues generated from the parks.
Twelve families of mountain gorillas that roam the vast volcano park are a major tourist attraction.
Last year, Rwanda Development Board (RDB) increased permit fees to hike into the park and see these rare primates from $750 per person to $ 1500 for all nationals and non-nationals.
Rwanda Development Board has also introduced an exclusive package at a cost of $15,000 for tourists that may wish to visit an entire family of gorillas in their natural habitat.