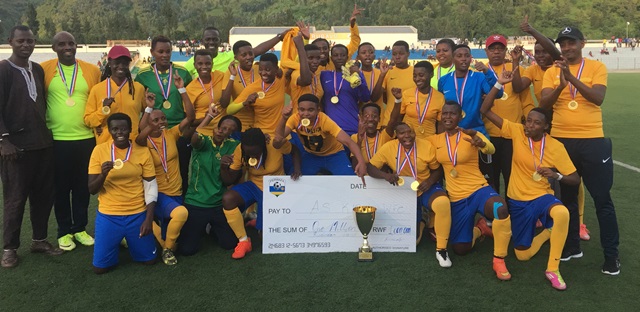 AS Kigali Women Football Club extended their perennial dominance of women's football as they won the 2018 Women Football League on Saturday at Stade Umuganda in Rubavu District.
AS Kigali edged Scandinavia WFC 1-0 courtesy of a 72nd minute strike from substitute Dudja Umwaliwase, in an end of season match day 14 tie.
The victory pushed the defending champions to 39 points in 12 matches played this season.
For the first time since 2009, the City of Kigali-sponsored giants had to endure a tough run for their money this season as their closest rival Scandinavia WFC put them under immense pressure for the league title.
Both had to go into the last game of the season tied on 36 points at the helm of table standings. AS Kigali needed to only draw to retain the title while Scandinavia WFC desired a win to claim their maiden league title.
Women Football League, Match Day 14 Results
Saturday, June 2, 2018
Rambura WFC 2-0 Gakenke WFC
Bugesera WFC 3-0 Kamonyi WFC
Inyemera WFC 3-0 ES Mutunda
Scandinavia WFC vs AS Kigali
First Division League Top Scorers
Nibagwire Anne (Scandinavia WFC) – 12
Iradukunda Callixte (AS Kigali WFC) – 12
Ibangarye Anne Marie (Scandinavia WFC) – 10
Mukeshimana Dorothe (AS Kigali WFC) – 10
Abimana Djamila (Scandinavia WFC) – 8
Umwariwase Dudja (AS Kigali WFC) – 8
Mushimiyimana Marie Claire (Scandinavia WFC) – 7
Tour du Cameroon: Uwizeyimana retains yellow jersey to boost Tour Victory
Rwandan Bonaventure Uwizeyimana heads into last stage of the 15th Tour du Cameroon on Sunday in possession of the Yellow Jersey after extending the lead on the general classification.
In the 83.7km leg held on Saturday, Uwizeyimana finished a distant 11th, coming behind the Dutch winner Quaedvlieg Lars in a sprint group finish. Cully Jan Andrej from Slovakia and French rider Richet Noel finished in second and third stage slots.
Other Rwandans Patrick Byukusenge and Ukiniwabo Jean Paul Rene finished 5th and 10th on the seven standings.
In the general classification, Uwizeyimana leads the chart with a total time of 18:41:03 to come 3 minutes and 36 seconds ahead of second-placed Maring Martin from Slovakia.
Byukusenge and Ukiniwabo are the only Rwandans in the top ten of the general classification as they are ranked fourth and eighth respectively.
The 15th edition of the Tour du Cameroon comes to a climax on Sunday with stage 8 action where riders will cover 122.8k race from Bafia to Yaoundé.
Stage 7 Results
Quaedvlieg Lars (Netherlands) 

2:15:06

Cully Jan Andrej (Slovakia) 

2:15:06

Richet Noel (France) 

2:15:06

Kamzong Clovis (Cameroon) 

2:15:06

Patrick Byusenge (Rwanda) 

2:15:06

Konstantinov Radoslav Valentinov (Bulgaria) 

2:15:06

Haring Martin (Slovakia) 

2:15:06

Van Rutten Bryan (Netherlands) 

2:15:06

Tekou Damien (Cote d'Ivoire) 

2:15:06

Ukiniwabo Jean Paul Rene (Rwanda) 

2:15:06

Uwizeyimana Bonaventure (Rwanda) 

2:15:06
General Classification
Uwizeyimana Bonaventure (Rwanda) 

18:41:03

Haring Martin (Slovakia) 

3:36

Mahďar Martin (Slovakia) 

3:59

Byukusenge Patrick (Rwanda) 

5:21

Cisse Isiaka (Cote d'Ivoire) 

5:32

Van Rutten Bryan (Netherlands) 

5:44

Cully Ján Andrej (Slovakia)"
Ukiniwabo Jean Paul Rene (Rwanda) 

5:45

Konstantinov Radoslav Valentinov (Bulgaria) 

6:04

 Quaedvlieg Lars (Netherlands) 

6:21