Rwanda has offered to facilitate Russia's relations with Africa by offering to be its "channel of communication", Foreign Affairs Minister Louise Mushikiwabo said on Sunday.
It was a brother-sister mood as Rwanda's Foreign Minister Louise Mushikiwabo received Sergey Lavrov – Russia's Foreign Minister who paid a one-day visit to Rwanda.
"Just welcomed to Rwanda my Russian counterpart and friend, Sergey Lavrov, here in Kigali for bilateral discussions," Minister Mushikiwabo tweeted earlier today.
It is the first time Lavrov – Russia's Foreign Minister visits Rwanda since he was appointed to the post in 2004.
Shortly after arriving in the country, Minister Lavrov and his delegation visited Kigali Genocide Memorial – where 250,000 victims of the genocide against Tutsi are laid to rest.
At the time Rwanda went into abyss of the 1994 Genocide which claimed over 1 million Tutsi, Minister Lavrov was Russian Representative to the United Nations (UN), where he served from 1994 to 2004.
From the Genocide Memorial, Minister Lavrov headed to Village Urugwiro where he paid a courtesy call to President Paul Kagame.
Thereafter, foreign Minister Louise Mushikiwabo led her counterpart to Radisson Blu and Convention Centre for extended bilateral talks with other officials from both countries.
Minister Lavrov's visit comes when the two countries celebrate 55 years of diplomatic relations.
His visit signals Russia's new era of deepening relations with Africa, which analysts say is good and timely as Africa is also looking for new strategic partners, amid changing geopolitical dynamics.
After bilateral talks, both Ministers Mushikiwabo and Lavrov briefed the media on areas of their discussions.
"In terms of cooperation, Rwanda has offered to be the channel of communication for Russia, if need be, for this region," Minister Mushikiwabo said.
On the East African region in particular, Minister Mushikiwabo said that; "We have been looking to bringing the East African Community both on the business side and generally economic and political front."
Recognizing the offer, Minister Lavrov said: "We believe that Rwanda which has dealt with the very tragic experience can now and has reached the sustainable development for all the nationalities, all the ethnic groups, can make a major contribution in promotion of all Russia's prospects on the continent."
Minister Lavrov said that Russia also offered to help Africa in peace building and search for solutions to the conflicts in war-torn regions such as the Great Lakes region, the Central African Republic and the Sahel region.
President Paul Kagame is the current Chairperson of the African Union.
Lavrov commended Rwanda peacekeepers for being the most disciplined peacekeepers, emphasizing that his country will strengthen military ties with Rwanda, especially in training and counter terrorism.
Other areas of cooperation announced during bilateral talks include upgrading ongoing cooperation in Education, Energy, Medical field, Mining; and stronger collaboration with the African Union, according to Minister Mushikiwabo.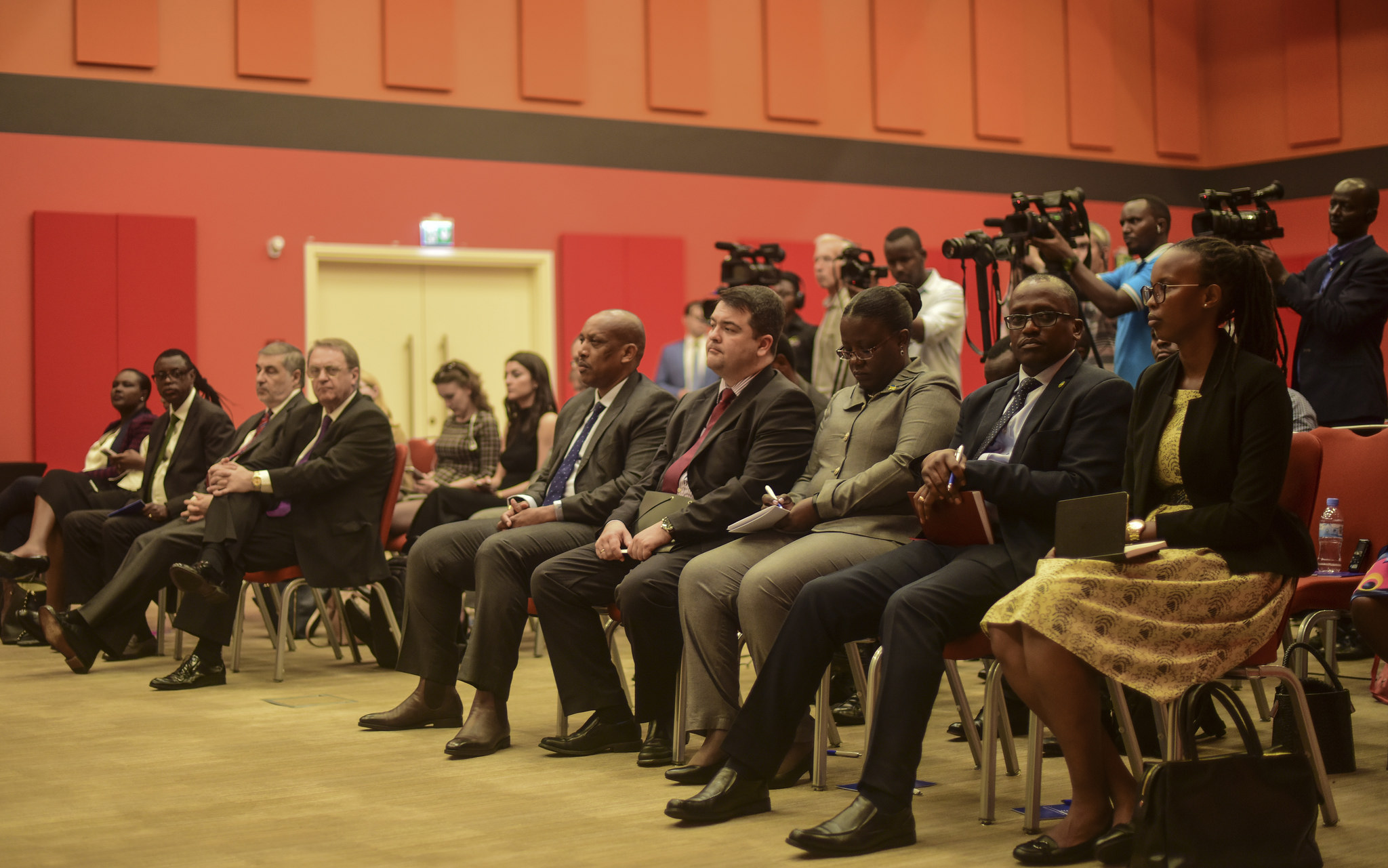 Supporting in UN Security Council Reforms
The Russian Foreign Minister also offered his support to strive for the reform of the UN Security Council so that all continents get a fair representation.
Several UN member States have voiced imbalances and unfair representation at the United Nations Security Council.
Speaking to the media, Minister Lavrov said: "We believe it is important discussing in the context of the reform of the Security Council of the United Nations to achieve the broader and more ethical representation of African countries, Latin America countries and Asian countries."
Minister Lavrov's one-day official visit to Rwanda ended this evening.