Team Rwanda rider Samuel Mugisha staged a solo finish on the second day of the 10th edition of the Tour du Rwanda to claim the yellow jersey in Huye District on Monday afternoon.
Despite a poor start in the opening day of the Tour were the youngster finished a distant 31st, Mugisha staged a resounding come back as he rode the 120.5km from Kigali City to Huye District in 03h08'50.
Speaking after the race, Mugisha said, "I am very happy with the stage victory. Thanks to my teammates. I now face the battle of keeping the yellow jersey in the next stages. Everything possible but I am prepared to give it a real fight to ensure that I retain the yellow jersey,"
Second-placed Rwandan who riders for French side POC Cote de Lumiere and third placed Ethiopia Hailemichael Mulu came 20 seconds later behind the 20-year old Mugisha who plies his trade with Team Dimension Data for Qhubeka.
Another Team Rwanda rider Munyaneza Didier was the other Rwandan rider who managed a place in the top ten stage standings after he finished fourth in 03h12'20.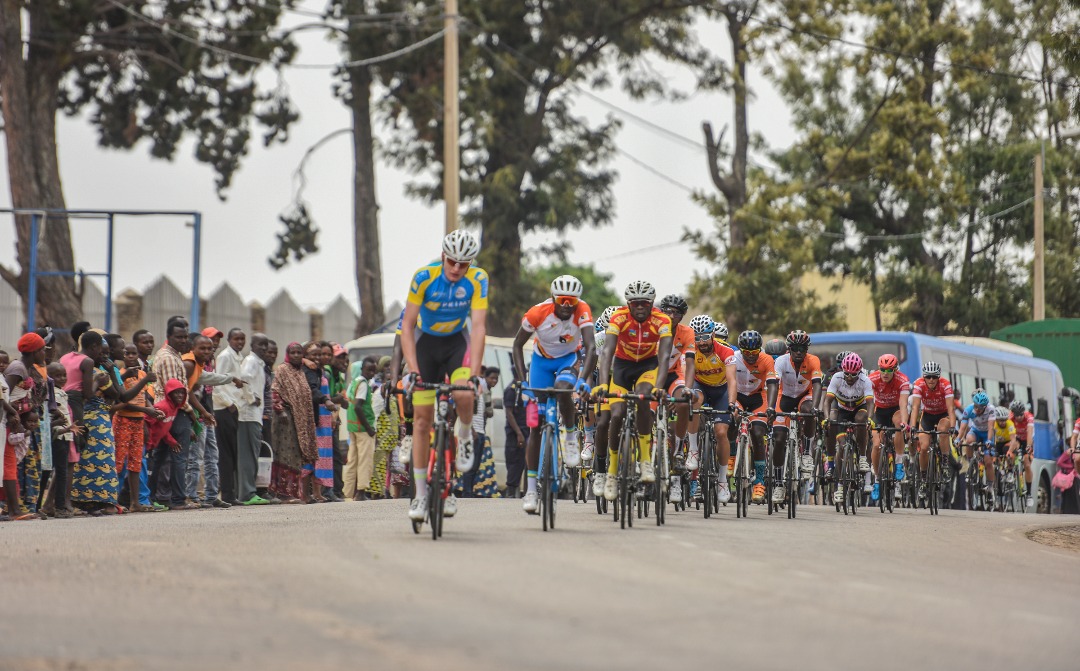 The first stage winner Algerian Lagab Azzedine finished 27th to come three minutes and twenty five seconds behind the winner.
In the general standings, Mugisha leads the log going into stage three with a 21-second difference ahead of second-placed Uwizeye Jean Claude and Ethiopian Hailemichael Mulu.
Team Novo Nordisk's Lozano Riba David is ranked fourth coming 03'04 behind the winner while Algerian Lagab Azzedine is ranked fifth with a total time of 05h24'43, Team Descartes Romande rider Doring Jonas is sixth with 05h24'53, South Africa's Fourie James has a total time of 05h24'53, Two-time race winner and heavy crowd favourite Valens Ndayisenga is eighth with 05h24'53 with Rwandan duo of Mugisha Moise and Munyaneza Didier sitting in ninth and tenth positions 05h25'01 and 05h25'01 respectively.
Mugisha finished the second stage topping the best young general classification rider in 05h21'39 followed by Ethiopian Hailemichael Mulu while Doring Jonas is ranked third.
Mugisha also scooped the best Young African and Rwandan accolades while Uwizeye also took the best combativity award with Ukiniwabo Jean Paul Rene emerging the best sprinter after two stages.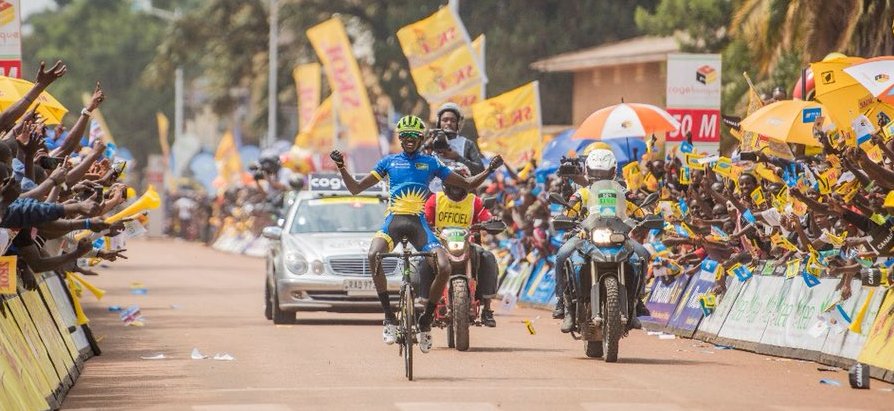 The mountain classification accolade went to Ethiopia's Hailemichael Mulu who has now amassed 11 points followed by Rwandan pair of Mugisha Samuel and Uwizeye Jean Claude with 7 and 4 points respectively.
In the team rankings, Team Rwanda tops the classification with a total time of 16h11'47 used after two stages while Ethiopia and South Africa follow in second and third positions, coming 13 and 23 seconds behind respectively.
Action continues on Tuesday with stage 3 as riders will depart from Huye District to Musanze District in the longest stage of Tour du Rwanda which will cover 195.3 kilometres and four brutal climbs.
On Wednesday, stage 4 will swing in action from the Musanze district in Northern Province to Karongi down south covering 135.8 kilometres long.
The riders will have to contend with three difficult climbs in the 95.1-kilometre Stage 5 on Thursday, while Stage 6 — from Rubavu to Kinigi – which also has three climbs in its 108.5-kilometre distance, where cyclists will ride on the foot of the breathtaking Volcanoes National Park, home to the famous mountain gorillas on Friday.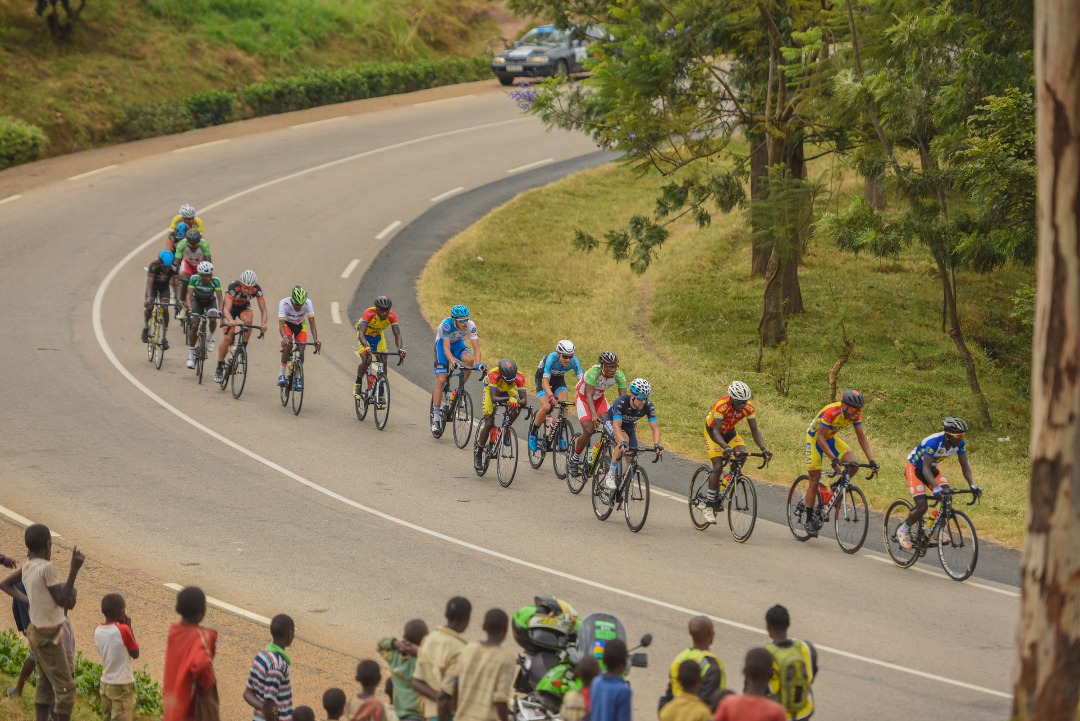 Stage 7 on Saturday will see riders undergoing a 107.4-kilometre trip from Musanze district to Kigali city before concluding with a penultimate stage on Sunday where riders will twice tackle the now famous 500-metre 'Wall of Kigali', a 12 percent steep climb of cobblestones which traditionally attracts hundreds of fans.
While this is the 21st year of Tour of Rwanda's existence, this is the 10th edition of the UCI international 2.2 race, which is scheduled to move up to 2.1 in 2019.
10th Tour du Rwanda
Stage 2 Results (Kigali-Huye, 120.5km)
1. Mugisha Samuel (Rwanda) – 03h08'56
2. Uwizeyimana Jean Claude (POC Cote de Lumiere) – 03h09'17
3. Hailemichael Mulu (Ethiopia) – 03h09'17
4. Munyaneza Didier (Rwanda) – 03h12'20
5. Doring Jonas (Team Descartes Romande) – 03h12'22
6. Aebi Antoine (Team Descartes Romande) – 03h12'22
7. Dario Antoine (Petro de Luanda) – 03h12'22
8. Lozano Riba David (Team Novo Nordisk) – 03h12'22
9. Perrisin Fabert Constantin (Haute Savore Auvergne Rhones Alpes) – 03h12'22
10. Buru Temesgen (Ethiopia) – 03h12'22
 General Classification
1. Mugisha Samuel (Rwanda) – 05h21'39
2. Uwizeye Jean Claude (POC Cote de Lumiere) – 21'
3. Hailemichael Mulu (Ethiopia) – 21'
4. Lozano Riba David (Team Novo Nordisk) -03'04
5. Lagab Azzedine (Groupement Sportif des Petroliers Algerie) – 03'04
6. Doring Jonas (Team Descartes Romande) – 03'14
7. Fourie James (South Africa) – 03'14
8. Ndayisenga Valens (POC Cote de Lumiere) -03'16
9. Mugisha Moise (Les Amis Sportifs) – 03'22
10.  Munyaneza Didier (Rwanda) – 03'24