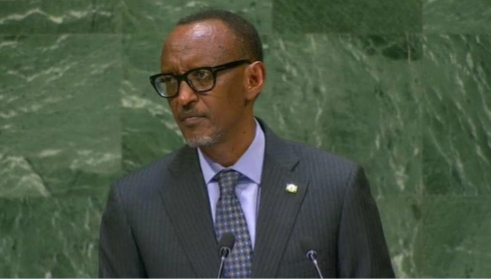 President Paul Kagame has told world leaders attending the 73rd United Nations General Assembly in New York that creating jobs for the youth should be taken as a priority.
"First, jobs for young people. As you may know, the Secretary-General launched the ambitious United Nations Youth Strategy yesterday.Youth employment is a central policy challenge in many developing countries," Kagame said while addressing the assembly on Tuesday, September 25.
The President, who is also the chairperson of the African Union (AU) was yesterday appointed to be part of Generation Unlimited – a new UN initiative aimed at supporting the youth.
The initiative was created under UN's Youth 2030 Strategy.  Kagame was appointed on UNICEF's "Generation Unlimited" Leaders Group.
The world grapples with unemployment rates especially among the youth.
Giving a case of Rwanda, President Kagame said that: "for example, more than 70 per cent of the population is under age 30. We have averaged economic growth of more than 7 per cent per year, since 2001, but our labour market must still accommodate a very large number of new, young job-seekers each year."
Rwanda's government has set a target of creating 1.5 million off-farm jobs in the next 7 years.
For Africa, Kagame said, "This "youth bulge" is an unusual demographic profile that will characterise Africa for a few decades more. It will drive economic growth and urbanisation, so it is a net-plus."
Kagame added that the General Assembly should act as an important occassion for world leaders to set the way forward for the future of its people.
"General Assembly week, is always a good opportunity to see where the global conversation is headed. There are a few cross-cutting issues, that keep coming up, again and again," he said.
On global growth, however, Kagame predicted that: "Industrial and infrastructure investments will become more attractive and viable, and the volume of trade is set to increase significantly, both within Africa, and with the rest of the world."
For the case of Africa in particular, the President highlighted that the recently established Africa Continental Free Trade Area (AfCFTA) will make the continent a single trading bloc.
"As you may be aware, the African Continental Free Trade Area, which was signed earlier this year, will make Africa a single trading bloc, for the first time," he said.
But Kagame said that the block is always open to collaborate with the rest of the world.
"There may be some good synergies to explore, by bringing these networks together.For youth entrepreneurship and international trade, the African Union Commission is an important interlocutor, in addition to engaging with the respective national institutions."
"There is therefore good potential, for developing new, innovative partnerships.For example, the Smart Africa Initiative, which has its Secretariat in Kigali, is a natural partner for technology and data analysis collaborations, on our continent," he added.
But for all this to happen, Kagame said, public private partnership will only drive the agenda.
"Finding new and better ways, for the public and private sectors to collaborate. The two initiatives I mentioned above, both have a multi-stakeholder character. Policy-makers, business leaders, and civil society, are joining together to search for solutions."
Need for Digital access
President Kagame who co-chairs the Broadband Commission for Sustainable Development, reminded the 73rd UN General Assembly that another key element needed to speed up world development is ensuring its population is connected to the internet.
A second major theme, he said, "is using information and communication technology to close the capability and productivity gaps, between economies.
That is why our group's current focus is advocating for the partnerships and regulatory frameworks needed, to make access to high-speed broadband both universal and affordable," he said.
For instance, Kagame added, "at the most recent meeting of the Broadband Commission for Sustainable Development, which I happen to co-chair with Carlos Slim, we highlighted an important milestone: More than half the world's people are now accessing the internet."
For all mentioned to happen, though, Kagame reminded that: "Governments have a job to do, and so do companies, but with a bit of coordination, we can reinforce each other's efforts.We can see good alignment with Concordia's three focus areas, for its expanded engagement with Africa."