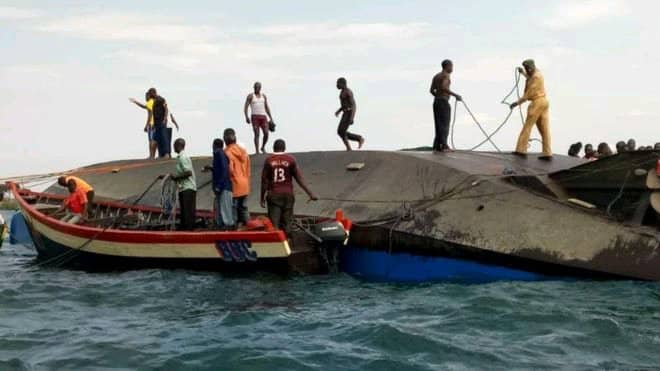 President Paul Kagame has sent a condolence message to the families of the victims of Thursday disaster in which a ferry capsized in Lake Victoria and claimed lives.
"Our deepest condolences to the families and loved ones of the victims of the Lake Victoria ferry accident. Our thoughts are with you. We cannot thank the rescuers enough," President Kagame posted on his Twitter handle.
On Thursday afternoon, the ferry MV Nyerere sank just a few meters from the dock on Ukerewe – Lake Victoria's biggest island on the Tanzanian side.
Latest media reports from Tanzania which borders Rwanda on the Eastern part of the country, say more than 100 bodies have been retrieved, while hundreds are still feared missing as rescuers searched for survivors from daybreak on the morning after the disaster.
The exact number of those aboard the ferry when it capsized is still unconfirmed, but reports from Tanzania say over 300 people were aboard the ferry.
The latest ferry disaster in Tanzania adds up to several more ferry accidents that have hit the East African country.
In 1996, at least 500 people were killed when a ferry capsized in Lake Victoria, while 145 more were killed in 2012 when a ferry sank off the shore of Tanzania's Indian Ocean archipelago of Zanzibar.