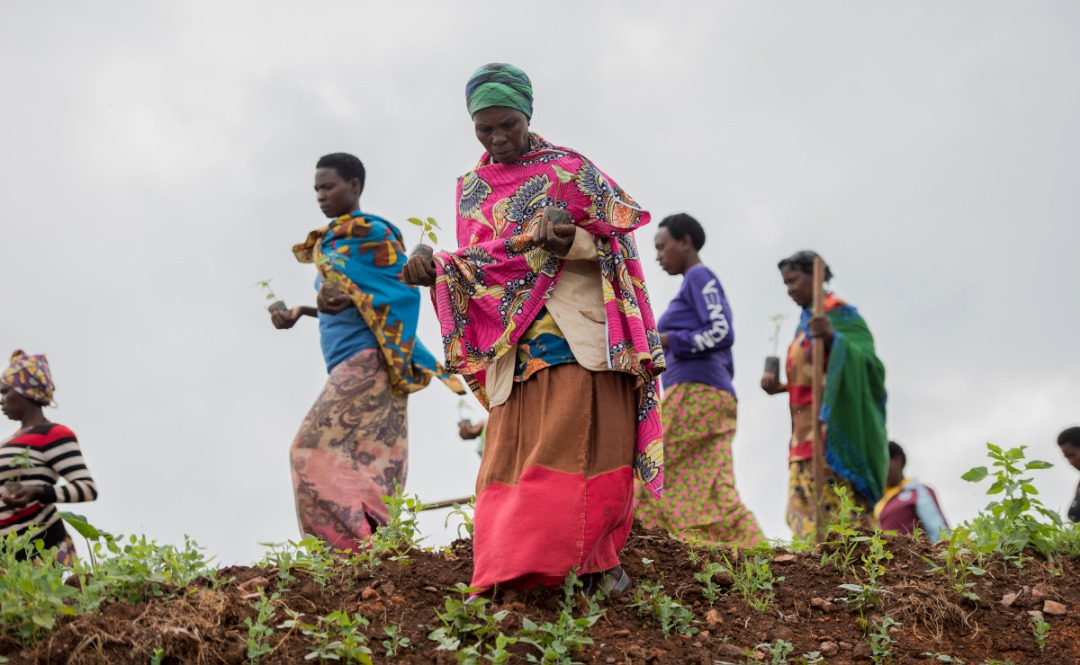 Top Government officials, delegates visiting the country as well as diplomats and development partners today participated in the official launch of the National Tree Planting season.
From all corners of the country, leaders joined citizens in the monthly community work (Umuganda) to plant multiple types of trees as the country seeks to meet the deadline of covering 30% of its surface area by 2020.
On the national level, the campaign kicked off at Rebero hill in Gatenga sector, Kicukiro district.
Marie-Solange Kayisire Minister of Cabinet Affairs in the Office of the Prime Minister, Major General Emmy Ruvusha, commander Rwanda Defence Force (RDF) 2nd Division, and other leaders joined citizens to plant trees – on a day that coincided with the 43rd anniversary of National Tree Planting Day.
During the exercise, 35000 eucalyptus trees were planted on 23 hectares of the hill.
In the same of sector in Ayabarayi village, 150 fruit trees including Mangoes and Avocadoes were also planted.
The district plans to plant trees on 85.5 hectares on Mont Kigali and Rebero hills while 985.5 hectares will be planted with mixt fruits and Eucalyptus trees.
"I am thrilled by the turn up for this important activity of planting trees. You should know that trees are part of people's lives. Protect them," Minister Kayisire said.
Jeanne Nyirahahimana – the Mayor of Kicukiro District said that her district has been using over Rwf1billion every year in rehabilitating destroyed infrastructures like roads, water trenches and half-damaged or completely damaged shelters.
"Degradation was caused by residents who destroyed forests by cutting down trees in search of firewood and grazing animals in the planted trees," Nyirabahimana said.
Elsewhere in Gasabo district, government officials including Senate President Bernard Makuza, Speaker of the lower chamber of Deputies Donathile Mukabarisa, ministers and members of the Pan-African Parliament currently convening in the capital Kigali, joined residents of Gikomero sector in Gasabo district to plant trees across the newly unveiled model village in Rudakabukirwa village.
In Northern Province, residents woke up early in the morning with hoes to plant trees in Rutare sector Nkoto village in Gicumbi district, where 12.5 hectares of land were planted.
Johnston Busingye  Minister of Justice who led Gicumbi residents in the exercise of planting trees told residents to protect seedlings up to time they will mature.
In far South, the new governor Emanuel Gasana, led residents in planting of trees on 250 hectares of land in Rwamuganda village, Rusatira sector, Huye district.
In Eastern Province, Governor Fred Mufulukye joined residents of Fumbwe sector in planting exercise of trees on 4 hectares at Shenga hill.
Rwanda targets a total of 38,119 hectares of agroforestry, 4,800 hectares of classic forestry and 225,440 fruit trees, rehabilitation of 670 hectares of degraded forests
Ministry of Environment targets   30% of the country covered with forests. Currently, that figure stands at 29.8%.