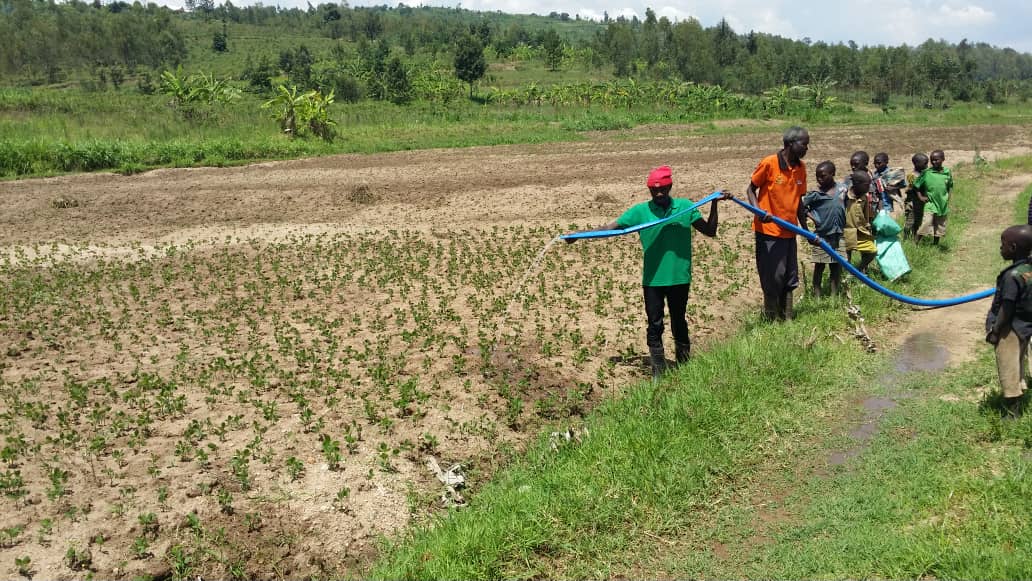 Global Civic Sharing (GCS) – South Korean development organisaton has donated irrigation equipment to farming communities in Nyarubuka Sector, Kamonyi district, Southern Province.
The program that started in September this year targets effective and modern farming during the dry season.
On November 19, the equipment that was donated includes ten water tanks and ten water pumping machines worth Rwf6 Million. The equipment will benefit 600 farming groups.
Farmers in this area grow bitter berries, carrots, soybean and maize.
"Our responsibility is finding solutions to challenges affecting communities," Seunghoon Woo – GCS Project Manager said.
"When we talk to farmers they say that climate change is the biggest problem they face during their daily farming activities, but mostly in dry season, this is why we decided to intervene with irrigation as a solution," Woo told KT Press.
The donation is part of an agreement signed between famers and GCS, according to Woo.
At the handover ceremony, farmers pledged to take good care of the equipment by using them for agriculture purposes only.
With over 1200 vulnerable small- scale farmers, GCS hopes to donate more irrigation equipment to farmers next year.
Marcel Kiniga, president of Twitezimbere cooperative told KT Press that, they have been suffering loses during season A because of drought, but now they are going to grow vegetables throughout the year.
The irrigation equipment will benefit the cooperative members and the neighboring farming communities.
Beneficiaries have high expectations. "For example, we have been harvesting 8 tons of soybean on our 22 hectares every season. We expect to double this production," Kiniga told KT Press.