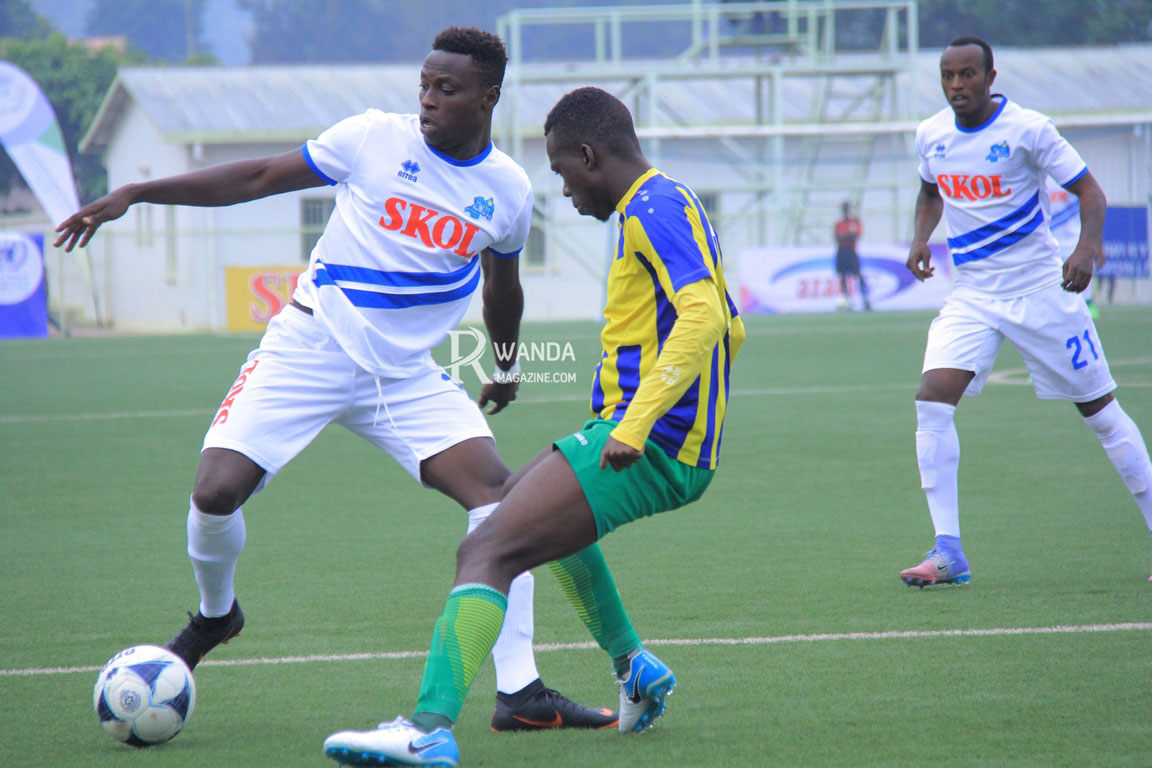 Former league champions Rayon Sports Fc registered a 1-0 win over AS Kigali in a match day seven encounter of the Azam Rwanda Premier League match staged on Sunday at Stade de Kigali.
The Blues secured maximum points courtesy of Ghanaian Michael Sarpong's strike which was scored in the 48th minute.
The victory propelled the Blues to third slot on the Azam Rwanda Premier League log tied on 15 points with rivals APR Fc and Police FC.
The loss to AS Kigali extended their losing streak to six consecutive games now. Since the start of the season, the Kigali City sponsored side have lost three matches and drawn four. They sit in 15th position with four points.
AS Kigali Masudi Djuma was facing his previous employee, Rayon Sport and the Burundian born coach was hoping to recover from the poor start of the season, however, his wish could not be achieved as his side was had two of his players-defender Rurangwa Mossi and midfielder Ishimwe Kevin, sent off for poor misconduct.
The 2013 Peace Cup winners started the new campaign with a 1-all draw against Musanze, then played out a goalless draw with Kirehe, which was followed by another 1-1 draw with Marines FC on match-day 3 before suffering their first loss, 2-0, at the hands of Etincelles at Kigali Stadium.
The City of Kigali-sponsored side then held in-form Mukura VS to a goalless stalemate on match-day 5 before going into a three-week break for international football.
Meanwhile, Huye-based side and Rwanda's sole remaining representatives in the CAF Intercubs, Mukura VS lead the standings with 16 points following their 1-0 win over AS Muhanga on Saturday at Stade Huye.
In other matches played on match day seven, Gicumbi FC and Musanze Fc settled for a 1-all draw while Bugesera FC edged SC Kiyovu 1-0 in Nyamata, all played on Friday.
ON Saturday, Amagaju FC and KIrehe Fc played a goalless draw in Nyagisenyi, Police Fc defeated Marines Fc 3-2 while Espoir Fc registered the highest scores as they thrashed Etincelles FC 4-1 in Rusizi.
Action in the Azam Rwanda Premier League continues mid this week with a derby match between APR FC and Rayon Sports Fc scheduled to be staged on Wednesday.
Champions APR FC and Mukura VS have both played one game less due to their preliminary round engagement of the CAF Interclubs.
Azam Rwanda Premier League, Match Day 7 Results
Friday, 07/12/2018
Gicumbi Fc 1-1 Musanze FC
Bugesera Fc 1-0 SC Kiyovu
Saturday, 08/12/2018
Mukura VS 1-0 AS Muhanga
Amagaju Fc 0-0 Kirehe FC
Police FC 3-2 Marines FC
Espoir FC 4-1 Etincelles FC
Sunday, 09/12/2018
Rayon Sports FC 1-0 AS Kigali