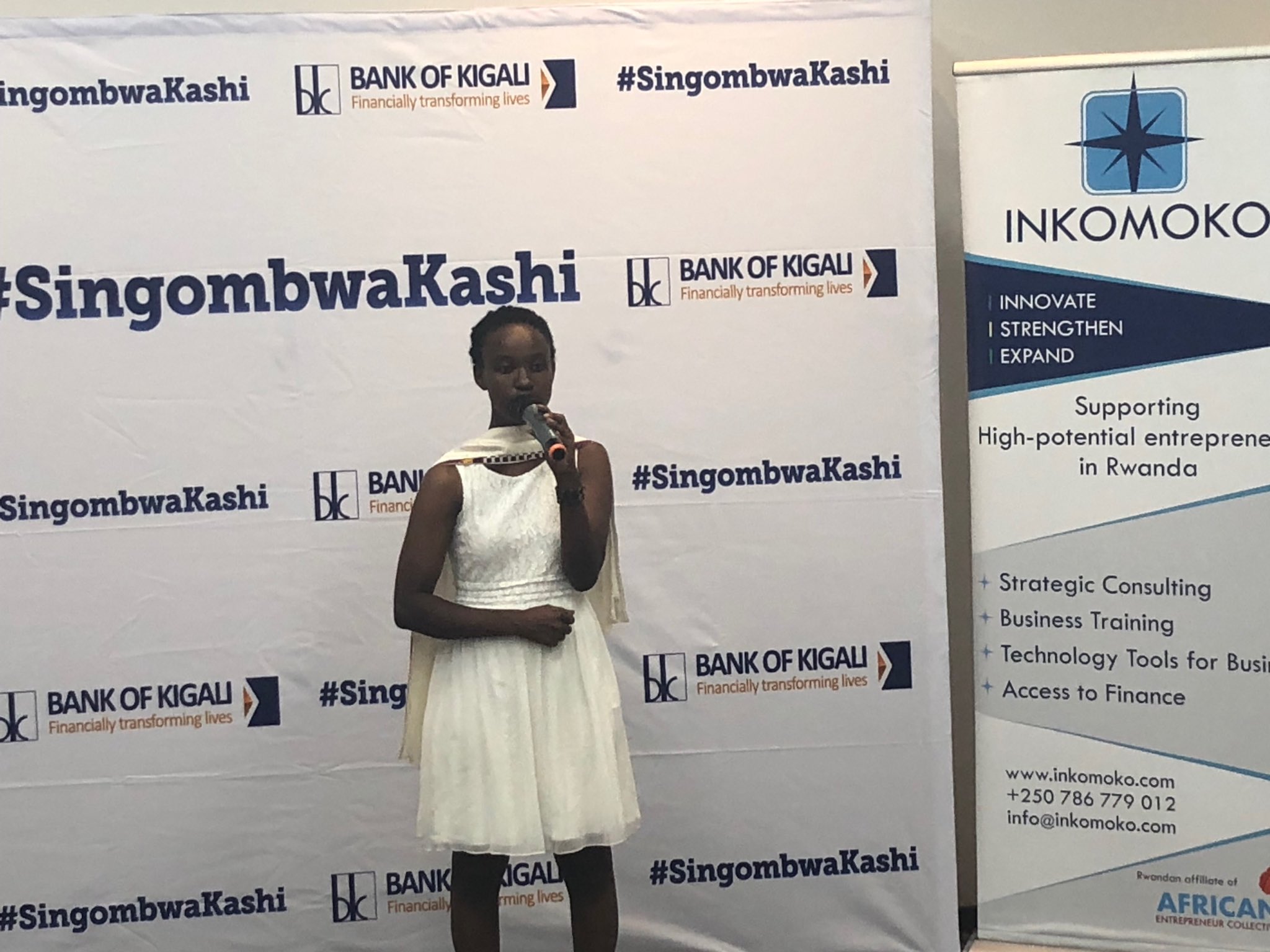 Six lucky Rwandan entrepreneurs on Thursday walked away with interest-free loans from Bank of Kigali – in a joint project to promote 'Made in Rwanda' Policy.
Two years ago, Bank of Kigali – Rwanda's biggest Financial Institution in market share, partnered with Inkomoko – a local business consulting firm to incubate young upcoming business innovators.
In its second edition that ended yesterday, 6 entrepreneurs were named winners among 25 finalists who took a 6 months business training and consulting course.
The loans offered by Bank of Kigali range from Rwf2million to Rwf5 million and will give an opportunity to the winners to develop their business and create jobs for their communities.
In June this year, entrepreneurs were selected from 102 candidates who had registered their projects for the competition.
Thirteen finalists went through a final pitch session with a panel of entrepreneurs and Senior Bank of Kigali Managers to determine the awardees of yesterday's loan.
Diane Karusisi, Chief Executive Officer of Bank of Kigali assured the bank's support to entrepreneurs for a better future of individuals and the country in general.
"One of the things we are very proud of at Bank of Kigali, is our partnership with Inkomoko and this initiative" she said.
"We must invest in emerging entrepreneurs in this country because they will be the innovators and business leaders of the future," she added.
Inkomoko has been offering business skills and consulting services to entrepreneurs for 6 years. Accounting and marketing strategies are among the courses entrepreneurs have been taught.
The Inkomoko accelerator included trainings in sales and operations, inventory management systems and other skills to grow their businesses.
"I've had the great opportunity to witness these entrepreneurs' growth first hand. Your hard work is why I can state with full confidence that you, dear entrepreneurs, deserve to be called business leaders," said Nathalie Niyonzima, Managing Director of Inkomoko.