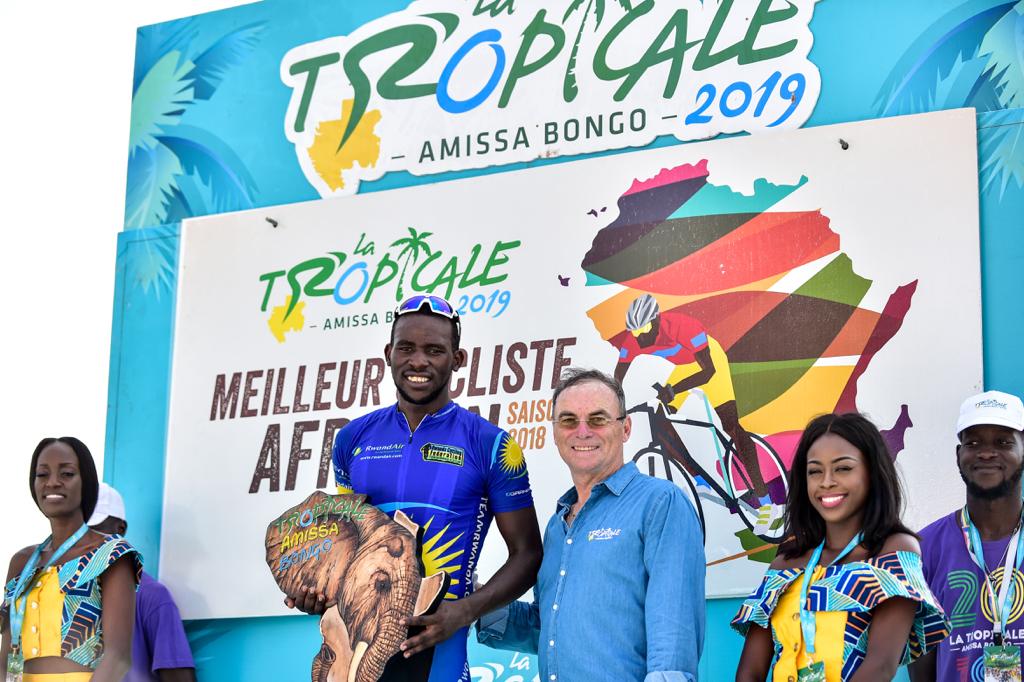 Team Rwanda and French side Delko Marseille Provence KTM rider Joseph Areruya was crowned the African Cyclist of the year on Sunday after the climax of the 2019 La Tropicale Amissa Bongo.
Areruya was named as the African Cyclist of the Year 2018 in December – becoming the first Rwandan to win the highly coveted prize since its inception in 2012. Areruya won the 2018 Tropicale Amissa Bongo before winning the Tour de l'Espoir the following month.
He then placed first in the under-23 category at the African Continental Road Champs road race and time-trial. Five-time Tour de France winner Bernard Hinault chaired the jury for the award and he felt that Areruya deserved the accolade.
The annual award, which was first held in 2012, is meant to recognize African cyclists, who had successful performance in the year and to also help develop the sport in the continent.
Despite being crowned the champion, Areruya failed to defend the 2019 La Tropicale Amissa Bongo race which was won by Italian Niccolo Bonifazio, first historical victory for an Italian in the Amissa Bongo race. Areruya managed a 21st place finish on the general classification, coming fifty three seconds behind the winner.
The Italian Bonifazio won the 14th edition of the Tropicale Amissa Bongo after keeping his yellow jersey from the first to the last stage. The Direct Energie sprinter also won three stages to complete his domination of the Gabonese race.
Rwanda's Munyaneza Didier was the best ranked Team Rwanda member as he managed an 8th place finish on the general classification, coming thirty three seconds behind the Italian winner Bonifazio.
Munyaneza also won the best young riders category after clocking 20:39:58 to come ahead of Eritrean Mulubrhan Henok and Tour du Rwanda reigning champion Mugisha Samuel.
Other Team Rwanda members namely Mugisha Samuel finished ranked 15th , Uwizeyimana Bonaventure came in 29th positon, Uwizeye Jean Claude finished 36th while youngster Nkurunziza Yves finished a distant 48th respectively.
In the team rankings, Team Rwanda finished fifth behind winners Eritrea, Direct Energie came in second slot while Vital Concept – B&B Hotels managed a third place finish ahead of
Androni Giocattoli – Sidermec.
In the best combativity rankings, Mugisha Samuel was ranked second behind Frapporti Marco of Androni Giocattoli – Sidermec while Julius Jayde of Pro Touch was third.
14th La Tropicale Amissa Bongo
General Classification
1. Bonifazio Niccolò (Direct Energie) 20:39:25
2. Manzin Lorrenzo (Vital Concept – B&B Hotels) 0:06
3. Greipel André (Arkéa Samsic) 0:14
4. Reguigui Youcef (Algeria) 0:17
5. Tesfom Sirak (Eritrea) 0:26
6. Eyob Metkel (Eritrea) 0:28
7. Bisolti Alessandro (Androni Giocattoli – Sidermec) 0:32
8. Munyaneza Didier (Rwanda) 0:33
9. Teklehaimanot Daniel (Eritrea) 0:34
10. Mulubrhan Henok (Eritrea) 0:37
Selected Results
15. Mugisha Samuel (Rwanda) 0:40
21. Areruya Joseph (Rwanda) 0:53
29. Uwizeyimana Bonaventure (Rwanda) 1:30
36. Uwizeye Jean Claude (Rwanda) 2:52
48. Nkurunziza Yves (Rwanda) 9:20
Best Young General Classification
1. Munyaneza Didier (Rwanda) 20h39'58"
2. Mulueberhan Henok (Eritrea) 20h40'02"
3. Mugisha Samuel (Rwanda) 20h40'05"
4. Ebrahim Redwan (Ethiopia) 20h40'09"
5. Haylemaryam Kibrom Teklebrhan (Ethiopia) 20h40'09"