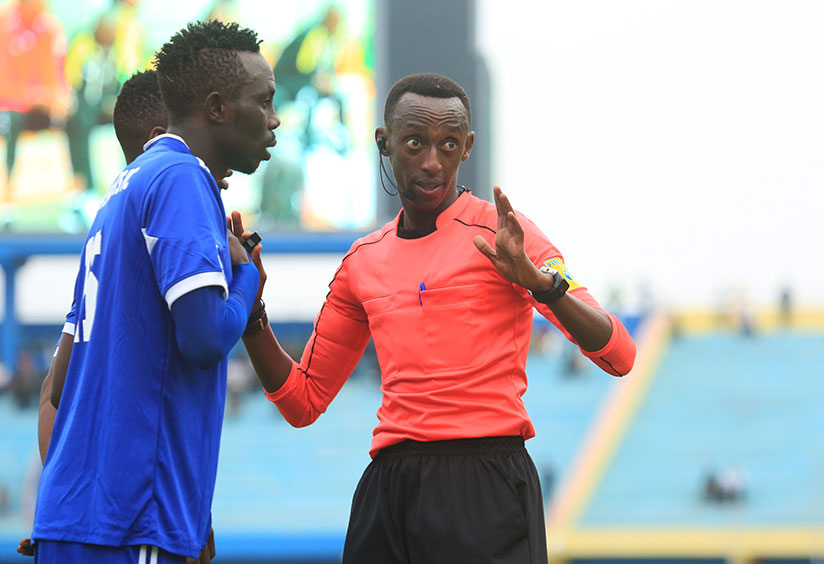 The Confederation of African Football (CAF) has selected twenty four referees, including one Rwandan, Jean Claude Ishimwe, to manage the final stage of the Total U-20 Africa Cup of Nations due in Niger next month.
Ishimwe is part of the selected twelve (12) Referees and 12 Assistant Referees that will handle the tournament scheduled for 2-17 February 2019 in the Nigerien cities of Maradi and Niamey.
Ishimwe, 29, alongside other referees and assistant referees are scheduled to arrive in Niger on January 27, 2019 to undergo a refreshment course which will be organized prior to the tournament starting from January 28th.
During the refreshment course, referees will undergo physical, theoretical and technical tests. In case the referee fails to pass the fitness test, all related costs to his trip will be borne by his Association and the referee sent back home.
Ishimwe started his refereeing career in 2009 while officiating the third division league. A year after, he was promoted to handle second division league before being elevated to the first division league from 2011 to 2014.
In 2015, he was accorded with the FIFA badge to become Rwanda's new international FIFA referee. Ishimwe continued to excel and was named among the continent's Young Talented Referees before joining the continental Elite B Course in 2017/18 season.
For the referees named for the final tournament, the oldest is 39-year old Malian Boubou Traore, with Nigerien Moussa Ali Mohamed, 27 and the youngest.
Cape Verdean Luis Fernandes Barbosa and Firmino Bassafim of Guinea Bissau, both 38, are the eldest among the Assistant Referees. Twenty-six (26) year old Louis Ralph Fabien Cauvelet from Mauritius is the youngest.
Host Niger, South Africa, Nigeria and Burundi make up Group A whilst Senegal, Mali, Burkina Faso and Ghana complete Group B. The semi-finalists will qualify to represent the continent at the FIFA U-20 World Cup from 23 May to 15 June 2019 in Poland.
List of Selected Referees for U20 Niger 2019
Referees: Jean Claude Ishimwe (Rwanda), Pacifique Ndabihawenimana (Burundi), Antoine Max Depadoux Effa (Cameroon), Souleiman Ahmed Djama (Djibouti), Amin Mohamed Amin Mohamed (Egypt), Peter Waweru (Kenya), Boubou TRaore (Mali), Heeralall Ahmad Imtehaz (Mauritius), Moussa Ali Mohamed (Niger), Hassan Mohamed Hagi (Somalia), Ntale Kokou Ognankotan (Togo) and Haythem Guirat (Tunisia).
Assistant Referees: Luis Fernandes Barbosa (Cape Verde), Jospin Luckner Malonga (CAR), Gamal Saad Mohamed Samir (Egypt), Firmino Bassafim (Guinea Bissaue), Lionel Hasinjarasoa (Madagascar), Louis Ralph Fabien Cauvelet (Mauritius), Akerkad Mustapha (Morocco), Mathew Kanyanga (Namibia), Abdoul Aziz Moctar Saley (Niger), Hamza Hagi Abdi (Somalia), Dick Okello (Uganda) and Samuel Temesgin Atango (Ethiopia).