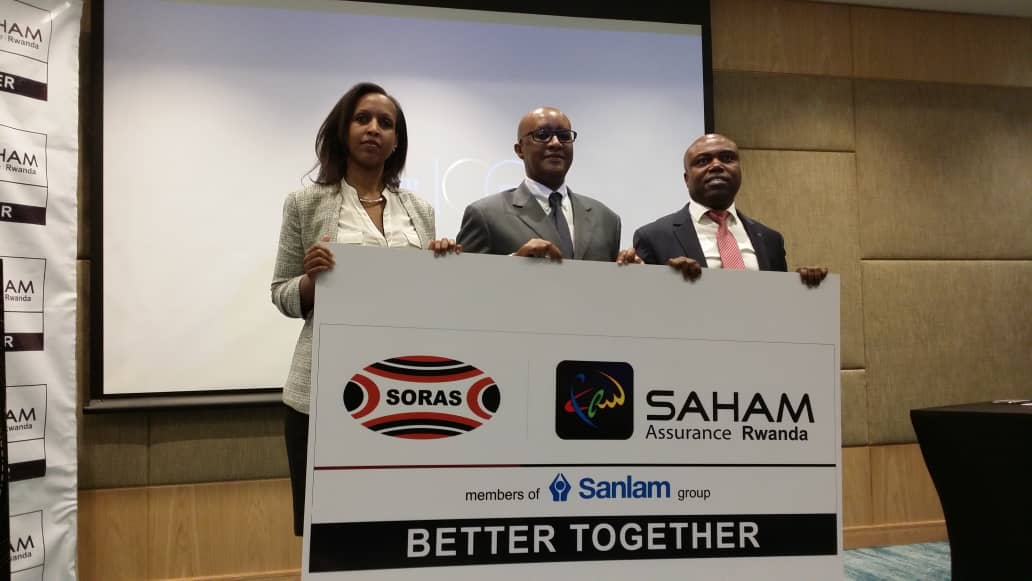 SORAS Ltd – Rwanda's oldest and best insurance company has finally merged with Saham – their toughest rival on the market. Saham is a subsidiary of a Moroccan firm.
Both insurance companies (SORAS Vie Ltd and Saham) raced to get clients in life and general insurances before deciding on coming together.
Since 1984, SORAS provides insurance products including; education Insurance Plan, Safe family Life, Worker's group life, Retirement plan, Credit life, Funeral insurance plan, among others.
Saham – with huge presence in Morocco, provides general insurance services including life, Motor as well as house insurance.
The merge comes after Sanlam – a South Africa based insurance company purchased and owned 100% shares in SORAS and Saham last year.
Sanlam is a South African financial services group headquartered in Bellville, Western Cape, and listed on the Johannesburg Stock Exchange and the Namibian Stock Exchange.
The company acquired Moroccan insurance firm (Saham) in a deal worth $1.1 billion while Soras insurance company, formerly owned by Charles Mporanyi – a local business man was sold at a tune of over Rwf50 billion.
The plan to merge Soras and Saham insurance companies was announced by their parent company at a ceremony held at Kigali Marriot Hotel on Friday 15.
According to Fiacre Birasa, Chief Executive Officer of Soras, the merge indicates growth strategy and aims at creating a stronger and more diversified business.
"This merge shows how vibrant insurance business is becoming," he said.
"It is also a great opportunity for the insurance industry as it moves forward. We look forward to serving our clients with a range of products and services," Birasa added.
Both companies merged under one motto: "Soras and Saham can be better together".
Birasa said that both companies will be using one brand name dubbed 'Soras AG and V insurance company limited.'
Betty Sayinzoga, CEO of Saham insurance company limited said that "this move is beneficial to Rwandans because they will get to experience the best of both world's hybrid products and services. Soras has always been the best insurances company in the country, so merging means addition of power and possibility," she said.
According to Soras insurance company management, employees on both sides will not lose their jobs.
"The merge means that we are looking for more strengthen. Several employees will be dispatched in provinces to work as agents, and this will expand the company,"Birasa said.