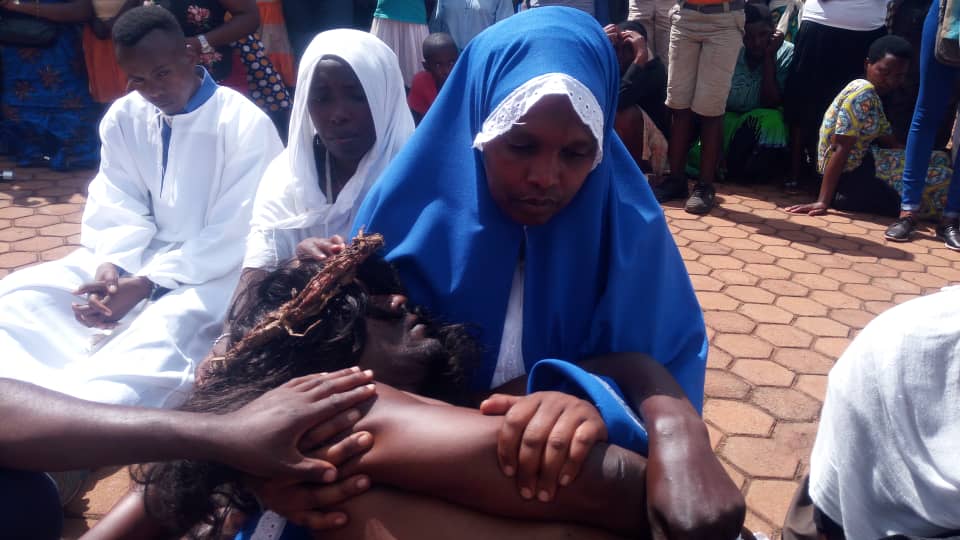 It is Holy Friday in Rwanda as is in the whole world. At the predominantly catholic church home to Kibeho the holy land where it is alleged that Mary Mother of Jesus appeared to three girls thirty years ago.
In Gisagara district, Southern Province-former Astrida is home to first church which was planted in Save in 1900 by white missionaries.
No wonder, the catholic rituals are very tight and followed meticulously by both clerics and the catholic followers in this part of the country.
At Butare cathedral – Huye town, thousands woke up early morning to start the traditional way of the Cross, also known as the Way of sorrow or the Via Crucis.
It refers to a series of images depicting Jesus Christ on the day of his crucifixion and accompanying prayers.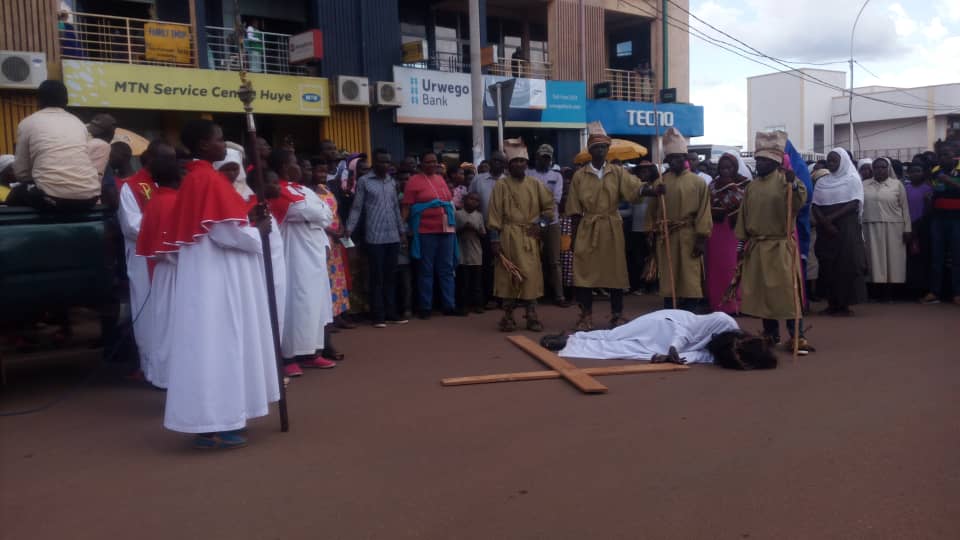 Other churches conduct the Way of the Cross inside the Church, but in Huye, the whole town, at least those who believe it, have to know that someone – Jesus – two thousand years ago was crucified for them.
Jean Baptise Ntakirutimana, has been mimicking Jesus in this Way of the Cross which starts with Jesus washing the feet and then Maundy Thursday to his death.
Maundy Thursday refers to Christian holy day falling on the Thursday before Easter. It commemorates the Maundy and Last Supper of Jesus Christ with the Apostles, as described in the canonical gospels.
"Even while impersonating Jesus, I still feel indebted to follow that same Jesus who was crucified for me, died for me and rose again for me," said Ntakirutimana.
"It is not very easy for someone to give life for others, but as far as I am concerned, the love of the neighbor the observation of God's commandments is crucial to me."
Mukamusoni Beata plays as Mary, Mother of Jesus. She is a trader at the nearby Tumba centre.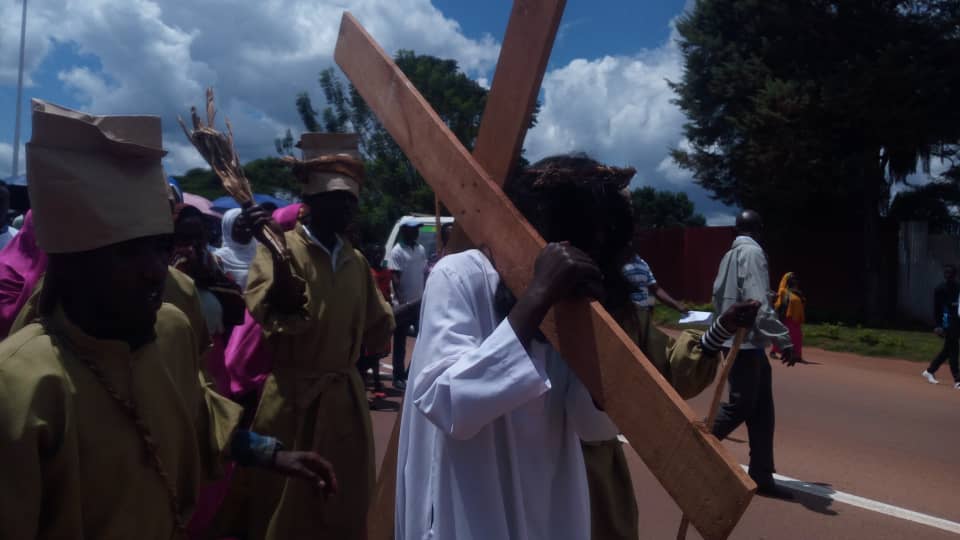 She cries hard when 'Jesus' is hurt. She feels most of the sorrow while receiving Jesus' body after his death.
"In real life, when I am walking on the street, I am extremely careful because I believe I have to protect that name as if I was real mother of Jesus," she said.
"My life is full of cautions since I started playing this role. I can't deceive that Mother who loved us and accepted to give birth to the Savior of humanity."
In real life, 'Mary' and 'Jesus' are all married people. They cross on several occasions and have become friends after playing as key characters in these roles for several years now.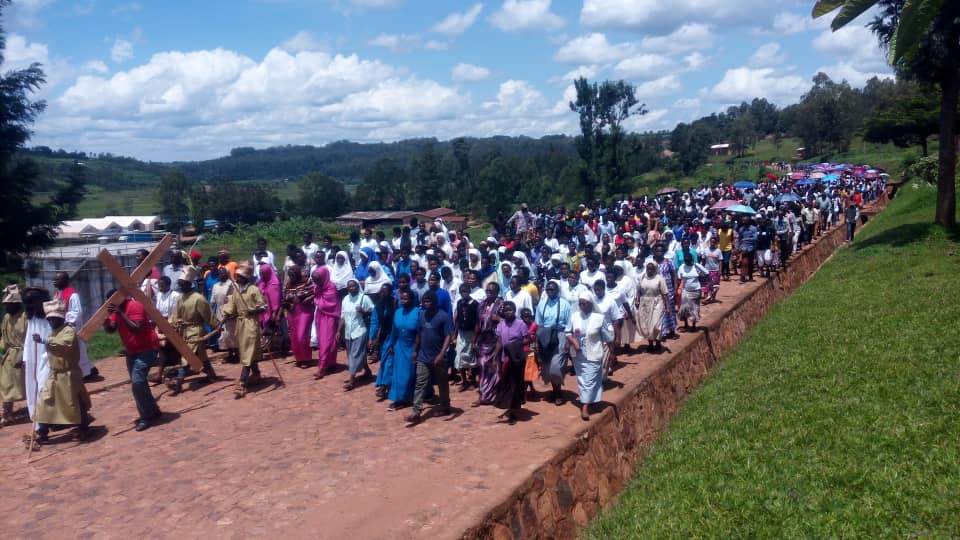 "She is a good mother who loves her son. I love her so much too," said Ntakirutimana who mimics Jesus.
"After we cane to know each other, we visit each other, exchange text messages as a son and child," Mukamusoni said.
The Way of the Cross in Huye Cathedral way takes four hours, and Ntakirutimana said, "you don't feel tired or in hurry. You know that you are doing it for Jesus who died and resurrected for you."
Apart from the two characters, the setup exactly resembles the Way of the Cross as narrated by the four Gospel writers – Mathew, Mark, Luke and John.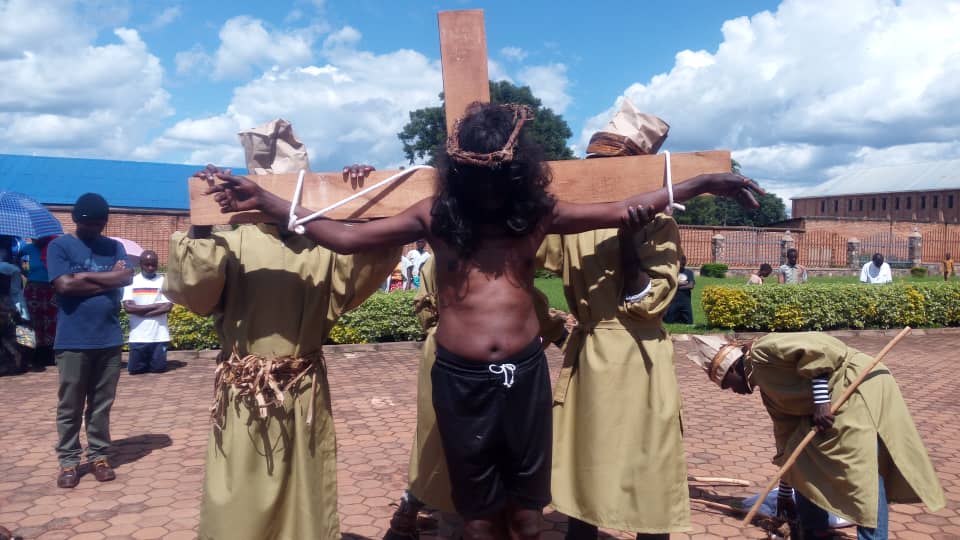 Roman soldiers accompany Jesus and slap him…push him to continue until the fateful hill – Golgotha.
The masses also keep shouting all the way "crucify him."
Easter celebration traditionally falls on Sunday. This year, Christians celebrate it on Sunday April 21. In Rwanda particularly, Easter celebration will not deter them from remembering victims of the Genocide against Tutsi – who were massacred in 1994.
In Murambi- Nyamagabe district, more than 50,000 victims of the Genocide will be remembered on Easter.