Rehabiltation works at Gatuna One Stop Border Post (OSBP) are in final stages, Rwanda's Foreign Affairs Minister Dr. Richard Sezibera said on Friday.
"Visited Gatuna One Stop Border Post. Work almost complete on Rwanda side," Minister Sezibera tweeted.
He, however, expressed wish that similar development happen on the Ugandan side.
The border post connect Rwanda and Uganda.
"Look forward to speedy completion on the Uganda side so the One Stop Border Post can become operational within timelines agreed at the Nothern Corridor summit," Minister Sezibera added.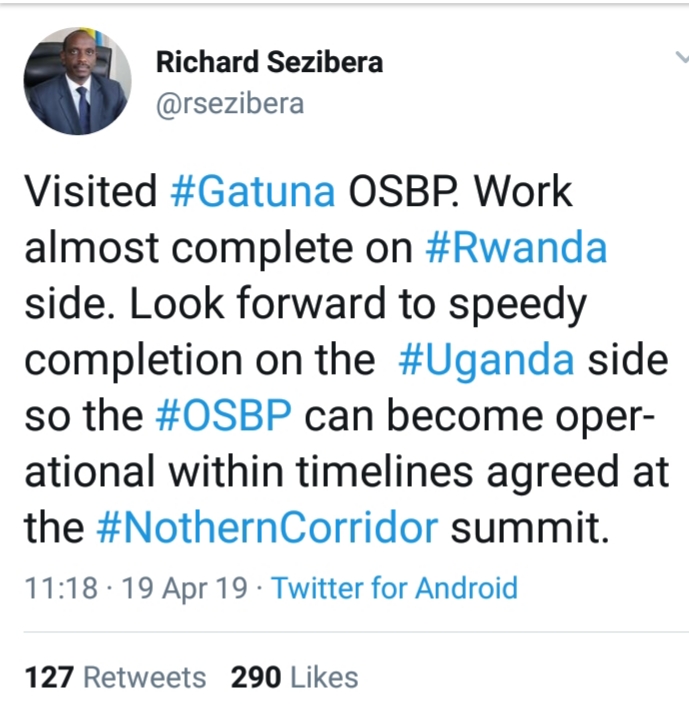 In March this year, Uganda accused Rwanda of closing its border – claiming it has affected heavy trucks from crossing into Rwanda.
But government in Kigali continuously explained the issue was renovation at Gatuna border that currently operates at only 30 percent.
In the process, Rwanda issued a statement announcing other alternative routes as construction works in Gatuna are being finalized.
All trucks were diverted to Kagitumba and Mirama hills border.