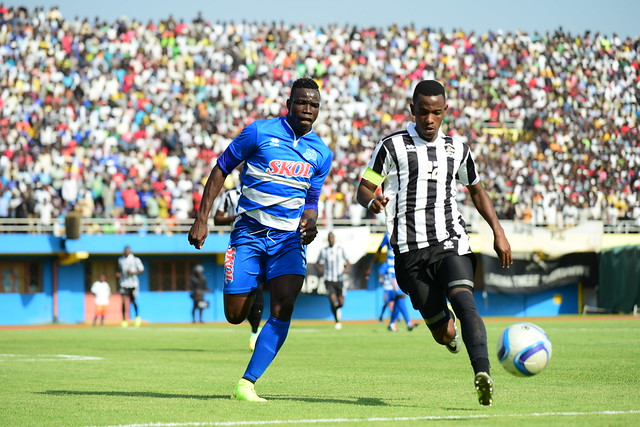 The two biggest arch rival clubs in the Azam Rwanda Premier League, Rayon Sports FC and APR Fc, have once drawn the battle lines for an eagerly awaited derby.
The two arch-rivals meet at the 25,000-seat Amahoro National Stadium on Saturday in a match day 23 encounter that may reshape the 2018/19 Azam Rwanda Premier League title race.
The match kick-off is at 15h30, and fans have been urged to come early and peacefully wait for the match which will unquestionably bring businesses to a standstill in Kigali City.
Besides the quest for the league title, Rayon Sports goes into this encounter with a mission to avenge for the 1-2 first leg disappointing loss suffered on December 13, 2018 with Issa Bigirimana and Michel Rusheshangoga netting for the military side while Ghanaian Michael Sarpong scored a consolation goal for the blues.
Rayon Sports goes into the encounter placed second on the Azam Rwanda Premier League with 48 points, six points behind the military side in 22 matches played this season.
The Brazilian Rayon Sports Coach Roberto Oliveira 'Robertinho' Goncalves de Calmo will be making his fourth debut in the Rwandan derby while Serbian APR FC counterpart Zlatko Krmpotić will be making his coaching derby debut in the Azam Rwanda Premier League since being appointed in February replacing Dr. Ljubomir "Ljubo" Petrović who retired in January due to health reasons.
Coach Robertinho is confident and optimistic on securing maximum points as his side seeks to close the gap against their arch rivals APR FC.
"We will go into the game [against APR FC] with purpose of closing the gap. We know what is at stake and despite having lost points in the previous matches, this game is a must-win for us if we are to keep in the race for the league title with seven matches left to the end of the season,"
"My players are ready for the mission. They know what this game means to them and we will wait to see how it goes," added the Blues Coach.
In his remarks, APR FC Coach Krmpotić said, "Every game is a must win for me, there is no derby to me because each game accounts for three points. So I can't speak a lot on this game but what I know it's a must-win for us to enable extend our lead at the summit of the league standings,"
Besides the bragging rights, the game goes a long way in deciding the future of the coaches of either side.
APR FC are chasing a record-extending 18th title while Rayon are eyeing a ninth league title overall following their 2017 league title, which they won under Olivier Karekezi.
Since 1995, both sides have met 86 times in official matches with Rayon winning 28, eight behind APR FC, whilst 24 others ended in stalemates. A total 246 goals have been scored in all those matches with APR Fc scoring highest number of goals -127 compared to Rayon Sport's 119 goals respectively.
In other matches scheduled on match day 23, Musanze FC hosts Kirehe FC at Stade Ubworoherane in the other fixture due on Saturday.
On Sunday, Police Football Club take on Etincelles seeking a win to keep pressure on SC Kiyovu in the battle for top-four finish in the 2018-19 Azam Rwanda Premier League.
The law enforcers are in fifth position with 34 points, four behind fourth-placed SC Kiyovu who visit Gicumbi FC on the same day.
Sunrise Fc will host AS Muhanga at Nyagatare grounds, AS Kigali will be away to Bugesera FC at Stade Kicukiro, SC Kiyovu face a tricky test at Gicumbi FC while Espoir FC will host Mukura VS in Rusizi. On Monday, there is only one fixture where Amagaju FC hosts Marines FC at Nyagisenyi grounds.
 Azam Rwanda Premier League, Match Day 23 Fixtures
Saturday, April 20, 2019
Rayon Sports FC vs APR FC (Stade Amahoro, 15h30)
Musanze FC vs Kirehe FC (Stade Ubworoherane, 15h30)
 Sunday, April 21, 2019
Police FC vs Etincelles FC (Stade de Kigali, 15h30)
Sunrise FC vs AS Muhanga (Nyagatare Grounds, 15h30)
Bugesera FC vs AS Kigali (Stade Kicukiro, 15h30)
Gicumbi FC vs SC Kiyovu (Stade Gicumbi, 15h30)
Espoir FC vs Mukura VS (Rusizi, 15h30)
Monday, April 22, 2019
Amagaju FC vs Marines FC (Stade Nyagisenyi, 15h30)
Match Day 23 Suspensions
1. Hakizimana Francois (Musanze FC)
2. Benedata Janvier (AS Kigali)
3. Ntamuhanga Tumaine (AS Kigali)
4. Akayezu Jean Bosco (Etincelles FC)
5. Niyonsenga Ibrahim (Etincelles FC)