It is Easter, April 21, 2019. Also called Pascha or Resurrection Sunday, the day marks a festival and holiday commemorating the resurrection of Jesus from the dead.
As Jesus resurrected from the dead, hope for resurrection of more than 50,000 victims of the 1994 genocide against the Tutsi in Murambi – Nyamagabe district, remain minimal in the hearts of their relatives who survived the heinous massacre in the history of humanity.
On Easter Sunday, they travelled to Murambi Genocide Memorial – home to more than 50,000 victims of the 1994 genocide against Tutsi laid to rest at the site.
Despite being a Sunday of celebrations, sombre mood engulfed mourners – as they reflected vivid memories – twenty five years when machetes and other forms of weapons turned to them.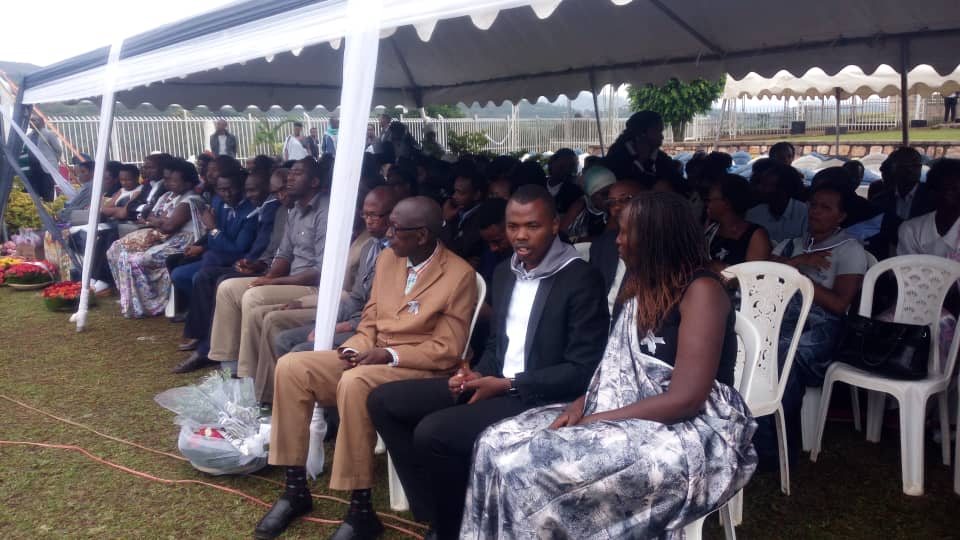 Infact, today's Easter mood in Murambi was no different from that in Sri Lanka's capital Colombo.
The capital was on Sunday hit by eight bombings on churches and hotels that killed at least 156 people and wounded about 400.
Back in Murambi, twenty five years ago, Tutsi succumbed to extreme cruelty by French soldiers working together with Interahamwe militia with an ultimate objective of wiping out every Tutsi.
During the genocide, Murambi village of Remera cell in Gasaka sector was a place where Interahamwe attacked Tutsi with extreme cruelty and brutality – killing them in tens of thousands.
In this place, they killed very many Tutsi, buried them in a huge mass grave and used bulldozers to level the site – creating a volleyball court on which they played every day.
Twenty five years later today, 294 new remains were moved to the site from Gasaka memorial and temporary graves.
The bodies were moved as part of the ongoing commemoration of the 25th anniversary of the Genocide against Tutsi which claimed over a million lives in 100 days across the country.
During today's event in Murambi, survivors gave wailing testimonies of how French soldiers tricked them in plan to exterminate them.
The trick came after 20 days of heavy resistance, when French soldiers arrived in Murambi in company of Interahamwe militias.
This was after former Gikongoro prefect, Laurent Bucyibaruta, had told thousands of fleeing Tutsi to come to Murambi in assurance of their safety. They were wrong. Instead, the French soldiers facilitated Interahamwe militia to exterminate them.
In 2000, Boubacar Borris Diop, a Senegalese writer and veteran journalist wrote an intriguing book, Murambi, le livre des ossements loosely translated as "Murambi, the Book of Bones".
The author visited the Murambi Genocide memorial where he collected testimonies and of course, could witness at what extent killers were merciless.
In fact Murambi is different from other memorials. Part of the conservation in the classrooms that were meant to host a technical school was used to show bodies of Genocide victims.
The corpses of some of those murdered were preserved and displayed, rather than being reburied.  Around 800 such remains were laid out on trestle tables in the unfinished school complex, and remain there to this day.
Thus, in Murambi, you don't need so many explanations to understand this tragedy.
Back home, Diop wrote about the betrayal of France soldiers who went as far as building volleyball court on mass graves.
He narrated the resistance of Tutsi for 20 days before a huge deployment from the genocidal army supported by France defied them and he mentioned some big names behind this massacre.
This is how his book being in French makes much sense.
In October 2016, Rwanda named 22 French army officers in genocide execution.
One of them, Lieutenant Colonel Eric De Stabenrath. The latter led the French Initiative – Operation Turquoise in Gikongoro from 16th July to 22ndAugust, 1994 and once on ground, he continued his country's resolve to deny the Genocide.
After their settlement in Gikongoro, French soldiers directly collaborated with administrative and military authorities of the prefecture who executed the genocide.
"At Murambi camp, the French soldiers who controlled its access always enquired the ethnic group of people, and inside the camp, they indiscriminately mixed Tutsi survivors of the genocide, former FAR elements and militiamen who had participated in the genocide," reads the explanation of motive from Rwanda's commission for fight against the Genocide.
Elsewhere, survivors of the former Mayaga area – current Ruhango district gathered at Ruhango Genocide Memorial site in Kinazi sector, to honour victims of the massacre that swept off the area in 1994.
At the commemoration event, 202 bodies were given decent burial at Ruhango memorial site.