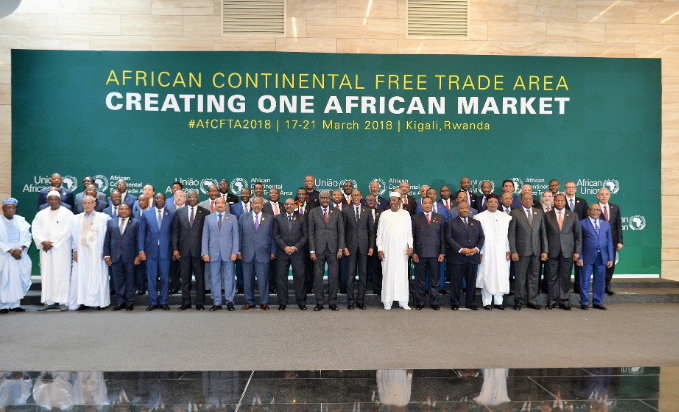 Africans and their well wishers around the world are flooding social media in celebration of the official adoption of the Africa Continental Free Trade Area (AfCFTA).
As of 29th May, Burkina Faso ratified the agreement, bringing the number of those who have ratified to 24 states. Article 23 of the AfCFTA Agreement, stipulated that the free trade area comes into force, thirty days, after twenty-two states have signed the ratification. That point was reached yesterday, 29th May.
The dream of Africa cooperating economically without boarders goes back to the continent's liberation fathers like Kwame Nkrumah, who today must be resting more contentedly. It was only until 2012, however, at the 18th Extraordinary Session of Assembly of Heads of State and government of the African Union, held in Addis Ababa, Ethiopia, that it was agreed to establish a free trade area by 2017.
The deadline was to be missed. In March 2018, an extraordinary summit of heads of state and government on AfCFTA was held in the Rwandan capital Kigali. Fourty-four out of fifty-five states signed the agreement, but, not all ratified it. To date, only three countries; Eritrea, Benin, and Nigeria, are yet to sign.
The coming into force of the agreement does not mean that the work is done. Much technical details remain to be worked out, including such complex issues like Draft Guidelines for Services Negotiations under the AfCFTA Protocol on Trade and Services. These details are not expected to be completed, and agreed before 2021.
The AfCFTA brings together all fifty-five member states of the African Union (AU), creating a market of 1.2 billion people, with a combined GDP of $3.4 trillion. It will be the largest free trade area since the creation of the World Trade Organisation.
The UN Economic Commission for Africa (UNECA) estimates that the AfCFTA could boost trade in Africa by over fifty-two percent. The single continental market in goods and services, with movement of peoples is also expected to pave the way of a single customs union.
Among the diplomats who took to social media to mark the day the AfCFTA came into force, was the AU Commissioner for Trade and Industry, Ambassador Albert Muchanga who tweeted, "Historic milestone! AfCFTA Agreement has today come into force. We celebrate the triumph of bold, pragmatic and continent wide commitment to economic integration."
He added: "We launch market on 7th July, 2019 and begin the journey to transformation to secure inclusive prosperity."
Osama Abdel Khalek, Egypt's Ambassador to Ethiopia, tweeted enthusiastically: "Name: AfCFTA. Birthday: 30th May 2019. Bio: Legally binding instrument to promote free trade in Africa. Birthday Party in Niamey. Attended by: 24 states that ratified the Agreement. Two more join."
And this from Researcher and Africa Trade Consultant, Sand Mba; "Do you remember when you joined Twitter? I do! my twitter anniversary is today…I am excited because it is also an historic day for Africa; AfCFTA comes into force. Congratulations to Africa! The path to a united and prosperous Africa has begun."
The official launch of the agreement is expected to be held in Niger's capital of Niamey on July 7, this year.
The twenty-four pioneering countries to ratify the agreement are: Rwanda, Ghana, Kenya, Niger, Chad, Congo Republic; Djibouti, Guinea, eSwatini, Mali, Mauritania, Namibia, South Africa; Uganda, Ivory Coast, Senegal, Togo, Egypt, Ethiopia; The Gambia, Sierra Leone, Saharawi Republic, Zimbabwe, and Burkina Faso.
Not just a signing ceremony
During the signing of AfCFTA in March last year, President Paul Kagame who had presided over the closed door session of heads of state that later signed the agreement, said that the day marks a dream come true.
"This is not just a signing ceremony. Today's deliberations are critically important as we chart the next steps on our journey towards the Africa we want," President Kagame said after the signing ceremony in Kigali.