Social media has been awash with unusually inflated water bills recently issued by the Water and Sanitation Corporation (WASAC) to consumers, triggering a myriad of reactions, with many accusing the water utility of incompetence and client exploitation.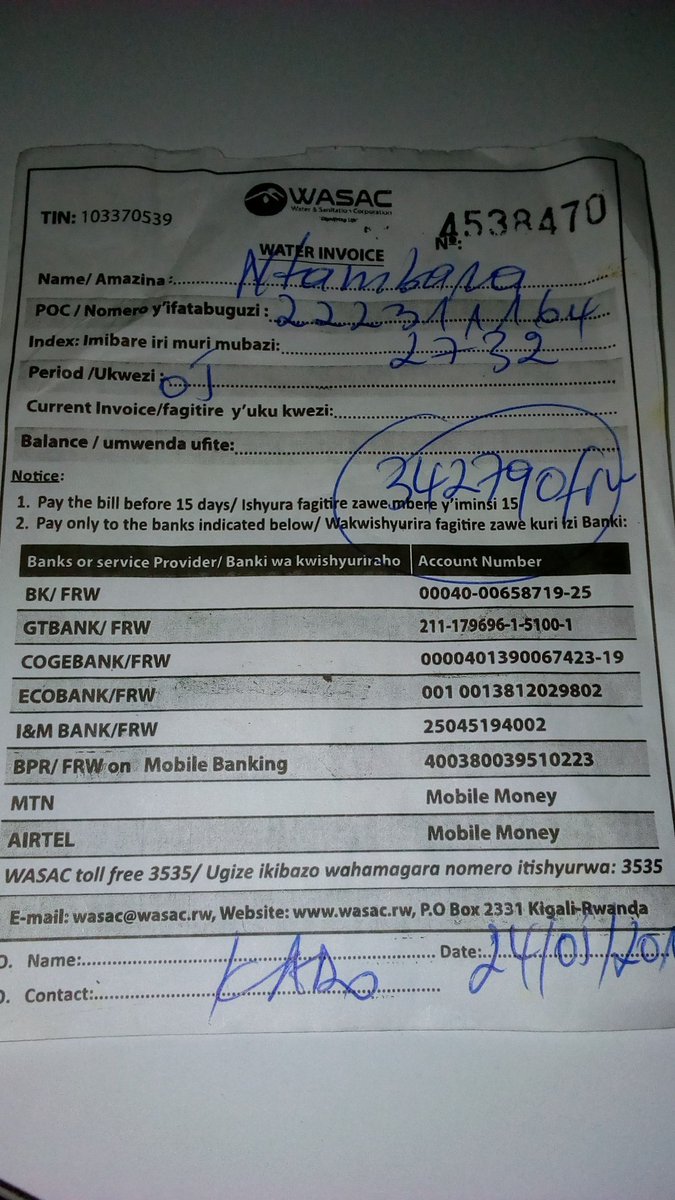 A bill, posted by a one Linda Kiberinka had Rwf371, 956, while the other, posted by Camilla Abatoni, had accumulated to Rwf342, 790.
Kiberinka wondered how a household of just 4 people can accumulate such a monstrous bill in just two months.
"Household of 4 adults, in Gisozi Invoice: Rwf 371.956 for 2 months, not to mention that water isn't guaranteed everyday as we all know! Beyond unacceptable! Something has to change with WASAC," tweeted Kiberinka.
The two bills attracted many reactions, with some joking that the recipients of the unusually huge bills have invisible swimming pools while others wondered if the complainants run factories in their homes.
Many people subsequently shared their water bills, some linking it to the recent decision by the government to increase water tariffs, which also ignited a massive debate on social media, with some questioning why water tariffs would go up when supply is not stable.
WASAC and Rwanda Utilities Regulatory Authority(RURA) promised the complainants that the issue will be looked into to understand the cause of the inflated bills.
The Chief Executive Officer of WASAC Aimé Muzola told KT Press that the bills have nothing to do with the recent tariffs but rather individual cases as showed by investigations into some of the raised complaints.
"The complaints we have received have nothing to do with the new tariffs announced recently. We have investigated some of these reported cases and found that in some instances, the clients haven't paid their bills for a long time, accumulating the bill and fines," Muzola said.
"But in most cases, we found that the clients plumbing system develops a leakage and they don't figure out in time, leading to wastage of water, hence the huge bill. This was the case in the household in Gisozi," explained the WASAC head.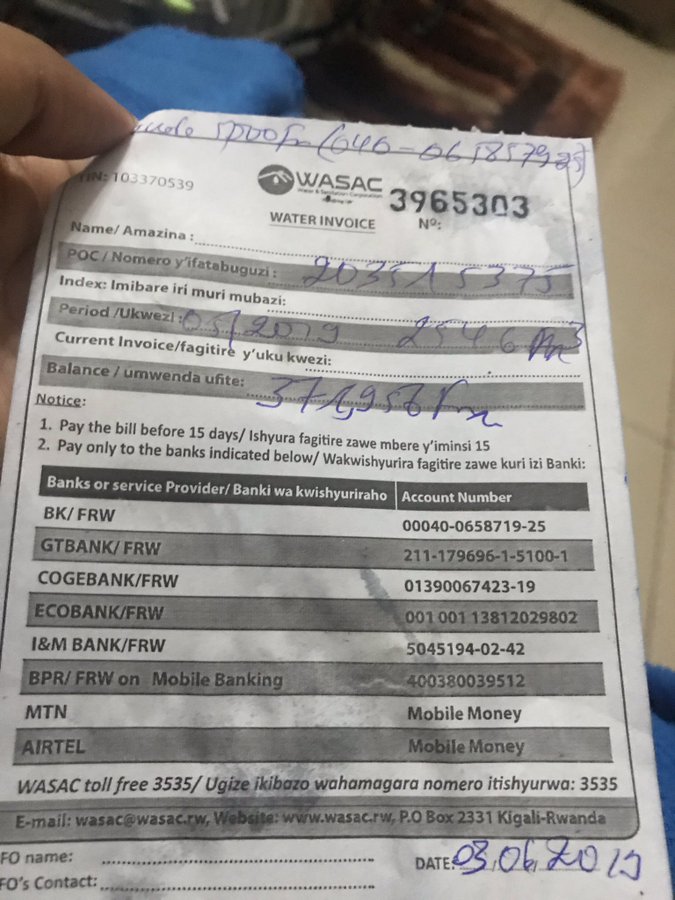 He said that in cases where a WASAC technician made a mistake, they correct and adjust the bill but in other incidences where the problem is on the side of the consumer, such as leakages in the plumbing system, the client must pay the bill.
Such is the case of one of the complainants, Ms Kiberinka, whom, WASAC says she has to pay the full amount, equivalent to $409.
"According to the report from our team that visited you yesterday, the unusual bill is a result of leakages located in your plumbing system. We therefore, request you to pay the bill and humbly advise you to revise your in-house plumbing to avoid more loss. Sorry," the water utility informed Kiberinka.
Kiberinka was not satisfied, indicating that they have been closing the main supply after stocking water daily, but it didn't help. Some consumers also claimed that WASAC meters continue to run on pressure even when there is no water in the taps.
Kiberinka is not alone according to the WASAC CEO. Many people have become victims of inflated bills, because they don't follow up or monitor the water supply system. He says regular checks can identify the problems early and save the situation.
"We find that in some cases, a household has malfunctioning toilets which continuously let water through or leaking pipes and dripping taps which waste water over time. We ask people to cooperate and report, our technicians are always ready to help at no cost," Muzola added.
 Enter Smart Meters
To solve the billing problems permanently, the WASAC CEO says the water utility has finalized plans to introduce smart meters which they think will be the solution. Muzola said WASAC is currently in the process to procure the new meters which will replace the old ones.
"The smart meters will be able to capture details of clients without the technician coming to read the meter manually. They will be moving in neighbourhoods capturing data without entering homes," Muzola said.
"These new metres will be wireless and accurate and will be able to capture the actual consumption and the system will automatically remit the bill to the client's phone. Those with complaints will be going to our offices but the new system will limit physical contact between clients and technicians."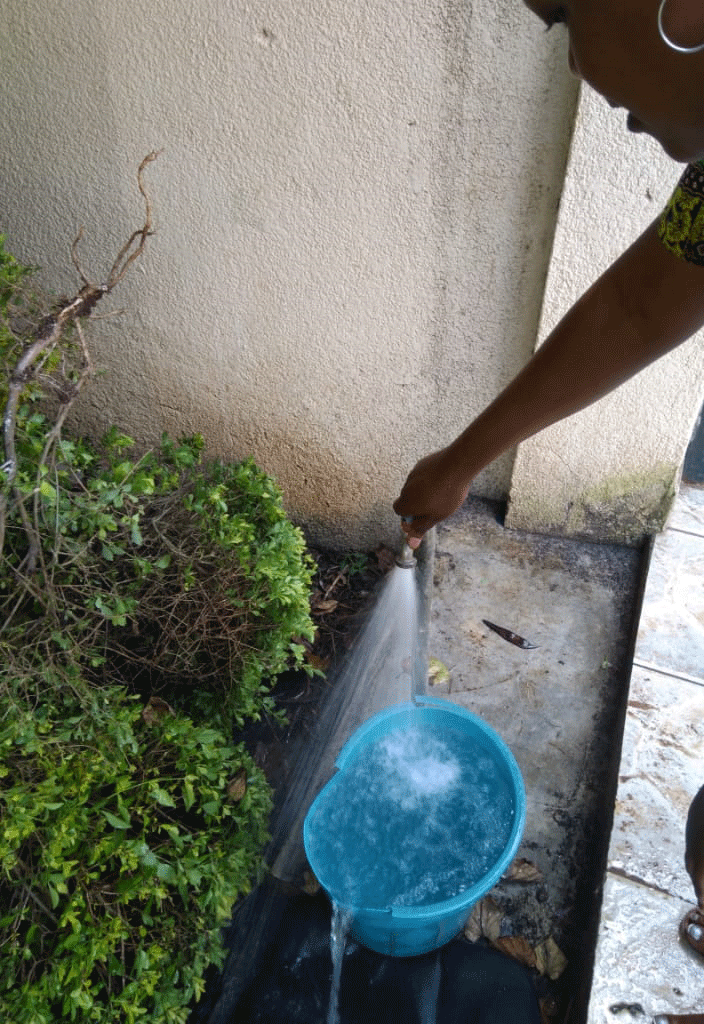 Without giving dates, Muzola said the 'smart metering system' will be rolled out soon and will be connected to the Supervisory Control and Data Acquisition (SCADA) –a system to monitor water levels at water reservoirs and leakages to prevent water loss in different parts of the country.
New online applications
Apart from smart meters, Muzola said that WASAC is introducing an online application process to acquire new meters, which means that new consumers will no longer have to visit WASAC offices to apply for meters.
"People will be applying from their locations. Whether you are in Nyagatare or Rubavu, you will apply online and the meter will be delivered. We want to ensure that we limit physical interaction between clients and staff, which sometimes leads to corruption and bribery," he said.
Last month, WASAC and RURA gave clarifications on new water tariffs which went into effect in February 2019. The new tariffs attracted a flurry of comments, with some lamenting about the increasing cost of water.
Under the new tariffs, the 1st category comprises of consumers who use not less than 5,000 litres (250 jerry cans) per month or eight jerry cans per day. This category pays Rwf340 per 1,000 litres or Rwf6.8 per jerry can.
The next category consists of people who use over 5,000 litres but not more than 20,000 litres a month. This group pays Rwf720 per 1,000 litres, which means they pay Rwf14.4 per 20-litre container.
The last category of consumers consists of those who use 20,000 litres and not more than 50,000 litres per month, equivalent to between 33 and 83 litres per day. This group pays Rwf845 per 1,000 litres which is Rwf16.9 per 20-litre jerry can.
The government said the rates are 'reasonable and affordable' and will support government efforts to increase clean water supply, which requires heavy investment in infrastructure and supply systems.
Last month, the Government of Rwanda announced a planned $440 million investment in clean water supply systems over the next three years to ensure that all Rwandan have access to clean water by 2024.