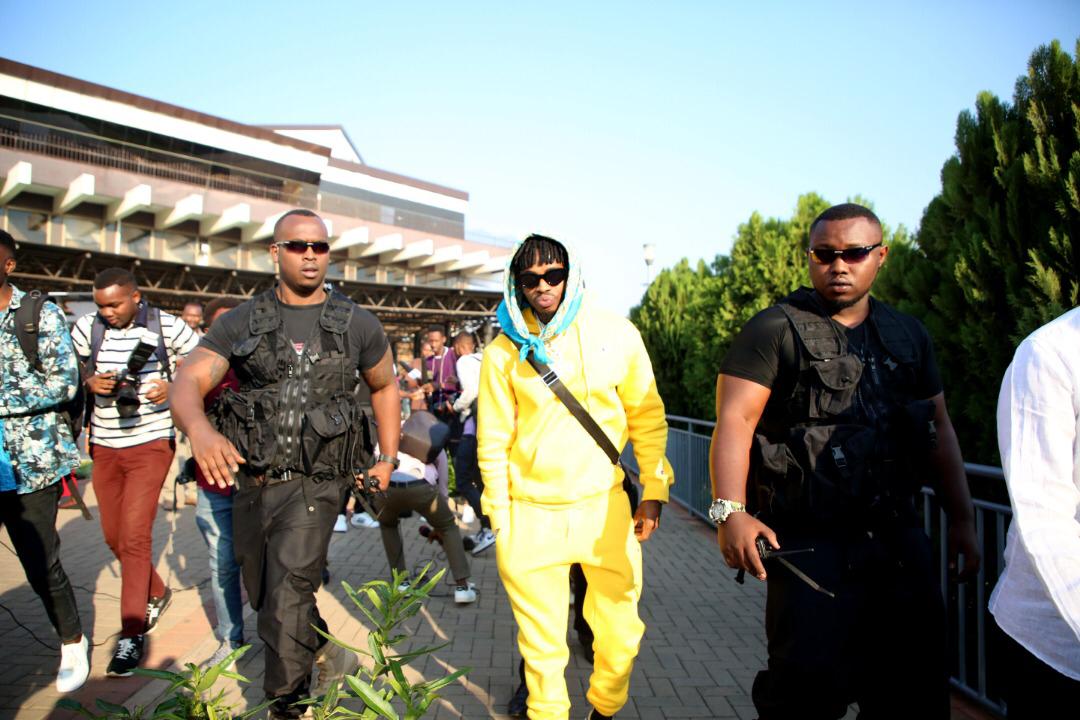 In January last year, Tanzanian superstar Nasibu Abdul Juma, known by the stage name Diamond Platinumz, said that he intends to own a home in Rwanda, going as far as visiting some properties in the city but since then nothing happened.
 The Tanzanian singer, who is in Rwanda to headline Iwacu Muzika Festival finale, was on Friday asked if he still has plans to buy a house in Rwanda and he said 'definitely yes' but did not provide further details regarding when or where. 
Speaking to the media ahead of the Saturday show, the "Kanyaga" singer promised Rwandans 'nothing but the best' in what is expected to be a mega show in the parking of Amahoro National Stadium. 
"They should expect nothing but the best as I always say because it's been a while since I was here and I have a lot of new hits and songs. Sometimes I think it is about that. I am well prepared. Make sure you get your ticket early so that we can 'kanyaga' together tomorrow," the Bongo star said. 
On whether he is ready to work on collaborations with Rwandan artistes, Diamond Platinumz said that he knows many good Rwandan singers and he is ready to do songs with them if they are ready.
 "I am ready. I believe Rwanda got the best artistes and I have all the rights to work with them. I am ready when they are ready," he said. 
The Wasafi founder expressed his love for Rwanda and the people, saying that he is always looking forward to perform in the country because Rwandans love his music. 
"It has been a while since I have been to Rwanda. I always got love for Rwanda because Rwandans support my music so much. I love you guys so much," he said, appreciating local media. 
The award-winning singer, arguably East Africa's most popular artiste and one of the continent's best, said that the secret of staying on top of his game is hard work and research to know what fans want. 
"What I try to do is work so hard, try to be more creative. The more days pass, the more I am learning the market. You need to know what people need, what people want now. That is what I try to do,"
 "I do research to know what people want to hear from me because there are some songs I have dropped. I believe you have to go deep to know if actually people may like a song or not. Normally I don't like to rush. I love doing my research and see what is best for the people," he said.
 He said that despite being Diamond Platinumz, he still has to put in work to know what is good for his fans, even though he has already gained fame but he knows what he does is not for himself but for East Africans and the rest of the world.
 "I am trying not to let you guys down. I am trying so hard and I have the best management. I can say that. As a team, we try to make sure that whatever we deliver becomes the best," he said.
 Cornered to mention any Rwandan artiste he knows, Diamond said he knows most of them and follows them on social media platforms but he refused to mention names, saying that if he mentions some, those he won't mention are likely to take issue. 
The singer was also cagey about his relationships which are always making headlines, but confirmed that he is expecting a child with his current Kenyan girlfriend Tanasha Donna next month. He has sired three other children with Ugandan Zari Hassan and country mate Hamisa Mobetto.
 The singer, who calls himself Chibu Dangote, also brushed off reports that he has something going on with Rwandan socialite Shadia Mbabazi, commonly known as Shady Boo, saying that he considers her his sister and a fellow celebrity.
 The duo has been linked since 2015, with the socialite appearing with the singer in different photos and videos.
 His last performance in Rwanda was in July 2017 in Bugesera District at Fiesta Rwanda show alongside Morgan Heritage and Vanessa Mdee.
 The performance at Iwacu Muzika will be his third show. According to Joseph Mushyoma, the CEO of East African Promoters (EAP) who are organising the show said that all the best Rwandan artistes include Bruce Melodie, Queen Cha, Francois Nsengiyumva, Massamba Intore and others have been line up to perform alongside the Tanzanian star.
 Iwacu Muzika Festival, which is supported different government partners including Ministry of Sports and Culture, Ministry of Gender and Family Promotion and sponsors including Primus, Bank of Kigali and Radiant Yacu among others, will come to a conclusion after shows in Rubavu, Musanze, Huye and Ngoma.
 To watch the 'Tetema' star, you will part with Rwf20, 000 at the gate or Rwf15, 000 if you buy the ticket today while regular tickets go for Rwf5,000.