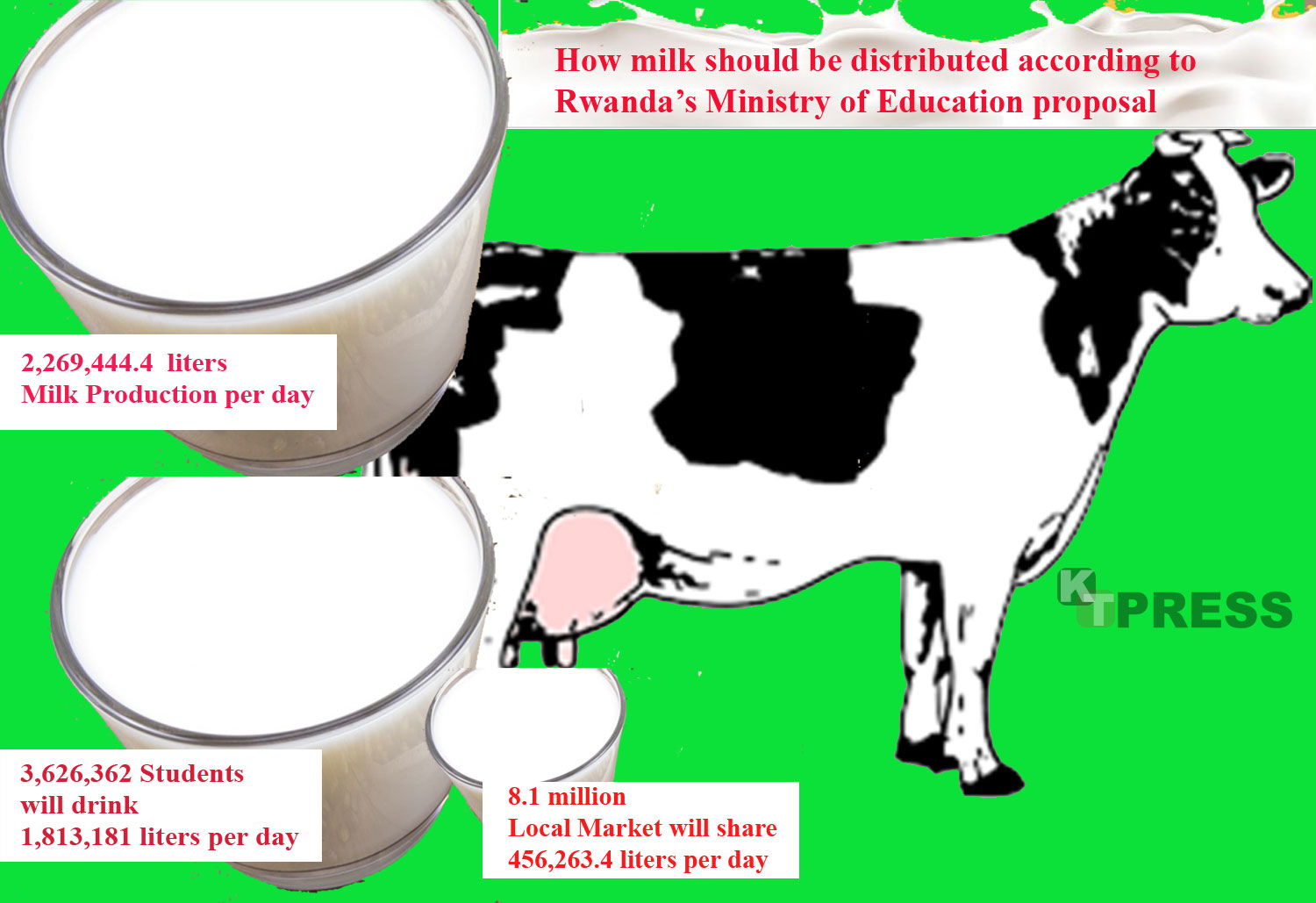 The Ministry of Education has sent an instruction to schools which would see 1,813,181 liters of milk consumed every day in Rwandan nursery, Primary and secondary schools.
In January this year, the Ministry requested all schools to give every student at least half a liter of milk per day.
"We firmly request all nursery, primary and secondary schools that on the diet destined to children, at least ½ liter of milk should be included without fail," Eugene Mutimura, the Minister of Education tweeted.
The instruction was drawing from the ministry's school feeding policy, and ever since, on every visit, schools are reminded to comply.
With milk production standing at 2,269,444.4 liters daily, if all the schools comply, 79.8 % of milk produced every day will be shared by a population of 3,626,362 students that comprise nursery, primary and secondary schools in Rwanda, according to 2018 statistics.
Given the Integrated Household Living Conditions Survey (EICV5) which estimates that Rwandan population at 11.8 million in 2016/17, the rest of the market; 8.1 million citizens would share the remaining 456,263.4 liters, leaving other factors constant.
The new school feeding instruction will have quite a big amount of milk going to schools. However, the Ministry says they will consider priorities if needed be.
"We believe that the supply can suffice our schools and if not we should look at who needs milk most," said Rose Baguma, an official at Ministry of education who has among other responsibilities, school feeding policy.
In the existing arrangement, the Ministry of Education provide Rwf 56 for every child in public and schools with government subsidy for school meal every day.
The money, said Baguma, will increase to Rwf 150, something that is believed to have started in nursery schools and Primary 1, though officials cannot tell the amount of milk involved as of today.
The Ministry however, encourages schools and parents to contribute to this cause.
Schools 'Not Ready'
While schools laud this program, apparently, it will take them some times to embrace it.
Pastor Samuel Mutabazi, in charge of Education in the Anglican Church of Rwanda, told KT Press; "the initiative is commendable because it will improve children's welfare and thus, improve quality of education."
"The Ministry however, should consider that they started enforcing this new move when schools had made their budget which in many cases, is wanting."
Mutabazi said that the government subsidy is not enough and in many cases, "parents do not help much in school feeding. At the end of the day, the program is left to the schools alone."
Father Janvier Nduwayezu, in charge of education in Catholic Church also concurs with the Ministry that the program is important, but added, "they (ministry) were supposed to sit with so we look at feasibilities."
Nduwayezu however, believes that schools "should not sit back. They can start rearing cows to make sure that they are able to get milk themselves. In this move, why not even rearing hens for eggs? Providing balances diet for our children will turn around the quality of education."