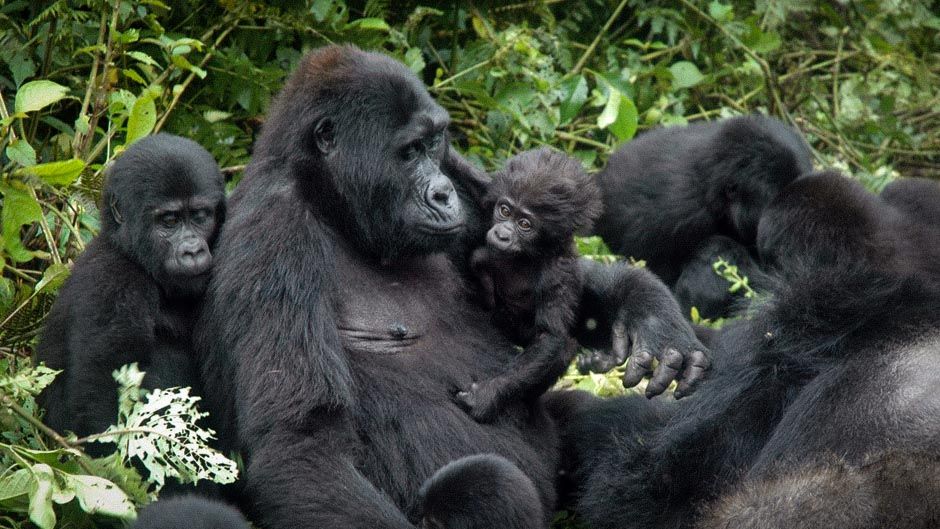 Barely seven days to the gorilla naming ceremony – Kwita Izina Rwanda has given an opportunity to any friends of silver back and mountain gorilla trekking to propose a suitable name.
This year, 25 baby gorillas are lined up for the September 6, event in Kinigi, Musanze district and some global delegates have been invited to take center stage in the ceremony.
However, with 23million twitter followers National Geographic Society has taken up to twitter to give this first chance for twitter users to vote for a suitable name for one of the 25 baby gorilla. All you need is to follow this link:  https://twitter.com/NatGeo.
"Fifteen years on, the Kwita Izina tradition continues—and you can help choose the name of one of this year's babies! You've got 72 hours to cast your vote and name one of Rwanda's new baby mountain gorillas," National Geographic said.
Two Kinyarwanda names (for the baby gorillas) have been lined up and according to National Geographic. The one with the biggest number of votes (in 72hours) will have emerged as the name from the rest of the world.
The names to choose from are: 'Intego' which means "Purpose"  and 'Imyato' which means "Achievement," paying tribute to those who have helped Rwanda thrive through conservation initiatives.
Views from some of the voters have showed why some chose to vote one of the two names.
"Imyato is the name because we always talk about them: on how beautiful they are, on how it's an unforgettable souvenir to see them….We talk about them because that occupy a very important place in our (Rwandans) daily life," said Jean Paul Uwayezu one of the voters.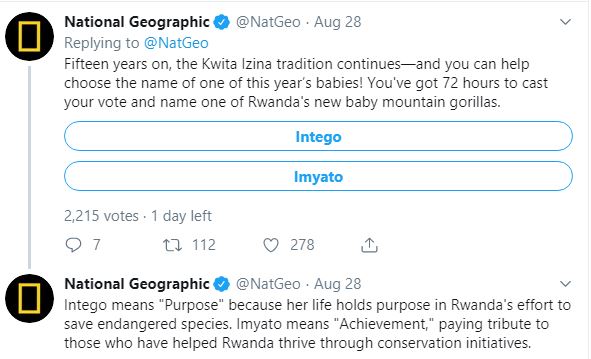 For Ben Kayitare, Intego sounds better and represents what Rwandans are up to in leading gorilla conservation efforts.
"All the way it's "Intego" because if we keep our commitment to conservation the future is bright!," Kayitare said on twitter.
On the D-Day, September 6, 2019, some of the prominent A-List world celebrities coming for this year's event include: former Barcelona FC and Manchester United manager, Louis Van Gaal, and Tony Adams – Arsenal legend and a mega Kwita izina concert performance by Ne-Yo.
There are 14 gorilla families from which the baby gorillas will be named, which include: Agashya, Kureba, Hirwa, Muhoza, Musirikare, Amahoro, Ntambara, Isimbi, Sabyinyo, Igisha, Kureba, Kwitonda, Susa and Pablo.