All roads on Friday morning will lead to Kinigi at the foothills of the Virunga Mountains where 25 baby gorillas will be named amid pomp and pageantry in a ceremony that will be attended by global celebrities, conservationists, selected locals and friends of Rwanda.
The annual ceremony, locally known as Kwita Izina, now in its 15th edition, has become a prominent fixture on the national calendar, drawing in praise from conservationists who credit it for raising the plight of the once critically endangered Mountain Gorilla.
Rwanda Development Board (RDB) has released a list of namers who include renowned global personalities and locals with extraordinary stories.
Among those is Emmanuel Niringiyimana, a 23-year old resident of Murambi Sector, Karongi District, who in July this year made headlines after his noble act of building a 7km road in his community on his own earned him celebrity status.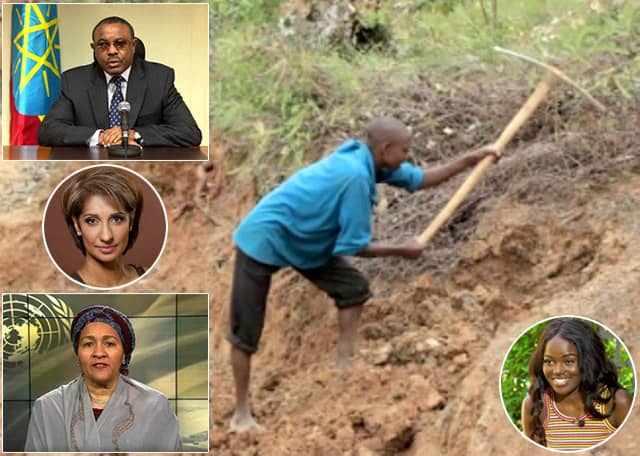 Nirinyigiyimana's act earned him praise and recognition not only from the people but the government and he is now set to share the stage with renowned people and celebrities he could have never dreamed of meeting.
Among the global names Niringiyimana will share a stage with is Amina Mohammed, the Deputy Secretary General of the United Nations, former Ethiopian Prime Minister Hailemarian Desalegn, Supermodel Naomi Campbell, Arsenal legend Today Adams and American RnB star Ne-Yo.
Also among the prominent names this year is former Manchester United and Barcelona coach Louis Van Gaal, UK-based Rwandan born choreographer Sherrie Silver, US-based Rwandan singer Meddy Ngabo and Dame Louise Martin, DBE, the President of the Commonwealth Games Federation.
She is currently in the country for the Commonwealth Games Federation General Assembly (CGF). Other namers will include Paul Milton & Luke Bailes, the Founders of Milton Group which is behind Singita Kwitonda Lodge.
They will represent Paul Tudor Jones and Anders Povlsen, the investors behind the high end luxury lodge which was opened by President Paul Kagame and First Lady Jeannette Kagame at the beginning of August.
Jordanian royal family member Princess Basma Bint Ali, who has made a name as an advocate of biodiversity conservation and sustainable agriculture in Jordan will also be among this year's namers as well as Ron Adams, Israel's Ambassador to Rwanda.
Swedish entrepreneur Niklas Adalberth, the founder of entrepreneurship hub Norrsken will also be among the namers. Norrsken in June announced its entry into the Rwandan market, with a plan to establish an entrepreneurship incubation hub.
Other namers include Jeremy Jauncey, the founder and CEO of branding agency Beautiful Destinations, Sri Lankan entrepreneur and philanthropist Otara Gunewardene, renowned National Geographic photographer and filmmaker Ronan Donovan and Madeleine Nyiratuza.
Nyiratuza is the Programme Specialist at the United Nations Development Programme (UNDP -Rwanda) Sustainable Growth Unit. She is also responsible for the conservation and restoration of the Gishwati Forest Reserve which led to the creation of Gishwati Mukura National Park.
Others are Marco Lambertini, the Director General, World Wildlife Fund International (WWF) and Anthony Nzuki, the Ranger Post Leader at Akagera National Park.
The 25 baby gorillas that will be named are members of the Amahoro, Umubano, Hirwa, Igisha, Isimbi, Muhoza, Kwitonda, Sabyinyo, Susa, Pablo, Kuryama, Mafunzo, Kureba, Musirikali and Ntambara groups.
The event is characterised by celebrations involving Northern Province residents who convene at the site in Kinigi, music, merrymaking, food and drinks.
President Paul Kagame is expected to grace the occasion which has since become an attraction for international and local media.
Later in the evening, the Kwita Izina Gala dinner will be hosted at Kigali Convention Centre (KCC) where singers Ne-Yo, Meddy and others will entertain attendees while Kigali Arena will on Saturday September 7 host the Kwita Izina concert.
Local stars including Bruce Melodie, Riderman, Charly na Nina and others will join the Miss Independent singer and Meddy to entertain the crowd.