Fresh from earning global accolade as the "Uber for Blood" service provider country because of its provision of blood to remote hospitals using drones, Rwanda has been selected as the host of continental drone forum and global flying competitions slated for February 2020.
In October 2016, President Paul Kagame pressed the takeoff button to launch the country's first drone into the skies – marking the country's new means of transportation and delivery of emergency medical supplies to remote parts of the country.
The project was a joint venture between the Ministry of Health and Zipline – a Silicon Valley robotics company to establish a droneport in Shyogwe sector in Muhanga district, Southern Rwanda.
From Muhanga-based main droneport, the country has established other sites, the latest launched in January this year in Kayonza district, Eastern Rwanda. The country has also come up with an idea to use drones in other areas such as Agriculture.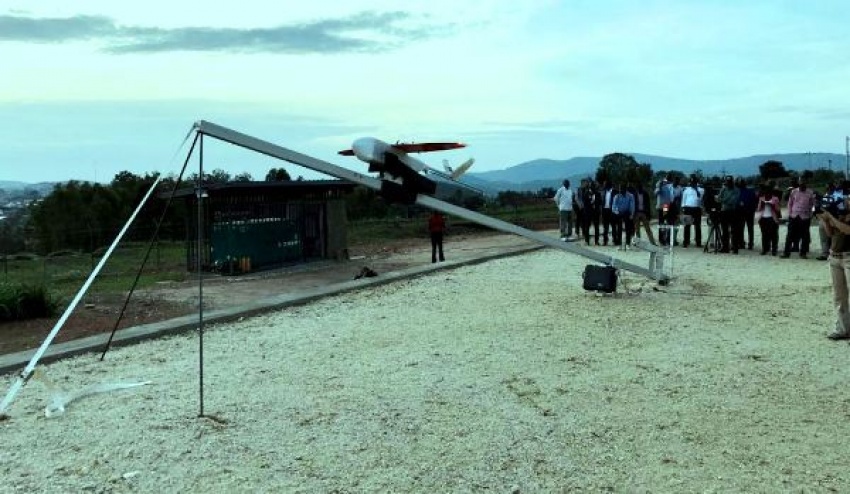 The initiative to use the latest technology in saving lives has earned Rwanda a slot to host the global flying competition – through a partnership with the World Bank and World Economic Forum (WEF).
The event will include a regulatory summit that brings together leading figures in drone technology from the private sector and airspace regulators to highlight and discuss what is possible for the future of drones in Africa.
Timothy Reuter, head of aerospace and drones in WEF said, "increasing use of drones in Africa will bring about not only benefits to business, agriculture and the health sector, but could quite literally save lives by taking deliveries off the roads and into the sky,"
"To unleash this potential, new policies need to be put in place that safely opens the skies to drones as most African countries do not yet permit the most beneficial applications," Reuter said in a press release.
According to Riccardo Puliti, World Bank global director for energy and extractive industries and regional director for Africa, "The forum aims at the opening and testing the minds of engineers, regulators, entrepreneurs and investors,"
"The flying competitions will promote new industries and services, harness data for delivery and resilience, create activity hubs and opportunities to leapfrog technologies, and develop skill sets for 21st-century jobs in the region and beyond," said Puliti.
Puliti added that the event will promote the skies above Africa as a valuable resource and technologies to help build sustainable infrastructure.
According to WEF, Rwanda was selected as the host for the event because it is currently one of the only countries that have policies in place that allow for the types of applications being demonstrated in the competition.
Rwanda's ground-breaking use of medical delivery drones, WEF added, supported by an open regulatory approach –developed with support from the organization — has shown exactly what a "forward-thinking government" can accomplish.
Paula Ingabire, Rwanda Minister of Information and Communication Technology said that "the country is excited to host the Africa Drone Forum. It is a platform that will bring together policymakers, drones enthusiasts, experts and industry leaders to explore potential use case applications for unmanned aerial vehicle (UAV) technology in Africa."
"It's an opportunity for Rwanda to share our experience in pioneering the use of Beyond Visual Line Of Sight (BVLOS) UAV operations, and our development of drone regulations," added Minister Ingabire.
The flying competition will see global experts invite companies that are leading the way in drone technology to compete.