It is that time of the year when global leaders gather in New York for a flurry of activities during the United Nations General Assembly (UNGA) and dozens of other events on the sidelines which involve high ranking officials from across the world.
The First Lady Jeannette Kagame and First Ladies from across the world also convene in New York at this time of the year to take part in their own activities to champion their causes as well as mobilise support for their initiatives back home.
This year, Mrs Kagame is in New York where she is engaged in a number of activities along with other First Ladies as well as different activities her foundation, Imbuto Foundation, was taking part in.
Upon arrival in New York, Mrs Kagame joined other First Ladies grouped under the Organisation of African First Ladies Against HIV/AIDS (OAFLA) in an event organised in partnership with Business Council for International Understanding (BCIU) on the sidelines of UNGA, aimed at mobilising the private sector to support OAFLA's new strategic direction, for a developed Africa.
The same day, the First Lady and President Paul Kagame met with Democratic Republic of Congo (DRC) President Félix Tshisekedi and First Lady Denise Nyakeru Tshisekedi.
Mrs Kagame also participated in an OAFLA event dubbed "Renewing Commitment towards Enhancing Gender Equality and Women's Empowerment in Africa", a high-level meeting for first ladies at the margins of the 74th UN General Assembly.
In her remarks, Mrs Kagame emphasised the fact that "there is no one prescription for all women and girls participation in leadership, as they are not a homogenous group, and the reality they live is not always the same."
The First Lady noted that the participation of women and girls in leadership is dependent upon a number of factors, including their levels of education, financial capability, and whether they are urban or rural-based.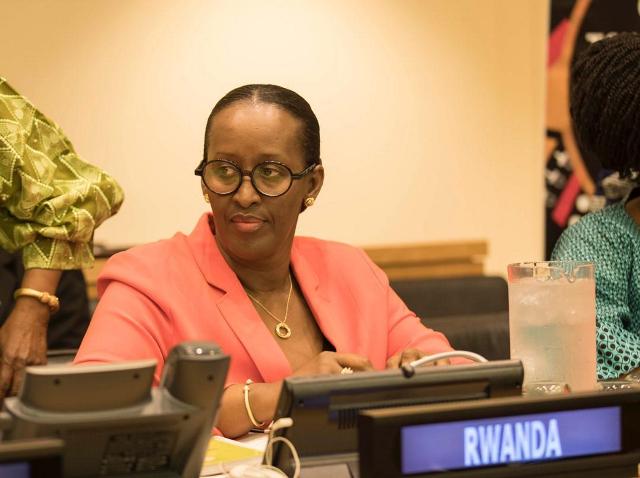 "To begin, let us first acknowledge the following two realities. The first one is structural, social and cultural barriers and stereotypes, lack of resources and sometimes skills constrain them from actively participating in leadership,"
"Secondly, there is a cost to development, associated with women's absence in leadership and decision-making positions," she said.
Among other things, Mrs Kagame made case for women and girls, highlighting the need to break the cycle of poverty which affects women and girls and the need to involve them in decision-making processes.
"We must, therefore, ask ourselves, what can be done to fast-track women and girls' participation in leadership and decision-making?" she said, adding that "we must break the cycle of the vicious poverty trap".
The First Lady said that it is a must to promote the self-esteem of women, while continuously engaging the men, who lack the sensitivity to respect the fundamental rights of women, to participate in the leadership and decision making, at all levels.
"We need to engage the men. We cannot keep asking the oppressed to be the only ones to fight the oppression," she said, adding that to achieve that, there are pre-requisites mainly strong leadership at the highest level and strong institutions and legal frameworks.
"In Rwanda, the unequivocal commitment of the President to the empowerment of women is evident in the number of women in Parliament (61.3%), conducive policy, legal environment and institutional frameworks," said.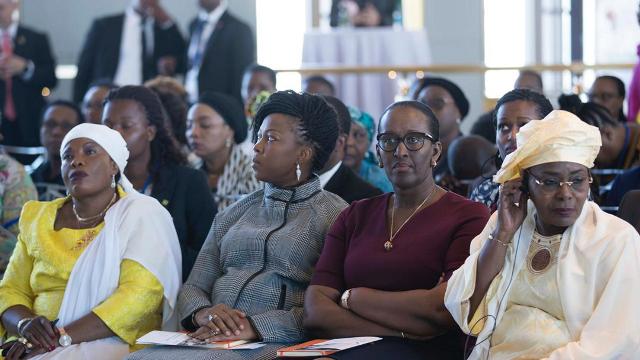 The First Lady also attended the OAFLAD high-level panel on the Importance of Blood for Africa's Mothers.
The event was aimed at raising awareness and mobilising stakeholders on ensuring adequate, safe and sustainable blood on the continent, especially for mothers.
During the event, the event on Wednesday, Imbuto Foundation Director-General, Sandrine Umutoni shared Rwanda's experience in availing safe and adequate blood, through national initiatives such as the National Centre for Blood Transfusion, drone services such as Zipline, and Universal Healthcare Coverage.
Mrs Kagame also attended the high-level event on advancing the campaign on the reduction of early marriage and rape in Africa.
This event was hosted by First Lady of Sierra Leone, Her Excellency Fatima Maada Bio. It was also attended by Rtd Gen. Julius Maada Bio, the President of Sierra Leone alongside high-ranking stakeholders and partners.
The event was aimed at combating early marriages which girls of their right to decide on their sexual health and desire and also deprives them of their right to education.
Mrs Kagame, through her foundation Imbuto carries out similar initiatives aimed at keeping girls in school and safeguarding them from early marriages, teen pregnancies and other acts that directly affect their lives.
The First Lady is expected to participate in several other activities in the U.S aimed at advancing the causes of her foundation and ensuring rights for women and girls.