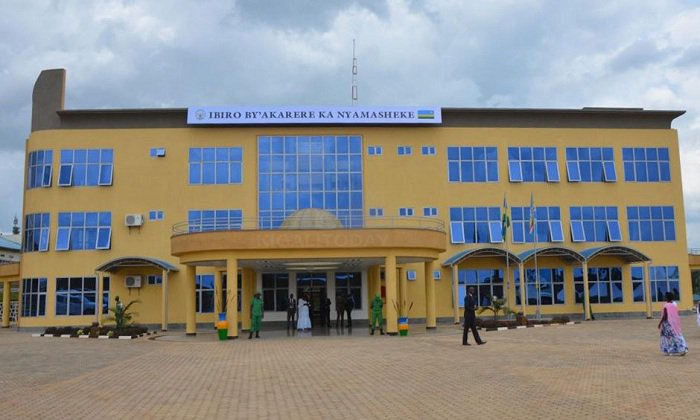 Ruhango District official is confirmed among the first persons to fall victim of a Parliamentary Accounts Committee's (PAC) investigation into gross mismanagement of public projects as cited in the Office of the Auditor General's (OAG) report 2017/18.
Fortunée Uwimana, now a former Executive Secretary of Ruhango district was confirmed yesterday to have been given 15 days suspension following the recent appearance in the PAC hearing KT Press can reliable confirm.
Gerome Gasasira Rutagengwa, the district council president said that suspending Uwimana follows several warnings and outcomes on the PAC hearing on administrative errors committed in her area of work.
On September 16, the district officials appeared before PAC to answer OAGs queries on defaulting legal tendering procedures and non-compliance to the AG's recommendations.
Ruhango district couldn't explain why of a proposed one-year the construction project of a district youth centre (worth Rwf184million) and accommodation facilities (worth Rwf601million).
The OAG report showed that mismanagement of this four-phase project was delayed beyond 2015 and construction works in the second phase was handed over in 2016, uncompleted.
During the PAC hearing, both the district and the contractor Gérard Hakizimana turned guns on each other blaming the other for failing to abide by the contract agreement.
Uwimana told parliament that: "The contractor abandoned works on project in its second phase thus the district decided to terminate his contract and withhold a project guarantee fund of Rwf9million".
However, the contractor slammed these allegations saying he didn't abandon work, but instead issues started arising from a variation in the project feasibility study and the work he was assigned to complete.
"For instance I informed them that part of the facility plan had 12 rooms instead of three rooms, of which I did construct with a roof of 200 meters instead of the planned 50 meters," Hakizimana said.
After listening to all sides, the Assistant OAG, Patrick Habimana said it's a shame if the facility meant for 2015 remains uncompleted. The PAC chairperson, Dr. Jean Chrysostome Ngabitsinze, stated that the persons involved have to be questioned and investigated further on this issue.
Such investigations and decisions were common in the two weeks PAC hearing which ended Wednesday with 60 districts and government business entities summoned this year (of the 210 entities).
Most officials summoned on grounds of failure to make a 60% mark pass point in implementing the OAG's recommendations on financial management and compliance, with most of them getting an adverse opinion (meaning worst managerial efforts).
While other districts escaped the iron hand of PAC and scrutiny in tendering faults and contract management they were blamed for errors made out of negligent and lack of consulting superior authorities
However, unlike in the past eight years when government officials could get away with such shameful performance, this year's PAC hearings come with a new twist as both PAC, the National Public Prosecution Authority (NPPA), Rwanda Investigation Bureau (RIB), agreed the testimonies be used as potential evidence to further investigation.
"Everything said in the PAC hearing will be used as evidence, and the focus will be to get as much information from officials so that we can hold them accountable now and in future hearings," PAC Chairman Ngabitsinze said Tuesday.
From such a tough decisions, inquires and investigations have also been extended to other districts besides Ruhango district.
Our reporters upcountry indicate that four Sector Executive Secretaries (ES) in Nyamasheke district (western province) have also resigned from their duties.
The Sector officials include: Jacques Niyonzima, ES Kagano, Léopold Ngendahimana, ES Bushekeri, Maurice Muyisenge, ES Rangiro, and Jean Claude Ndindayino, ES Mahembe.
The district acting Mayor, Josué Michel Ntaganira confirmed the development saying that he has already received their resignations.
In Karongi district, which had rough times in PAC hearings, also reported the resignation of its Head of Human Resources, Eric Munezero.
Munezero was part of the team that was grilled twice in PAC hearings over defunct Rwf1.5billion Karongi Cross Border Market with up to now is not operating.
The district was also pinned on several tender scams such as a hospital facility which was refurbished by a contractor at Rwf1.4billion and an extra Rwf140m paid on the initial budget, but has leaking roofs.
It may seem like officials resigning will make them get away with it, but NPPA Prosecutor, Florienne Nsabimana said that there is need to follow up on case by case so as to separate an administrative error from what could be qualified as a criminal offence.
"Mistakes have the right channel for correcting inside the Prime Minister's Office. This can be done by taking administrative actions or recovering the misused funds but the prosecution also does its part to file court cases when it thinks there is sufficient evidence for an action to be called a crime," Nsabimana said on Tuesday during a KTRadio talk show "Ubyumva Ute" on PAC hearings this year.
The OAG report shows that close to Rwf260 billion was mismanaged in 2015/16, and in the last five year 999 government officials have been prosecuted, 270 convicted for Rwf4.2 billion and over Rwf3.8 billion recovered but 625 of the accused have voluntarily returned at least Rwf999.8m plus $9,100 and €3,225.
However, Transparency International –Rwanda has called for more efforts to recover more funds and pursue culprits.