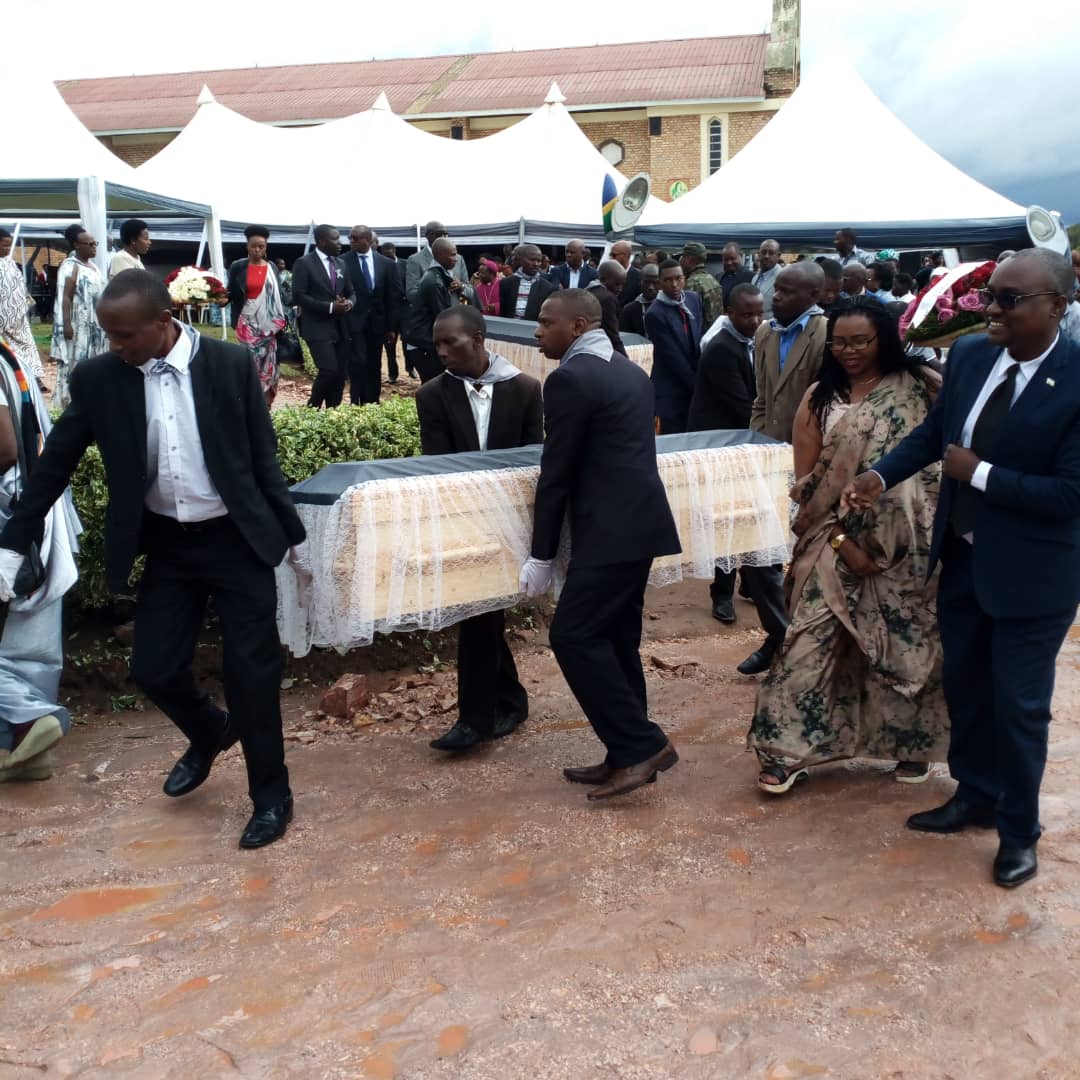 More than one million, or exactly 1,074,017 the number of murdered men, women and children in the 1994 genocide against Tutsi, according to Rwanda's National Commission for the Fight against Genocide (CNLG).
It is a number they will have to revise upwards, each time the conspiracy of silence about where some victims' bodies were dumped breaks down, and the remains given a proper burial. On 12th October, this grim task was repeated in Cyanika, Nyamagabe district of southern province.
As September was giving way to October on the 28th, the ground in Cyanika Parish could no longer keep the dark secret its parishioners' had kept hidden for twenty-five years. For those two decades and five, parishioners had cultivated a small patch land, a mere five metres from the Church steps. As they tilled the soil, occasionally, a human remain would be dug up, the farmers would quietly cover it up again, with a thin layer of soil, and go on as though nothing untoward had disturbed their normal labours.
One patch of ground was studiously avoided, becoming overgrown. That is until the guileless twenty-five year old Anatolia Mushimiyimana, was placed in supervisory charge of a group of workmen by the church. She wanted to know why no use was being made of what seemed to her a perfectly good section of land.
"I asked why we didn't clear the area, and grow peas in it" she related. "It was then, when they cleared it, that I saw what looked like a person's remains. I went to the local administrative office, and told them."
Mushyimiyimana's actions, on 19th September, kick started what is now a familiar, practiced process, which quickly and smoothly culminates in the decent burial of the remains of the victims of the 1994 genocide against tutsi. Almost immediately after he was informed of her discovery, Dr Jean Damascene Bizimana, who heads CNLG, travelled to Cyanika, to investigate. By 28th September, Bizimana had ordered for a digger to excavate the entire area, unearthing 104 human remains.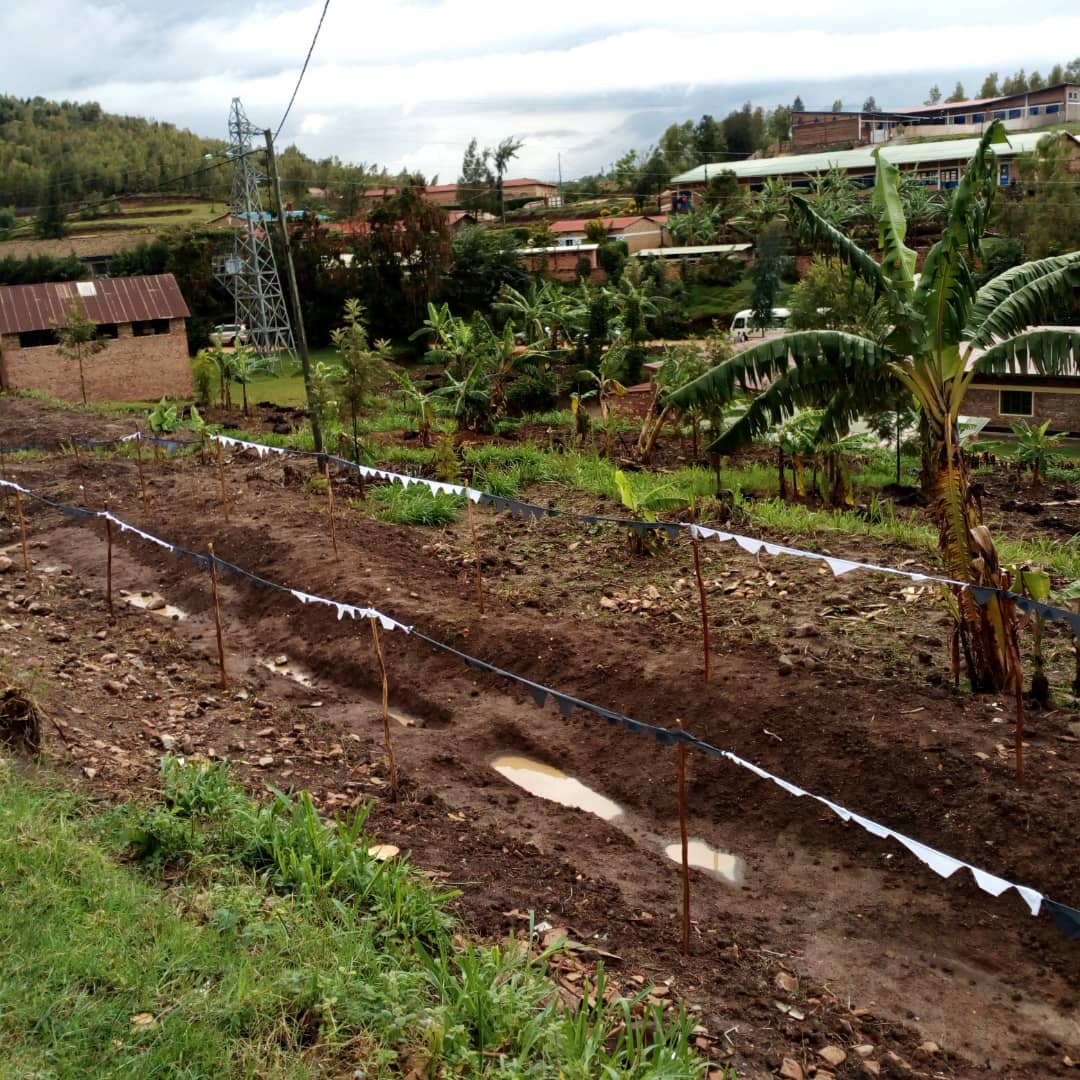 By 12th October, officials, and dignitaries led by the Minister of Justice and Attorney-General, Johnson Busingye, were in Cyanika, presiding over the solemn interment of each victim.
It is all too easy to take for granted Rwanda's recovery from the 1994 genocide against Tutsi. One of the signal achievements is the reconciliation between communities, after the mass murder of one community, in the name of another.
Although much advanced, reconciliation, like much else in Rwanda, remains a work in progress. Ironically, it is where the reconciliation process clearly remains a challenge that the depth of what has been achieved becomes most evident.
For CNLG's Dr Bizimana, the complicity of silence in Cyanika was one of the low points. He was clearly deeply pained as he addressed his remarks before the assembled dignitaries, the local community, and pupils of the local Notre Damme school.
"There are places where it's easy for me to prepare what to say, and there are times when it's difficult" he begun "today, here in Cyanika is one of those difficult occasions for different reasons. For instance, I came here on Sunday 29th September, it was only two days after the Tutsi victims' remains had been found, just close by here. I found the Christians here at mass, singing Lord forgive us, Lord of Holiness."
"Mass ended, the congregation chatted among themselves, none of them bothering to come and see where we were, even though the priest had reminded them about the remains being found. The school children came to see us, but, of the adults, not a one showed any interest. And it is the adults who have the information, who know about it. That's the first thing I found difficult to understand, that kind of thinking, and what to say about it today."
"The second thing is that Cyanika is my home, it's my birth place, right here. I was baptised and confirmed in this church, from the first, to the last, I can tell you my progress through all those schools you see. My parents were murdered here, together with many others. I think you know all that, it isn't easy to relive the pain, and through it recount the history, as I am going to try and do. I hope you will excuse me if I get a little emotional."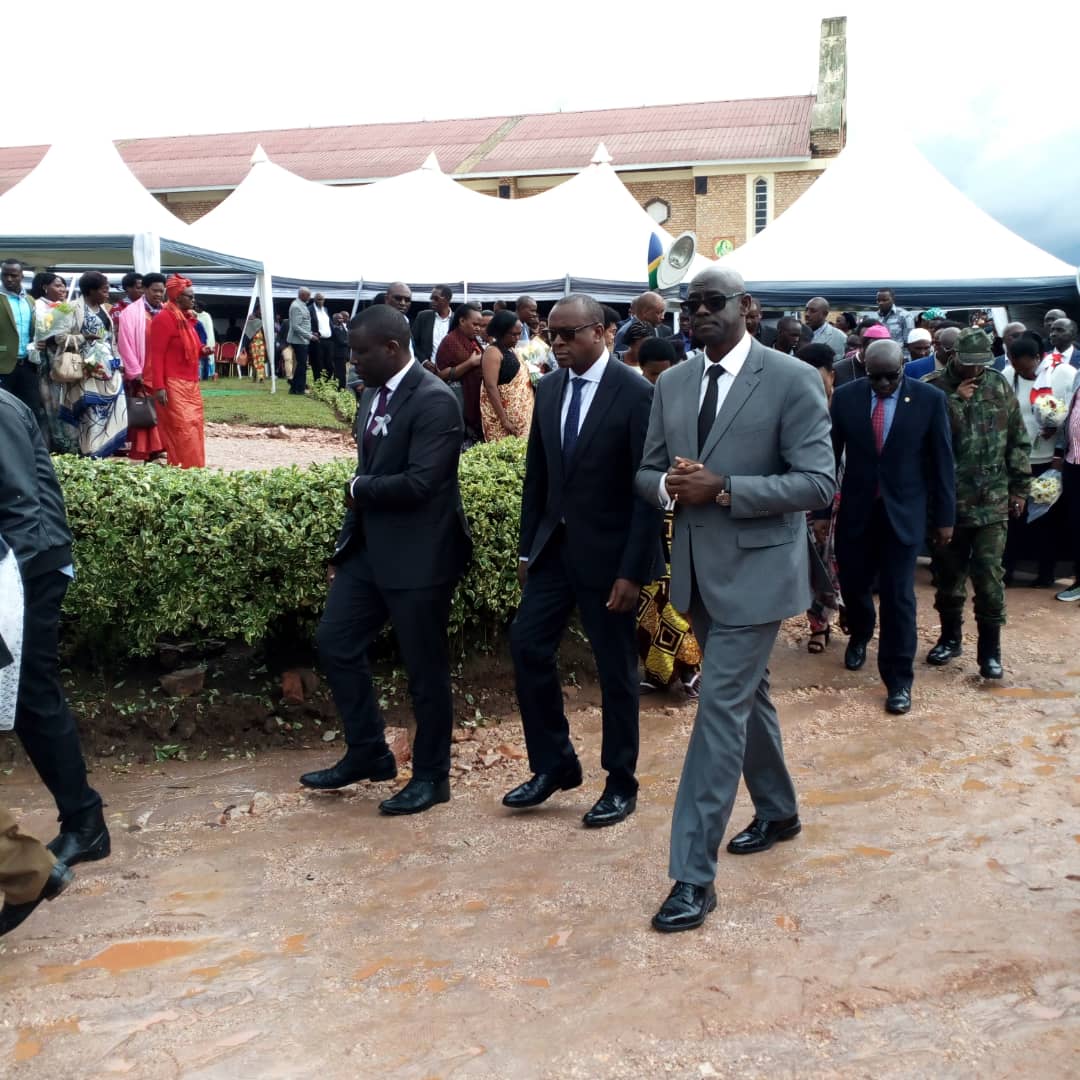 Through the history of Nyamagabe, one of the main birthplaces of genocide ideology, which saw some of the worst massacres, not only in 1994, but, earlier in '62, '63, 64, Bizimana outlined a genocide not only foretold, but, one which was widely reported, and known. Despite that, with the exception of a few individuals, some of whom would lose their lives as a result, no government, or institution of the world, sought to call an end to the murders.
In his own remarks, even the ever punctiliously composed Johnston Busingye evinced more than a tinge of emotion. "As those who spoke before me have said, it is painful that after twenty-five years, we find so many bodies, in a place we frequent, we farm, places we see every day. And for this to come so close after a similar finding in Kigali, under a house where people lived, makes this day a difficult one." he said.
"When we might hope that this task can be completed, difficult as that will be to accept, instances like today, takes us back. That a young woman you saw here, was the one to have the courage to say things that older adults saw, and knew, says something about our young people, it says something about our tomorrow to come. It also says something that is malevolent, about our yesterday, but, most of all, it says something about a more hopeful future, because that young woman's thinking comes from somewhere, and she is not alone, so I think she's an example of a better tomorrow."
After addressing the future and the past, he turned to the present, and his words were uncompromising. "This church in front of which the victims' remains were found, has a leadership, it has a congregation, many who fulfil different functions within it. Historically, this area was an important area. One of its significance, is that it was one of the birth places of genocide. That one of the most influential centres was the birthplace of genocide, both in word, and in deed, is something that must be recorded in our history."
"Today teaches us something" he continued "it shows us how an ideology grows. Our people we bury today, tell us about twenty-five years of silence, criminal silence. They show us twenty-five years of criminal complicity. They show us more than sixty years of discrimination…of murder of one group by another, until it became the norm. But it also shows twenty-five years of doing everything possible, to build unity among a people, a trust, a different mindset…it shows a different politics."
"It shows that twenty-five years is not a long time. Genocide denial, in print, in radios, continues. The roots of genocide ideology are still there, claiming no genocide took place, or that there was a double genocide. A moment like this, is a time to take another look at all of that, where our country has reached, to bring in the open all these truths, and make sure that as we build our country, we build it on a firm foundation. When you constantly hear emphasis on unity, on togetherness, it means that there is a way of being that is envisaged."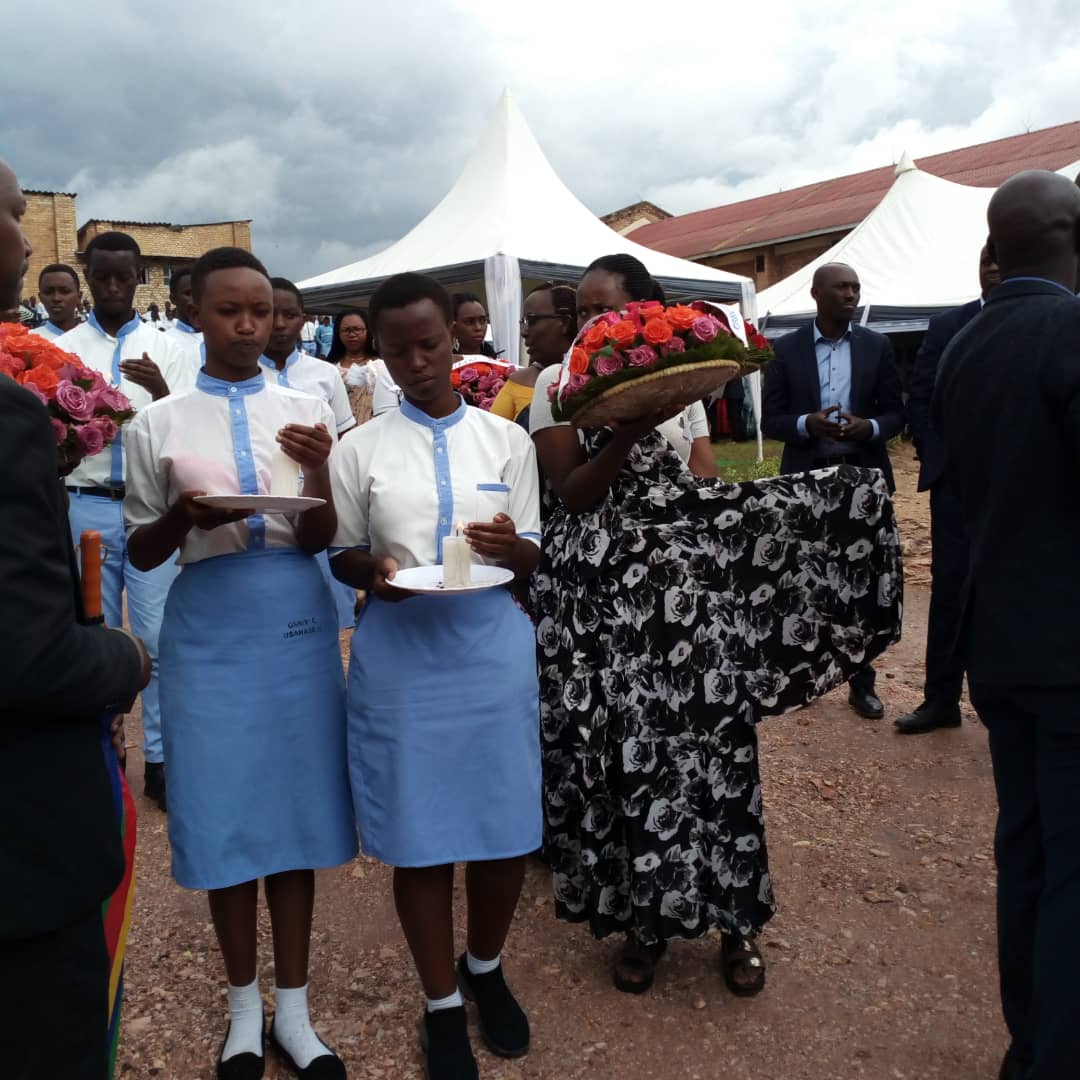 The minister of justice called on local leaders to bring awareness to anyone whose thinking still clings to the ideology of the past. "If anyone thinks that this unity is a policy of one political party, and once that political party is no longer there, things can go back to where they were, leaders at all levels, should engage these people, open their minds…so we can be clear that we are building our nation on strong foundations."
He encouraged people to be truthful about Cyanika's terrible history, and thanked those who are already coming forward. "Those who were here during those genocides, even if they didn't participate in them, but, stood by and watched as Tutsi were harried, tortured and murdered, should come forward, and speak truthfully, so we can be clear that our thinking has indeed changed. I would like to thank those who are already doing this, that is as it should be."
And he had this advice to those who withhold the truth. "For those who don't come forward, it's imperative to reconsider…. The government will do all it can to bring to justice anyone who had a part in perpetrating genocide. None of us, starting with the government, should be expected to continue to be patient with people who still have a way of thinking that refuses to tell the truth about whereabouts of the bodies of victims murdered during the genocide against Tutsi."
"These people should be given a proper burial…people who have the information of where they are, but refuse to disclose it…it is criminal complicity, and the law must be followed. If the law isn't clear, we shall look at it again, so that what the law stipulates is followed."
There were intermittent downpours throughout the ceremony. Four coffins, draped in white lace, lay in line, under a marquee, wreaths on top of each one, and four candles in front of them. Three other large tents protected the dignitaries, and people from the local community from the heavy rains. The tents were full to overflowing, and some people, including teenage pupils from the Notre Damme school, found shelter under the overhanging roofs of the surrounding buildings.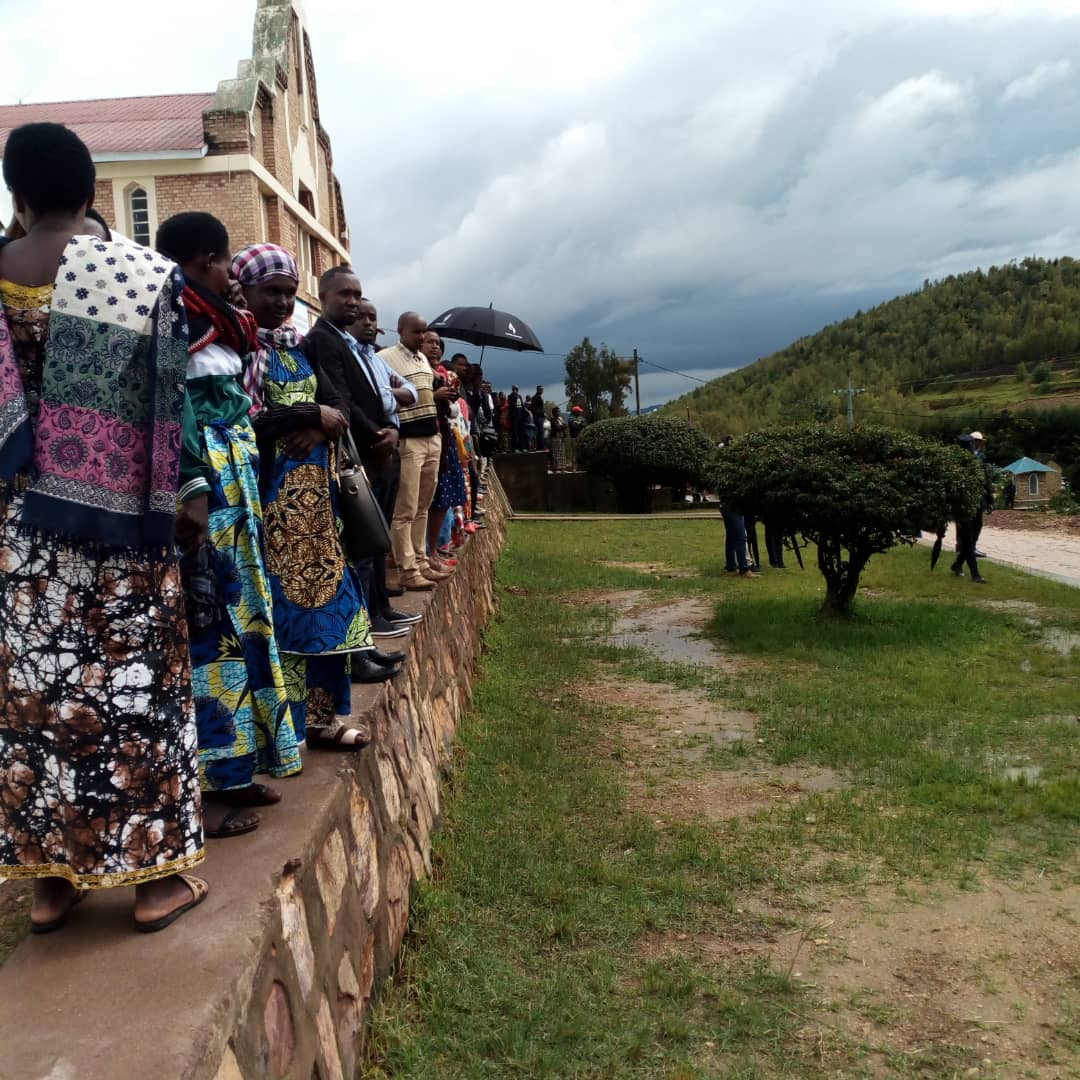 When the rains got too heavy, the school pupils rushed to more protected areas, only to return again as soon as the rain subsided. This happened at least three or four times. By the fourth, most people outside the tents had melted away, except the school pupils. They listened intently to all the speeches, which continued uninterrupted by the rains.
Three school girls huddled on one of the benches, under an umbrella, and did not move, even during the heaviest down pour. When the rains started, one of them would hop onto the lap of one of her fellows, for better protection under the umbrella. They were there rain, and shine. Their attention unwavering.
The sun emerged through the heavy, dark clouds, as the minister was still delivering his remarks. As though to highlight his thoughts on the different thinking between generations, an older woman busied herself dusting specks of soil which the rain had caused to scatter on her umbrella. A stark contrast with the young people, who seemed to better grasp the gravity of the situation, and the minister's words. Words that could not have been more grave, about a situation that could not have been more affecting.
She was certainly old enough to have witnessed the terrible scenes in Cyanika, yet here she now was, apparently unconcerned by it all. Was she all there, was touched in some way, or had she simply made the decision to root her mind in the past, and set her face against any challenge to it.
If in possession of all her faculties, there could have been no better illustration of the minister's words about the different outlooks of the older, and younger generations.