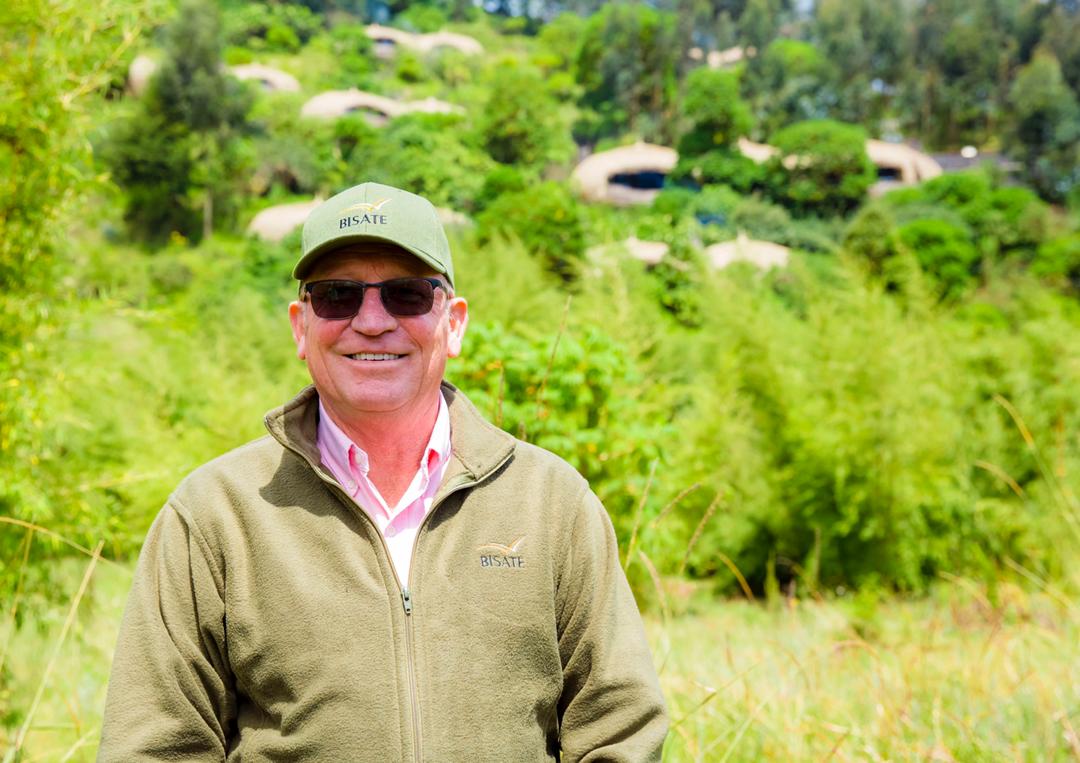 When we visited Bisate Lodge – a subsidiary of South Africa-based Wilderness Safari's within the natural amphitheatre of an extinct volcanic cone in Musanze district, Northern Rwanda last week, Chris Roche – head of Business Development, proposed that we have our interview meters away from the Lodge's main entrance.
"I am sorry. There are very important visitors coming right now. We can have our interview the other side to make sure we don't disrupt them," Roche said as he led us straight in the middle of the grass-covered area, next to the lodge.
The lodge, visibly designed in a traditional-thatched style, has nine luxurious rooms from which magnificent views of Mikeno, Bisoke and Karisimbi Volcanoes can be admired.
The lodge is near the Volcanoes National Park – home to the endangered mountain gorilla. Roche was not our targeted official for the interview. Instead, Vincent Keith CEO of Wilderness Safari's – owners of Bisate Lodge.
At Bisate Lodge, KT Press wanted to know more details about how the Lodge has been performing in terms of revenues and growth.
Many questions have been raised among different people on whether the growing High-end hotels in Rwanda will break-even.
But Keith's response was shocking. "I would like to say that at Wilderness we have forty lodges across Southern Africa and this is the very best performing Lodge. We are very proud of our lodge in Rwanda and you know very well that we have opened another one Magashi in Akagera. Rwanda stands out as a destination.
You have got fantastic and hardworking people here with amazing culture. We at Wilderness Safari we want to make sure that we can do our part to help in the growth of tourism industry in future," Keith told KT Press.
According to Keith, "We opened in early 2017 and what we estimated was into the millions of dollars of revenue for Rwanda annually and the growth has far surpassed expectations and we are extremely excited and thanks for what we have here and our staff that have delivered world-class services."
Rates at Bisate Lodge range between $1600 and $2300 per night, depending on seasons.
Singita and Kataza House
Chris Roche – head of Business Development at Wilderness Safari's told KT Press that bookings for summer were full until 2021.
For instance, he said, if one wants to book a room at the Lodge between July and December this year, he or she will have to wait until 2021.
"The bookings are over," Roche said. According to Roche, the Lodge is booked by both local Rwandans and International guests, who, he said take the lion's share of occupancy.
"Eighty percent of our guests here are foreigners while 20 percent are Rwandans," Roche told KT Press. At their Magashi side, the situation is the same.
As part of promoting responsible ecotourism, Wilderness Safari's set a target to contribute to preservation and community empowerment, with a reforestation programme where over 3010 indigenous trees will be planted – to help the country in its conservation drive.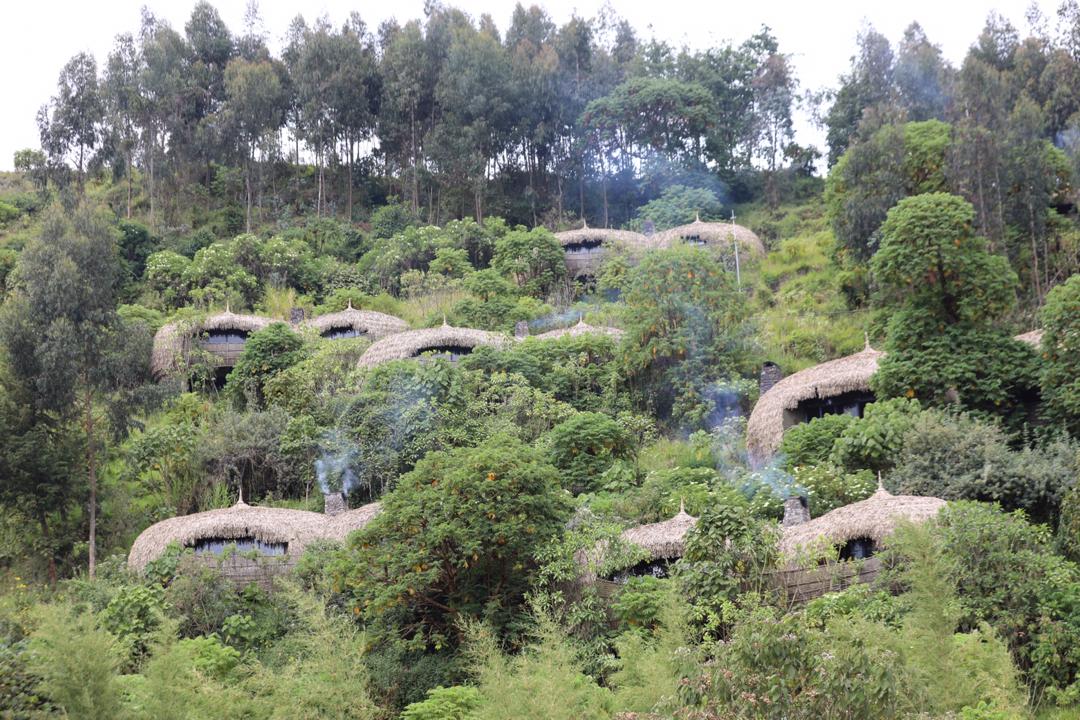 In the same neighborhood, we also visited Sabyinyo Silverback Lodge – another High-end facility at the foothills of the Volcanoes National Park.
A subsidiary of the Governors' Camps, the facility offers the old-fashioned pace of life accompanied by the best of 21st century support in the heart of some of East Africa's Prime Wildlife Areas.
Price rates at Sabyinyo Silverback vary from $450 to $2,000 a night, depending on the season. At the time of the visit mid last year, the Lodge was fully booked.
Across, the luxurious Singita Kwitonda Lodge and Kataza House which was recently unveiled within a landscape of wetlands and lush meadows with magnificent views of the Sabyinyo, Gahinga and Muhabura volcanoes, the business seem to be picking.
Singita is the Shangaan word meaning "place of miracles," was founded in 1993 with a single lodge, Singita Ebony Lodge.
In August this year, President Paul Kagame and First Lady Jeannette Kagame witnessed the launch of one of the most luxurious hotels Rwanda has ever had.
The facility is located in Kinigi sector right at the habitat of the rare mountain gorillas.
At 26-room Singita, suites are priced at $1750 per night for one guest, while the 4 suites at Kataza House are at $11,000 per night.
In a recent interview, Luke Bailes the founder of Singita shared an insight on how the $25 million facility is picking up – just two months after its inception.
"We have 26 beds and we've had huge demand and we are still carrying on," he said.
A source at the facility told KT Press that the facility, which hosted Arsenal FC Center back David Luiz who was visiting the country over this past weekend, received demands from long-stay customers.
"We have bookings for customers who want to stay for a month," the source said.
The love for the facility, says Bailes, is hugely attributed to its proximity to the Volcanoes Park.
"It is (Singita) situated at the edge of the Park and that is a unique thing as well, and so we have had huge demand," he said.
Rwanda's high-end tourism has been at the pick. For instance, in terms of accommodation, the country currently has over 14,000 hotels rooms, up from only 4,000 in 2009.
Since 2010, Rwanda Development Board (RDB) saw a jump of over 200% in the number of Rwandans visiting Akagera, Nyungwe and Volcanoes National Parks.
Just in one year, from 2017 to 2018, RDB saw a 21.5 % increase in terms of visits.
Last year, Rwanda hosted 1.711 million visitors, an increase of 8% compared to 2017.
Akagera National Park in the Eastern part of the country, was the most visited park with 51, 724 visits in 2018 – registering an increase of 17% since 2017.
Nyungwe National Park which is home to the famous Canopy walkway in Western Province, received 15, 665 visitors in 2018, up by 9%.
According to RDB, overall park revenues reached over $ 21,153,292 in 2018.
Meanwhile, most visitors to high-end hotels and lodges in the Volcanoes National Park come to see Gorillas – generating revenues to government coffers.
For instance, in 2018, RDB sold 15,132 gorilla permits worth $ 19.2 million – representing a 25% increase compared to 2017.
In 2016, before the increase in the permit price, RDB sold 22,219 permits worth $ 15 million.
Apart from Bisate, Singita, Magashi and Sabyinyo high-end facilities, others include One and Only Nyungwe House, Amakoro Lodge, Five Volcanoes Boutique, among others.