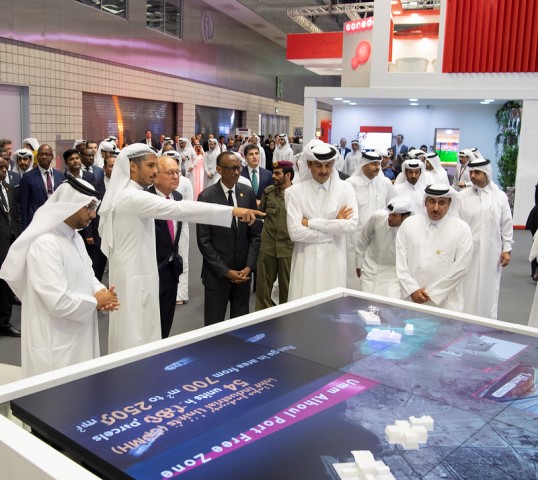 President Paul Kagame has told participants at a high tech forum and exhibition in Qatar, that successful smart cities should be human centered, rather than being computer based.
Kagame is attending the Qatar Information Technology Conference and Exhibition QITCOM2019 that was hosted by the Qatar Ministry of Transport and Communications, under the patronage of H.H. Sheikh Tamim Bin Hamad Al Thani, the Emir of Qatar.
This morning, the president delivered a Keynote Address at the QITCOM2019 Smart City Expo organised to showcase the latest smart technologies and innovations advancing the urban future.
The President went straight to define what the smart cities should be.
"First, smart cities are about people not computers. The mission is not to invest in technology for its own sake, but to do so strategically, to make life measurably better for the people who live in our cities," Kagame said.
"Second, the foundation of smart cities is trust. Ambassador Ischinger rightly emphasised this critical point in his remarks yesterday. Much of urban technology depends on the data generated by residents."
The president's explanation of a human centered smart city is that one which makes life easy.
Rwanda's capital city Kigali is the case in point. He said that in Kigali, " wi-fi has been made available on public transportation, where by the way, you pay for your ticket using a tap-and-go card, not cash."
He also mentioned the electronic portal where "essential public services, such as identity documents, land titles and business registration is accessed through our e-government platform, known as Irembo."
Another example is the mobile banking where people use mobile money applications to pay for water and electricity, as well as their taxes.
"Digital payment not only makes those services more accessible to consumers, it also reduces the vectors for corruption," Kagame said.
Meanwhile, the companies that represent Rwanda in the Doha Smart City Expo go in this line of making easy the payment of services in Kigali, especially transport and public services.
They include AC Group, Ampersand, BSC, Irembo, Pascal Technology, QT Software and a youth-led recycling start-up, Wastezon.
The president noted that the human geography of Africa is in a state of rapid change with the rate of growth of Africa's cities being on average the highest in the world.
For example, he said, in Rwanda, our urbanisation rate is around 6 per cent a year, compared to the global average of around 2 per cent.
The historical background of the city which he shared to the participants indicates that in 1962, Rwanda's capital Kigali, had only around 6,000 residents. Today, Kigali is home to nearly 1.5 million people.
"Still less than 20 per cent of Rwanda's population lives in urban areas. Our target is to raise that to 35 per cent, in the coming years," Kagame said.
"This wave of urbanisation is also occurring elsewhere in Africa. It represents a historic window of opportunity for investment, growth and human development. It also means that we have the opportunity to plan now and do things right."
The president shared Rwanda's commitment and Africa's at large to work with any players of city development.
"As our cities grow, we will remain open to collaborating with partners, such as those represented at this exhibition," Kagame said.
"We wish to work together to deploy relevant technologies, to manage the consequences of urban expansion and make sure that our citizens and visitors get the most out of our cities."
The president believes that if countries need citizens and customers to remain open to the benefits of high-tech cities, "we need to be responsible with their data at every stage, from collection, to storage and usage."