On Wednesday morning, Rwanda's Central Bank (BNR) and his staff were holding a press conference at Kigali Serena Hotel.
In the middle of the press conference, Governor Rwangombwa, who was at the centre of answering countless questions from the visibly curious journalists, stole a moment to send money to someone in Nyagatare district, Eastern Province, using his Smartphone.
"I abandoned my Cheque book," Governor Rwangombwa joked earlier before the press conference. Literally, the governor has moved to the digital payment system and no longer carry money in his wallet.
One or two years ago, the former Minister of Information Communication Technology, Jean Philbert Nsengimana, tweeted a photo of his empty wallet.
Nsengimana's tweet was a message to the public that he has switched to digital payment system and no longer owned any liquid cash, just like Governor Rwangombwa.
All these are examples that came back today when Central Bank launched the second phase of the digital payment awareness campaign dubbed "Go Cashless".
For the past nine years, Rwanda has been pushing the policy in which its citizens can migrate from traditional or manual way of making payments to an electronic payment system.
According to Central Bank Governor, the campaign has paid off. But there is still a long way to go in order to meet government targets, Rwangombwa added.
"Rwanda' cashless journey has been progressive, with digital financial services increase over time," Governor Rwangombwa said at the launch of the second phase of the campaign.
Over the last nine years, said Governor Rwangombwa, "the value of e-payments to GDP increased from 0.3% in 2011 to 34.6% in 2019. The target is 80% by 2024."
The policy of the cashless economy has been largely attributed to several initiatives put in place, according to governor Rwangombwa.
Some of the initiatives, Governor Rwangombwa said, was the introduction of new types of POS (Point Of Sale) since 2017 that are easy and almost costless to deploy.
The point of sale (POS) or point of purchase (POP) is the time and place where a retail transaction is completed.
The second initiative, according to Rwangombwa, was the introduction of micro digital savings and digital loans.
For instance, he said, "Digital loans increased in volume by 270%, from 99,027 loans worth Rwf1.9billion in 2017, to a volume of 367,103 loans in June 2019 worth Rwf14.2 billion. This has doubled the number of individuals accessing loans through formal financial services in just one year."
Governor Rwangombwa statement was good news to the audience from all Central Bank's stakeholders including Banks, telecom companies and other institutions directly involved in the cashless economy journey.
While more initiatives to promote cashless economy have been put in place, the question of less awareness among the consumers and lack of trust for these services were among the key issues raised especially by the consumers.
For instance, Damien Ndizeye, the Executive Secretary of the Rwanda Consumers' Rights Protection Organization (ADECOR), said that one of the key issues Central Bank and stakeholders should focus on during this second phase of the campaign is to build trust among the users of the digital services.
The other issue, he said, "These digital services should be more available and affordable. For example, there is no way both the sender and the receiver of Mobile Money services should be charged," Ndizeye asked.
But governor Rwangombwa was quick to intervene with an answer. In the cashless economy model, people should avoid holding cash in their hands, he said.
For the case of a receiver in the mobile money transactions, Governor Rwangombwa advised that: "Instead of these people cashing out money, they should go to the nearest shopkeeper and buy things they want to buy with that money. And with this, they won't be charged anything," he said.
One of the key champions of digital transactions are banks and telecom companies. For instance, MTN Rwanda handles 20% of all Rwandans involved in mobile use and its transactions.
And, according to MTN Rwanda Chief Executive Officer Mitwa Kaemba Ng'ambi, "70% of the 20% of Rwandans on our network are involved in Mobile Money transactions."
Nearly ten million of the country's 11.3 million Rwandans are subscribed to the mobile network.
As of last year, data released by Rwanda Utilities Regulatory Agency (RURA) indicated that Mobile phone subscriptions reached 9,665,544 in October 2018 compared to 9,321,347 – two months earlier that same year.
But how will everyone especially ordinary Rwandans in the rural areas be able to go cashless like Governor Rwangombwa and former Minister Nsengimana?
In response to this question, Rwangombwa told KT Press that one of the strategies is to work with stakeholders to "increase the number of point of sale across the country but also educating the population, knowing that you don't have to withdraw the money."
To support Governor Rwangombwa, Eric Rwigamba – the Director-General of Financial Sector Development Directorate at the Ministry of Finance and Economic Planning (Minecofin), said that the use of digital payment system enables Rwandans to easily access loans.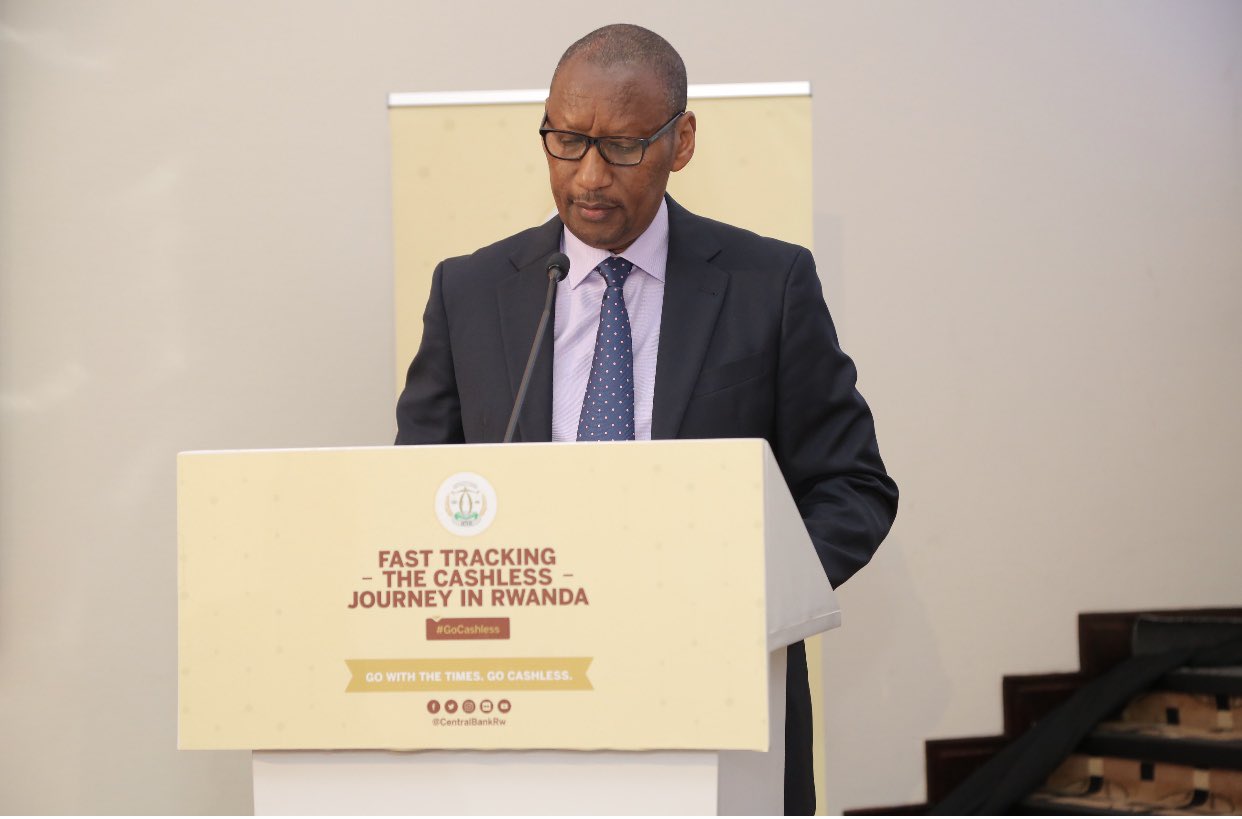 According to Rwigamba, "When people transact with liquid cash without banking the money or transacting digitally, banks will not see them and hence become difficult for them to access loans and expand their business. The government will not be able to facilitate them because they can't see them," he said.
Offloading costs to handle cash
By migrating to a cashless economy, both central bank and financial institutions will get rid of huge costs incurred on handling cash.
For instance, Governor Rwangombwa said, "The cost of printing cash is Rwf1.5 billion a year."
For Maurice Toritich, the CEO of BPR Atlas – one of the biggest financial institutions in terms of assets, "Banks spend between Rwf3 billion to Rwf5 billion every month to handle cash. With the digital payment system, we will get rid of these costs," he told KT Press.
Digital payment systems will also reduce the costs banks incur on Automated Teller Machines (ATMs).
According to Toroitich, "It costs between $20,000 and $25,000 for one ATM and this excludes other costs associated to it such as operating and maintaining it," he said, adding that ATMs are not part of the cashless economy since people go there to dispense money.
In 2018, the cabinet approved the Rwanda Payment System Strategy (2018-2024).
According to Governor Rwangombwa, "One of the objectives is to foster an enabling environment for innovation in the payment system," he said calling for collaboration between the public and private sector to promote better access, adoption, and usage of digital financial services and products.
Some of the costs of handling cash include staff by hiring the required number of people handling cash such as cashiers and tellers to take care of the customer transactions.
Banks also hire managers to look over all of those transactions at the end of the day and double-check that everything is correct.
In addition, you probably have a cash room or vault associate at your head office who is the last person to check the cash that's been brought in.
Cash handling isn't just about accepting money for transactions and providing change. A lot more goes into it including the time bank managers and cashiers each spend on counting and balancing the money in the bank vault, preparing the floats every day, handling change requests, skims, and cash pulls, reconciling the floats at the end of the nights, preparing deposits, and delivering the money to the bank, among other issues.
During the "Go Cashless" campaign, Mobile payment, Tap & Pay, Scan & Pay, Merchant number, Payment cards, Mobile banking, Internet banking are some of the options that will be focused on, according to Central Bank Deputy Governor Dr Monique Nsanzabaganwa.