Carnegie Mellon University (CMU) has started a series of events preparing inauguration of its permanent home, the CMU Africa Regional ICT Centre of Excellence Building in Kigali Innovation City.
The inauguration of CMU's new facility will climax tomorrow, November 21, but, already, several delegates convened to the campus for an Open Day about the university, its values, mission and more today.
On Tuesday, a panel of discussion featuring Paula Musoni the Minister of ICT and Innovation, Joseph Nsengimana, Head of Master Card Foundation Regional Centre for Innovative Teaching and Learning in ICT, Prof. Tim Brown, Director of  Academics, CMU Africa, and Victor Kagimu , Co-Founder Tabiri Analytics and CMU Africa Alumni discussed "Engineering Jobs and Talent Development in Africa, and Rwandan strategy'.
"Our biggest bet is going to be on our people, on equipping them with skills and ensuring they are ready to innovate and meet all challenges," Paula Musoni said.
"Through partnerships like the one with #CMUAfrica, we are supplementing the education being provided locally in order to build a workforce that compete, globally."
Paula insured the audience, that Rwanda as a country wants to be an innovation hub, adding: "and we can win by becoming a proof-of-concept hub. We are going to invest massively in innovation to make sure new-to-the-world solutions are developed right here that can address global challenges."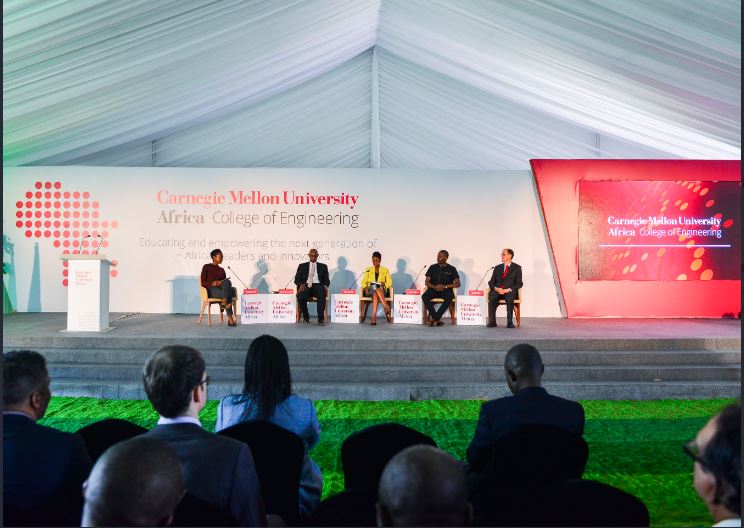 CMU promised that it fits in this context.
For example, Prof. Tim X. Brown said: "At CMU-Africa, we are ensuring that people don't just learn about technology, but apply it and innovate to make a difference in Africa."
He further said; "Whatever I teach, I focus on critical thinking. This is where students learn to leapfrog beyond what they are learning, technically. It is the ability to take that information and make leaps."
For Victor Kagimu who is already in business, he has realized that "New technology is coming out everyday and chasing the bandwagon is a more difficult approach to creating a business. Identify the right problem and connecting with the challenges that your customers face is a simpler approach to starting a business in this region. "
Minister Paula Ingabire told the audience that "There are so many challenges you will face on your journey, but you can overcome them. Milk every opportunity, especially at this new location in the heart of innovation city."
In partnership with the Government of Rwanda, Carnegie Mellon University Africa was established in 2011 to address the critical shortage of high-quality engineering talent required to accelerate development in Africa. To date, CMU-Africa has educated over 300 students from 18 African countries with master's degrees in Information Technology, and Electrical and Computer Engineering.