In Rwandan traditional society, an adage goes that 'Tears of a man flows from within" to mean that, you would never see a man shading tears.
Well, that adage came way before Rwanda faced the tragedy of the 1994 Genocide against Tutsi where more than one million innocent Tutsi were mercilessly killed by their fellow Rwandans.
The Unity and Reconciliation program in Rwanda has managed to bring Genocide perpetrators and Genocide survivors together to ask for and to forgive.
And on November 27,2019, men, like women showed the community that they are very apologetic.
They include Adjubu Ngayaberura – a genocide convict serving his sentence at Bugesera Prison in Eastern Province who cried on the shoulders of Louise Uwamungu.
During the 1994 genocide against Tutsi, Ngayaberura killed Uwamungu's father – only identified as Rukara, along with many Tutsi in the former Gashora Commune – current Bugesera district.
It is unimaginable how, 25 years down the road, Ngayaberura and Uwamungu, finally hugged each other – in an emotional event held in the district.
Prisons Fellowship – a non-profit-making affiliate of the Prison Fellowship International, Rwanda Correctional Services (RCS) and the National Unity and Reconciliation Commission (NURC) officials, organized Ngayaberura and Uwamungu's reunion. Their hearts opened to each other – despite the scars both have lived with for the last 25 years.
At an event meant to instil action-based practical reconciliation among victims of the genocide and perpetrators held in Bugesera district on Wednesday, November 27, Ngayaberura and Uwamungu spoke to each other – one seeking forgiveness while the other provided clemency – deep from the bottom of her heart.
The same plea was made by 70 more prisoners to their victims.
In front of a big crowd – Ngayaberura, a Muslim genocide convict, said in a soft voice:
"What I did has been haunting me every day and night…sometimes dragging me into deadly nightmares. This is what kept pushing me to come out and seek forgiveness. I am really sorry. To many of you here, please forgive me," Ngayaberura said in a speech that lasted over 30 minutes.
The entire community went silent, as Ngayaberura – a resident of the former Gashora Commune – current Bugesera district in Eastern Province, continued.
"I am standing here undeservedly. I killed so many Tutsi between 1992-1994. I am standing here, right from the deepest part of my heart, without any force, to apologise to everyone who is my victim. Those whom I killed their relatives, I am standing here to speak out the truth. I killed relatives of George – my compatriot and his sister Uwamungu. I killed the family of his sister. I killed their father Rukara and a toddler they were together in the house,"
"We killed Rukara in a heinous manner. I did it myself without anybody's direction," said the convict – in a shaky tone.
Rukara was never his enemy, but a parent to him who always cared and fed Ngayaberura and the entire Children in the community. But his reward was to brutally murder him.
"This is a man we all loved. He loved the youth, he always hosted us in his home and fed us. We shared everything together," admitted Ngayaberura who stood to hold a microphone in an Orange prison attires.
"But I later turned an animal and brutally murdered him. I am standing here to deeply apologise to his relatives here present. During the Genocide, I became an animal. We tortured this old man (Rukara) until, in his last breath, and told us: "My Children, you have been my friends, I gave you everything, loved you and cared about you. Now that you have turned against me, at least try to kill me quickly without torturing me this much. I beg you," recalled a shaky-looking Ngayaberura.
"I personally felt sad, regretting why I killed him. I apologise to everyone here present. I killed Rwandans…I killed Tutsi because of their inborn colour and size. Please forgive me. If you can forgive me, forgive me, forgive me, forgive me…I can feel relieved," Ngayaberura repeatedly apologized.
Ngayaberura apologized on behalf of more than seventy Genocide convicts from Bugesera prison who, after several teachings on forgiveness, wrote letters to the victims of those they killed in the genocide – seeking clemency.
Unimaginable. But it happened. The families of Ngayaberura's victims had come to forgive – no matter what he did to their relatives.
After a candid plea for forgiveness, Ngayaberura was told to stand, as Luise Uwamungu – who witnessed Ngayaberura as he brutally killed her father (Rukara) walked from the crowd. She stood next to Ngayaberura, paused for seconds. She held a microphone as everyone silently looked up at her.
The biggest word was awaited.
She started: "Thank you, my name is Luise Uwamungu. I live in Rweru sector, in Ubumwe n'Ubwiyunge (Unity and Reconciliation) village. I first want to say thank you to Rwanda Patriotic Army (RPA) soldiers and our government for rescuing us from the hands of the killers. We survived," Uwamungu said – sending emotions all over the crowd.
Silent screams could be heard within the crowd. Only birds could sing, as everyone listed quietly. But Uwamungu's speech relieved everyone.
She went on to reveal what people had not heard before. "It is very hard to recall what happened especially during a day like this. But through God and the spirit of forgiveness, I feel like speaking out now. I want to thank the Unity and Reconciliation Commission and the Prison Fellowship for coming to us and teach us how to forgive. During the genocide, we were killed, raped, and suffered all sorts of cruel things. I never thought that a former friend and classmate like this could kill us," she said pointing at Ngayaberura who stood next to her.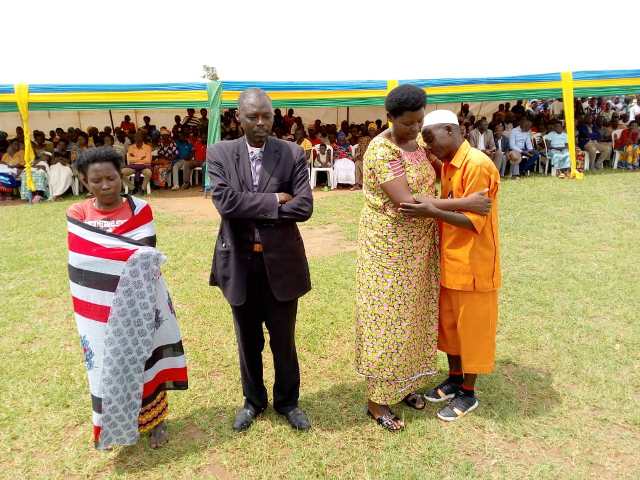 "They killed my dad and left him. He later resurrected, but his last breath was about to come. They came back, tied him with a rope and scrawled him down across the streets of our village. They went around bragging as they solicited money from people with a reward of clearing them off the garbage. The garbage they meant was my dad whom they crawled around the streets.
But I pardoned him because he was the only person who helped us trace the whereabouts of our relatives. We traced them and gave them a decent burial," Uwamungu told the crowd in Mayange sector.
"I have forgiven him because God spoke to me. I too was a killer inside my heart because I never wanted to see a Hutu anymore. Whenever I went to the market, I could choose who to buy from. Every time I went to church and realized that the preacher was a Hutu, I would immediately move out and return home. I never wished anything good for them. But today, I am relieved – thanks to Prisons Fellowship and Unity and Reconciliation Commission. They did a noble job. I have forgiven you," Uwamungu said before Ngayaberura tearfully hugged.
In a similar move, Elijah Musbyimana, who served 16 years sentence, released but later returned to prison after committing more crimes, revealed a story of how he killed families and relatives of survivors who were present at the event.
"Behold, how good and how pleasant it is for brethren to dwell together in unity!" – a preacher read Psalm 133 as he welcomed Denise Nyirabasatsi – a victim of Musabyimana's killings.
"I am standing here because of Unity and Reconciliation. This man Elijah killed a big number of my relatives. We were a family of 10 but only 3 of us survived. Elijah killed 8 of my relatives. Whenever I saw him, grief could engulf me. I never wanted to see him. Whenever we met in the market, I could run away. Whenever I sat next to his wife and children in Church, I could only run away until we were preached how to reconcile and live in harmony. One day, during one of the teachings we received, God spoke to me and I decided to forgive Elijah. I have forgiven you and may God forgive you as well," Nyirabasatsi said before hugging Musabyimana, as the crowd clapped in excitement.
Bishop Deo Gashagaza – the head of Prisons Fellowship Rwanda, said their mission started way back after the genocide.
"As you all know, the post-Rwandan Genocide against Tutsi society was torn apart. Everything was destroyed. We wanted to do something to contribute to the rebuilding of the Rwandan society through the healing of wounds, hence the birth of Prisons Fellowship Rwanda in 1995," he said.
Guilty conscious
According to Bishop Gashagaza, there is a collective sense of guilty conscious across all prisons in the country.
"At first, prisoners were rigid and could never repent and ask for forgiveness. But an assessment conducted revealed that they all want to come out and ask for forgiveness," he said.
There are more than 50,000 prisoners around different prisons in the country, according to available figures. Of this number, around 27,000 are convicted of genocide crimes.
Meanwhile, yesterday's event took place at a place that is home to Gervais Ngombwa, 57 – a genocide mastermind currently living in the U.S.
Ngombwa, a businessman, was found guilty of Genocide offences he committed in different areas of Bugesera District in 1994.
In June last year, survivors of the 1994 Genocide against Tutsi wrote a letter requesting the US Federal Appeals Court to deport Ngombwa – who is nicknamed the "butcher" of Nyamata.
In March 2017, a U.S. District Senior Judge Linda Reade sentenced Ngombwa to 15 years in prison and revoked his citizenship for "one count of naturalization fraud; one count of conspiracy to unlawfully procuration of citizenship; and one count of making a materially false statement to agents of the Department of Homeland Security."
Genocide survivors said Ngombwa was the butcher of Nyamata, the headquarters of Bugesera district and he personally supplied the killing tools to Interahamwe.
Ngombwa was a member of the committee of Republican Democratic Movement (MDR-Power) in Bugesera – a political party that participated in the Genocide against Tutsi.
He was among Interahamwe militias who led an attack on Ntarama Church and killed more than 5,000 Tutsis who had sought refuge there. Bugesera is the first place where the killing of Tutsi was first tested in the 1950s.