Accra, Ghana – When Christelle Kwizera – a 25-year-old Rwandan mechanical engineer and founder of Water Access Rwanda sat down with four powerful people in the world of entrepreneurship, her agemates looked up with awe.
The agemates from across the African continent looked as Kwizera threw tough entrepreneurial questions to the three men and a prominent African woman, inside a fully-packed Grand Arena at the Ghana International Conference Center in Accra.
It was her time now to question her former four judges – Jack Ma, Founder of Alibaba Group and the Jack Ma Foundation; Strive Masiyiwa, Founder and Executive Chairman of Econet Group; Ibukun Awosika, Chairman of  the First Bank of Nigeria and Founder/CEO of The Chair Centre Group; and Joe Tsai, Executive Vice Chairman of Alibaba Group.
These are global names. But surprisingly, Kwizera raised herself to the same level. She confidently looked at them, smiled as she asked the four judges several questions regarding how she can drive her business to greater levels.
The three men and a woman listened with curiosity as she took them through her entrepreneurship dreams. At some point, they clapped hands in appreciation. She was on point.
Her name had, minutes before, been announced among the top three winners of The Africa Netpreneur Initiative competition (ANPI).
ANPI is a philanthropic initiative spearheaded by the Jack Ma Foundation aimed at supporting and inspiring the next generation of African entrepreneurs across all sectors, who are building a more sustainable and inclusive economy for the future of the African continent.
For the next ten years, the ANPI will host the "Africa Business Heroes" show where ten finalists will be competing in a pitch competition to win a share of $1 million in grant money.
The 10 finalists who made it to yesterday's grand finale in Accra, Ghana, were chosen from nearly 10,000 applicants from 50 African countries.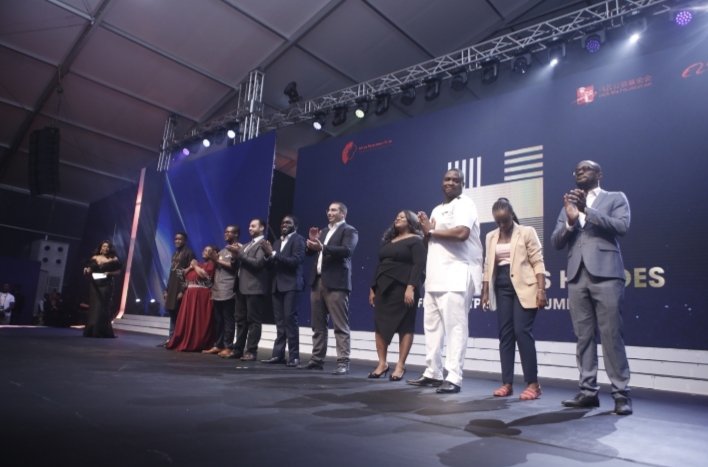 Two Rwandans; Christelle Kwizera and Kevine Kagirimpundu, were among the 10 finalists, after undergoing months of judging and deliberation.
And this is when Kwizera emerged the third winner – coming next to Dr. Omar Sakr, founder and CEO, Nawah-Scientific (Egypt) and Temie Giwa-Tubosun, founder and CEO, LifeBank (Nigeria) who emerged the over all winner of the competition.
Giwa-Tubosun was awarded $250,000 while Dr. Omar Sakr, who travelled all the way from Egypt to Ghana with his wife and a toddler, was awarded $150,000. Christelle Kwizera was awarded $100,000 (Rwf91.5 million) while the remaining 7 finalists equally shared $500,000.
"This prize belongs to the 63 people I work with. We will use this money to push our company to the next level," Kwizera said in her acceptance remarks.
According to Jack Ma, Kwizera has a better start than him when he started Alibaba.
"At the age of 25, I was out of the university looking for a job. I never knew I would one day own Alibaba," a smiling Jack Ma shared his inspiring advice to 25-year-old Kwizera, who started her company a year before graduating from the university.
"You will make it," Jack Ma told her before Strive Masiyi chipped in.
"Don't get intimidated. I also started my business at the age of 25," he said, driving the audience into silence.
For Ibukun Awosika, Kwizera's age should "never be an excuse. Knowledge is power. You should do further business courses for better management of your company."
Similar Entpreneurial tips were given to Giwa-Tubosun and Dr. Omar Sakr at a colourful event also attended by the President of Ghana Nana Akufo-Addo and the visiting Prime Minister of Barbados Mia Mottley, among other delegates who included global entrepreneurs, investors, educators, and leaders.
Earlier in the day, Ban Ki-moon, Former UN Secretary General and Co-chair of the Ban Ki-moon Centre for Global Citizens also addressed the event.
The four judges
Commenting on why he came up with the idea to promote entrepreneurship in Africa, Jack Ma said: "We launched the Africa Netpreneur Prize Initiative to identify top entrepreneurs from across the continent, not only to reward them but to inspire a whole new generation of potential gamechangers for Africa,"
"I have been inspired by the entrepreneurs I met in Africa, many of whom are dealing with the same challenges we faced when we started Alibaba years ago. I truly believe the potential of Africa's business heroes is limitless."
Who are the 10 finalists and their projects?
Temie Giwa-Tubosun, founder and CEO, LifeBank (Nigeria)
LifeBank is a medical distribution company that uses data and technology to help health workers discover critical medical products. The company has saved over 5,300 lives in Nigeria.
Founder Temie has over 10 years of health-management experience with Department for International Development, the World Health Organization, the United Nations Development Programme and Lagos State.
In 2014, BBC listed her as one of the 100 women changing the world. She was also recognized by Quartz and the World Economic Forum.
Dr. Omar Sakr, founder and CEO, Nawah-Scientific (Egypt)
Nawah-Scientific is the first private research center in the MENA region focused on natural and biomedical sciences that offers analytical and scientific services online and on-demand.
Dr. Sakr has 13 years of pharmaceutical experience, has worked as an adjunct assistant professor of entrepreneurship at Zewail City of Science and Technology, and holds scientific and business awards for innovative product design.
Christelle Kwizera, founder, Water Access Rwanda (Rwanda)
Water Access Rwanda pioneered INUMA, a Safe Water Microgrid that reclaims broken boreholes and transforms them into state-of-the-art solar-powered water kiosks and pipelines.
The water is sold for $1/1000 litre and creates off-farm jobs for youth. Currently, Water Access Rwanda employs 68 people, and allows 47,612 customers to access water daily across 86 stations.
Christelle is a mechanical engineer and was named INCO's woman entrepreneur of the year in 2019.
Mahmud Johnson, founder and CEO, J-Palm (Liberia)
J-Palm Liberia (JPL) was founded with the goal of making premium consumer goods while creating income-earning and employment opportunities through sustainable palm-oil production.
When JPL was first founded, palm oil kernels had been going to waste in Liberia, but founder and CEO Mahmud Johnson found a way to innovate productive uses for this overlooked natural resource.
Today, JPL has created a range of beauty and clean-energy products, built a robust network of partnerships across the country, and helped to create jobs for hundreds of Liberians.
Mahmud holds a degree in economics from Dartmouth College and is a 2017 recipient of the Order of the Star of Africa conferred by the President of Liberia.
Kevine Kagirimpundu, co-founder and CEO, UZURI K&Y
UZURI K&Y is an African-inspired ecofriendly shoe brand.
Kagirimpundu is passionate about ending global waste while also leveraging her creativity to create employment opportunities for her community.
UZURI has made a direct impact on more than 750 people through employment and skills training. In addition to obtaining her degree in creative design, she has participated in numerous entrepreneurship programs to enhance her skills in business development.
In 2017, she was recognized as the winner of the Made in Rwanda Enterprise of the Year.
Dr. Tosan J. Mogbeyiteren, founder, Black Swan (Nigeria)
WeMUNIZE by Black Swan Tech Ltd is helping to solve Nigeria's public-health challenges by deploying an automated scheduling, GPS-enabled software-as-a-service that uses a combination of digital record keeping and community engagement to increase birth registration and early childhood immunizations.
Black Swan is working with USAID Nigeria to expand WeMUNIZE coverage in northern Nigeria.
Tosan is a public-health specialist with more than 13 years of experience in deploying technology to solve development challenges in Nigeria.
Chibuzo Opara, co-founder, DrugStoc (Nigeria)
DrugStoc is a cloud-based pharmaceutical IT and logistics platform focused on eliminating counterfeit drugs, expanding access to pharmaceutical products and improving transparency in pricing for healthcare providers and the product supply chain.
Chibuzo is a health economist and medical doctor with over 12 years of experience in the health sector. He has worked with the World Health Organization, the World Bank, and the International Finance Corporation.
Moulaye Taboure, co-founder and CEO, Afrikrea (Cote D'Ivoire)
Afrikrea.com is the leading "Made of Africa" fashion, art and handicraft online marketplace.
The marketplace has processed more than $4 million in sales across 101 countries and supports merchants from all over the world. After growing up in Mali and working for companies like PricewaterhouseCoopers and Alstom, Moulaye now dedicates his time to building the global infrastructure for African culture.