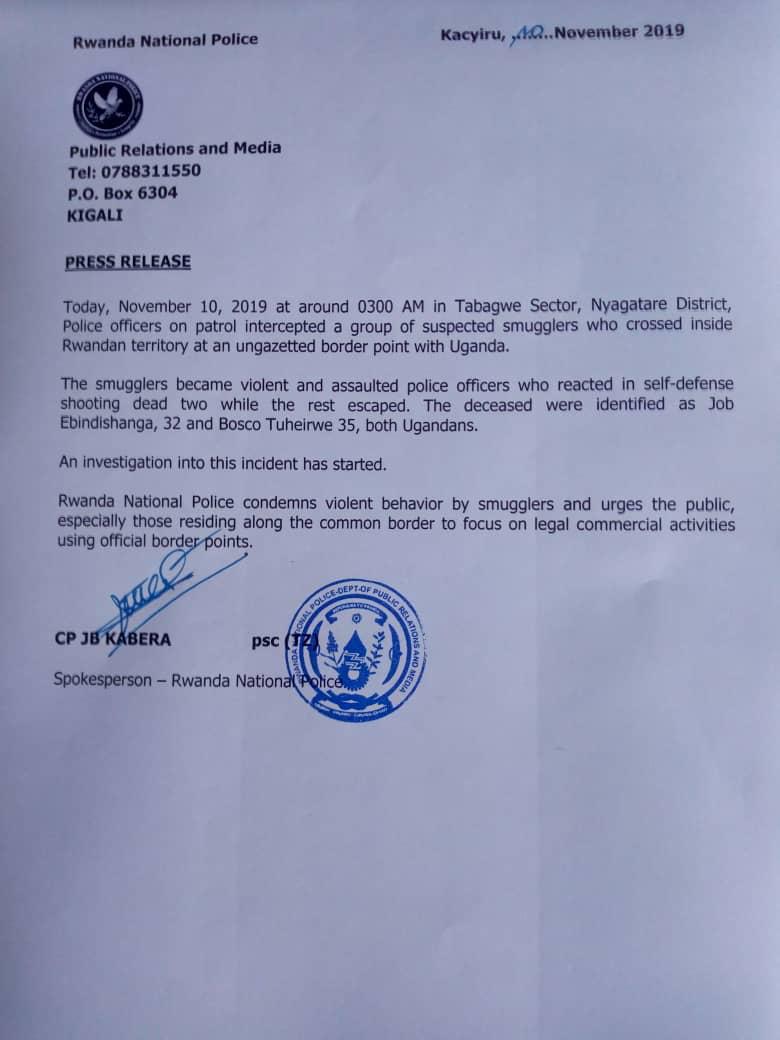 The Rwanda National Police (RNP) says it is investigating circumstances under which two Ugandans suspected of smuggling goods into Rwanda were shot dead on Sunday.
Police said the two Ugandan men identified as Job Ebindishanga and Bosco Tuheirwe were shot dead at around 3am in Tabagwe Sector, Nyagatare district, Eastern Province, after they were intercepted smuggling goods into Rwanda through ungazetted border points.
According to a communiqué from RNP, the two men, who turned violent when approached, were part of a larger group of smugglers that was intercepted by a police patrol in the area on Sunday.
"Today, November 10, 2019, at around 0300 AM, in Tabagwe Sector, Nyagatare district, Police Officers on patrol intercepted group of suspected smugglers who crossed inside Rwandan territory at an ungazetted border point with Uganda,"
"The smugglers became violent and assaulted police officers who reacted in self-defence shooting dead two while the rest escaped. The deceased were identified as Job Ebindishanga, 32, and Bosco Tuheirwe, 35, both Ugandans," the communiqué read, adding that investigations into the incident have been opened.
"An investigation into the incident has started. Rwanda National Police condemns violent behaviour by smugglers and urges the public, especially those residing along the common border to focus on legal commercial activities using official border points," the statement adds.
The porous border between Rwanda and Uganda on the side of Nyagatare district is a common entry point for smugglers and drug traffickers. There are over 80 routes along the Rwanda-Uganda border that are regularly.
Last month, the Inspector General of Police, CG Dan Munyuza said that police officers observe high levels of caution when using arms but said that the officers are prompted to use force when the suspects react violently.
He said each case is investigated and dealt with in line with the law. IGP Munyuza said that when a police officer is found to have used excess force, legal procedures apply.
In June, in the same sector, Pierre Nkerenke, a Rwandan, was also shot dead while smuggling goods into Rwanda. Ugandan media claimed Nkerenke was shot on Ugandan soil, claims which Rwandan authorities denied.
Since February, several border incidents involving smugglers and police have been recorded. The incidents increased with the closure of Gatuna One Stop Border Post. On Friday, President Paul Kagame gave a background of the closure of the border post, stating that it was for the safety of Rwandans who get arrested in their numbers when they cross over to Uganda.