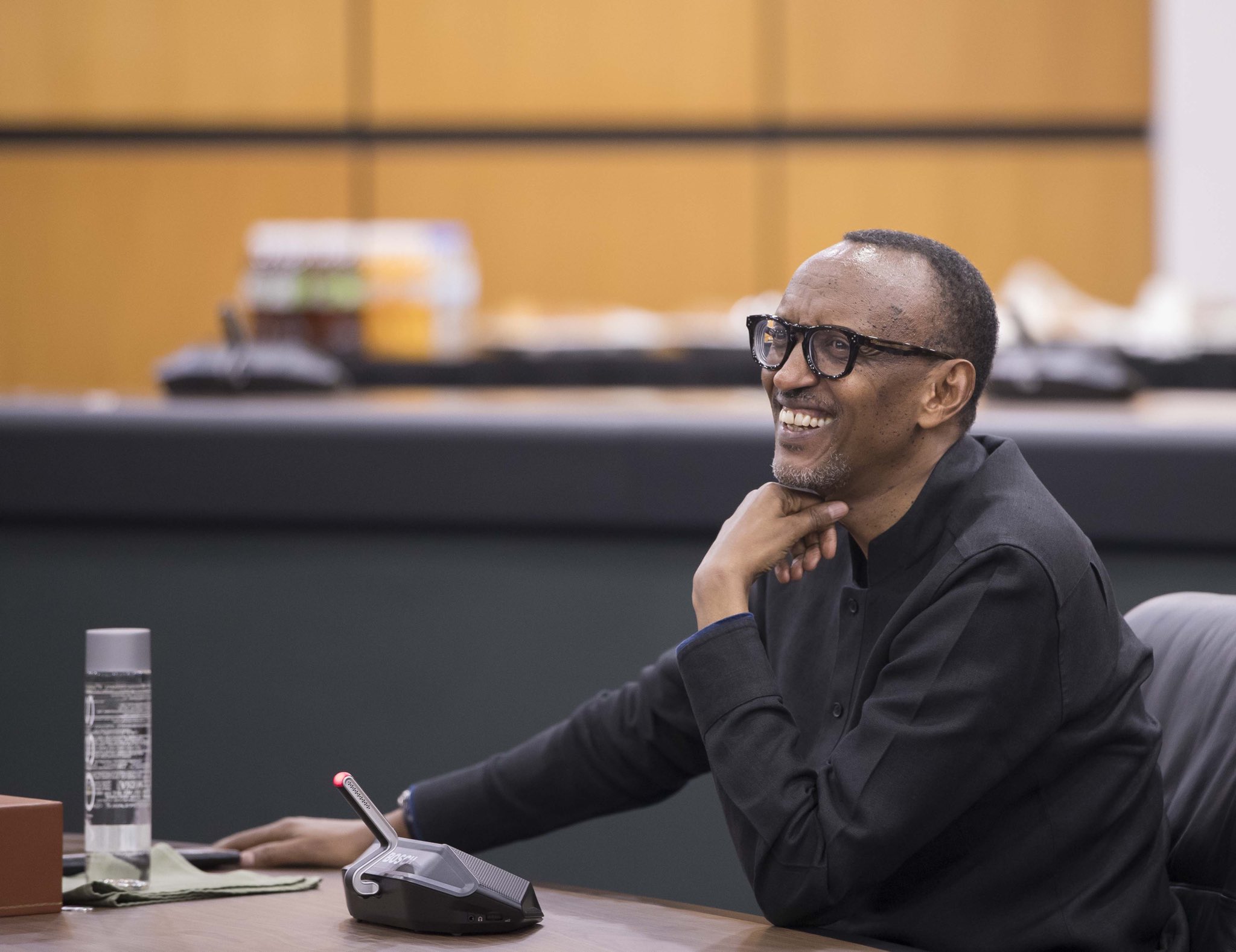 On Friday when President Paul Kagame met journalists, he weighed in on a number of issues which are affecting the Great Lakes Region and the East African Community (EAC) in general, highlighting the need for quick intervention in the situation in Democratic Republic of Congo (DRC).
President Kagame was the first regional leader to speak out against the reported killings of Banyamulenge populations in the eastern part of the mineral rich country in ongoing tribal tensions.
The Head of State said that he has been following the situation in Minembwe, in the southern part of Eastern DRC adding that there is a need to find a way to arrest the situation before it claims more lives.
President Kagame alluded to ongoing negotiations between DRC and neighbouring countries including Rwanda, Uganda and Burundi to work together to eliminate non-state actors in the eastern DRC, saying that the countries need to work together to solve security issues jointly than each one going it alone to deal with its own problem. That way, he said, many lives would be saved.
"Hopefully it [situation] won't continue to take many lives as I've heard it is in the Minembwe areas. If we can find a way of arresting the situation, the sooner the better," he said, pointing out that President Félix Tshisekedi wanted to address the Minembwe problem but it involves many actors.
"The DRC President wanted to address that problem but Minembwe problem involves different groups from different countries, so the best way to address it was not to go it alone and I think they were right,"
There has been widespread outcry to intervene in the tribal situation that has engulfed eastern DRC, with many describing what is going as a mini genocide after indigenous groups of Mai Mai, Babembe, Bafuliru, and Banyindu attacked the Banyamulenge, a Kinyarwanda speaking cattle-herding tribe in DRC.
President Kagame called for the urgency of dealing with the insecurity in the great lakes region, starting with the most urgent problems but then target all causes of insecurity, strongly backing joint operations to rout groups operation in eastern DRC.
President Kagame said there have been meetings of national army chiefs of neighbouring countries floating the idea of working with the United Nations Peacekeeping Mission (MONUSCO) to formulate how to work together and address the insecurity in the region.
"The approach was to look at the whole history of this situation and the non-state groups that have been roaming in the region causing insecurity," Kagame said, adding that joint military operations to get rid of all armed groups are welcome.
On a lull in the East African Community integration affairs and relations between countries, President Kagame said that regional integration efforts remain on course but admitted that the progress is slow and not moving on the expected pace.
"I think the East African Community has made good progress and has continued to make progress but people are right to say the progress is slow. I wish we could move faster myself. I wish we could do over with the many things that still stand in the way of us getting where we want to be,"
"But again integration is not something automatic, integration means different entities coming together for a common cause and naturally people will start seeing things differently. It doesn't matter whether they are right or wrong, that happens, it is natural that people sometimes will bring non issues or create problems where they were not but that is what happens with people and with politics and interests," he said.
President Kagame however said that countries need to understand the importance of working together and each country doing its part, rather than focusing on individual interests. He said the focus should be on taking advantage of the huge market of 160 million people who after all have a lot more in common than the differences they have.
He said that if countries focus on the bigger advantages of the huge market and ironing out the differences, regional integration will remain on course, but admitted that it is not an easy task because things are not straightforward as many would expect.
President Kagame, who is also the current chair of the EAC, said that the Heads of State summit is expected to take place as scheduled in November, adding that more meetings of other organs are ongoing. He said the lack of meetings in itself is not a sign that things are not on track.
Relations with Uganda
Presdent Kagame took time to revisit the relations between Rwanda and Uganda, highlighting that meetings between the two countries have been ongoing, in line with the Luanda agreement, but said there have been issues regarding organising the next meeting that was supposed to take place in Kampala.
He said that the meeting which was supposed to take place in Kampala 30 days after the Kigali meeting of the AdHoc Commission which happened on September 16 never happened, but Uganda later said that it would happen on November 13, but Rwanda only learned of it through the media.
President Kagame said that after learning about the first date in the papers, Rwanda received the official communication –something he said has its own meaning. Later Uganda would move the date to November 18.
"We are ok with that, with whichever dates anybody for whatever good reasons they have, suggest. Or if anyone comes up and says you know what, we don't need any meeting. We will respect that," he said.
The Head of State observed that the meetings were meant to resolve the outstanding issues all the sides had that created misunderstandings as indicated in the Luanda agreement.
He reflected on the origin of the misunderstandings, referring to the ongoing trial of the 25 Rwanda National Congress (RNC) affiliated militia in Kigali during which it was confirmed that the people who are fomenting trouble in neighbouring countries have connections and origins with the otherwise brotherly neighbour.
During the pre-trial hearing, majority of the 25 suspects who include Maj (Rtd) Habib Mudathiru, said that they were recruited in Uganda and transported to Burundi and later Eastern DRC where they underwent military training and planned to launch attacks on Rwanda.
"We talked about that, while before we discussed it. We raised it with Uganda. There was always denying there is a connection on that, until we have people who are actually in custody, who are going through the courts of law and are providing evidence. They have been part of that whole instability that was aimed at us," he said.
President Kagame said the other issue is of Rwandans who have been arrested in Uganda for a long period of time, some of whom have been released and unceremoniously dumped at the border –some for as many as two years.
He said the pattern is consistent, being detained on claims that they are entered Uganda illegally and arrested on grounds that they are spying for Rwanda, which in essence means that Rwanda is interested in knowing things happening in Uganda and not the other way round. He wondered if spying is one way.
"The issue has been, if you have people who you think are there illegally or have committed crimes or are spying, do you really arrest them, pile them up in their hundreds and you fail to put one, just even one, out of hundreds, in the courts of law and charge them?"
"The moment you say you are not able to do that then it tells a different story and this has always been our concern," he said adding that Rwanda has consistently told Uganda that it respects its sovereignty and institutions, which is why it says the individuals should be tried but none of that has happened.
"You are arresting Rwandans and the reasons you are giving don't add up. From the beginning, from the first group they arrested," President Kagame said, adding that Rwanda told Uganda that it knows the origin of the arrests and the groups behind them –the same groups whose members are on trial in Rwanda.
President Kagame linked the arrests to Uganda suspecting that Rwandans who travel to Uganda were the ones who were informing the government of what was going on in Uganda. He said that those who were arrested had turned down efforts to be recruited in those groups hence the suspicion that they were government agents.
He said that for the very reason, Rwanda advised citizens not to go to Uganda after they raised it with the Ugandan government many times because many relatives kept approaching the government over their relatives incarcerated in Uganda.
He said that it is the only advice they could give Rwandans since they had little control over what happens in Uganda.
"The only advice we could give others whose family members or friends have not been arrested is just don't go there but we continued to tell Ugandans that they can come here whenever they want but if they don't want, still we don't have a quarrel with anyone," President Kagame explained.
He also said that following the Kigali meeting, over 30 people were unceremoniously released, bringing them in the middle of the night and dumping them at the border. He however said that around the same period more were arrested.
President Kagame said that the situation got mixed up when Rwanda closed the Gatuna border point to allow construction of the one stop border post, with Uganda now turned the issue to trade, demanding that the border is opened.
He said that while Rwanda said that is ok, it wondered if the border can only be opened one way, since the other people get arrested, but expressed optimism that the mess can be sorted out.
"We should be better than this. We know better than this, we should definitely be better," President Kagame said.