The First Lady of Rwanda, Mrs Jeannette Kagame and Princess of Jordan, Gina Mired have called on men to open gates for women to join high ranks in the health sector without being a threat to the male dominated domain.
Mrs Kagame said that this needs to happen because women already play a vital and significant role in the health workforce and contribution to a healthy community but are not in leadership positions to make decisions that could actually improve well being of all people.
For instance, according to statistics of the World Health Organisation, female health workers make up 70% of the global health workforce, yet only 25% of women hold leadership positions.
In Rwanda, for example, over 50% of civil servants in the health sector are women, yet only 18% are specialists – a far cry from the 82% male specialists and yet more than 66% of Community Health Workers are female – handling more than 50% of health conditions.
Mrs Kagame said that these figures show two sides of a reality – that there are many qualified and experienced women in health, and that they have not been given space to make decisions and voice, clearly informed, opinions on what ought to be the solutions, to the challenges facing the health sector.
Mrs Kagame made the call during the opening of a two day international conference on Women Leaders in Global Health, held in Kigali on Saturday.
She argued that woman often, if not always, are the ones expected to care for the well being and health of her family, be the primary person catering to the health needs of her family but when it comes to choosing her professional path,  a significant few, will be the ones pursuing a leadership position, in a health-related career.
"There is need of diversity at the top; a leadership that is representative of the population it serves, and one that can bring to light – in the most accurate way possible – and address the multifaceted nature of our health needs and aspirations," Mrs Kagame said.
"The truth behind this matter, is that the health sector, like the majority of other sectors, needs to rid itself of its dominantly male perspectives."
In order to reduce this male dominance, Mrs Kagame asked health institutions and enterprises to enable, the mainly female technicians to join the ranks of CEOs and leaders on ground that the intimate knowledge that they possess of their fields, stand to transform the sector as a whole.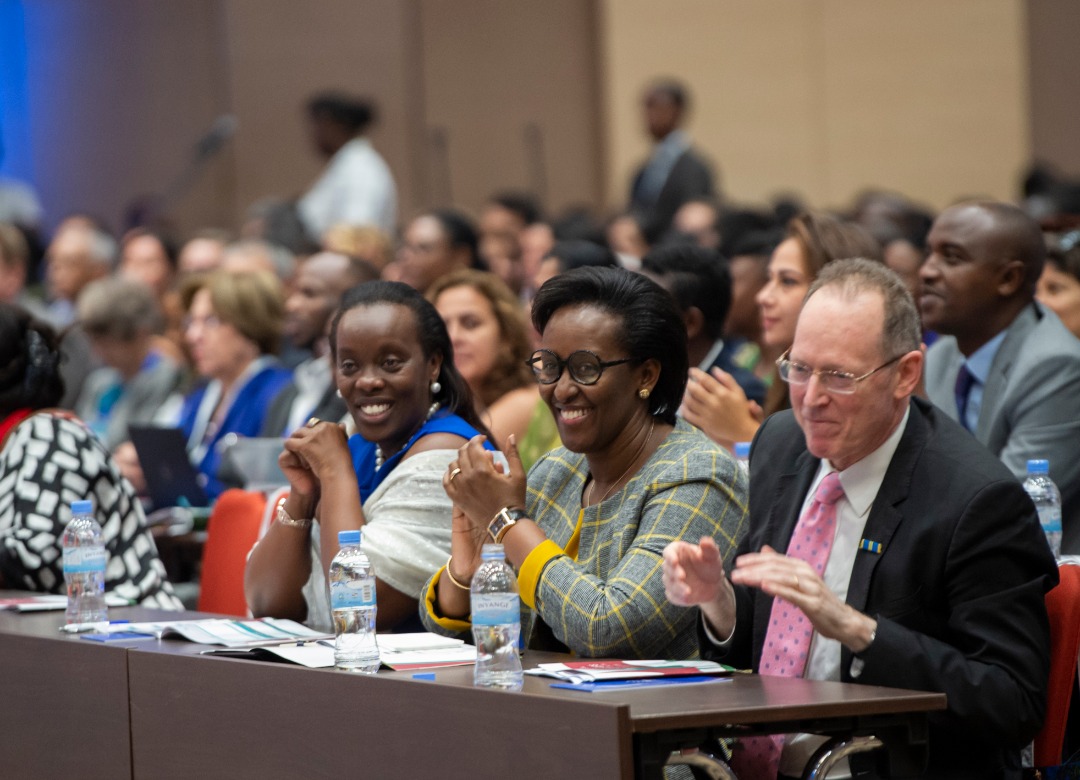 Mrs Kagame proposed a way forward to foster a friendly ecosystem for the woman who has chosen to pursue her calling, even if her profession will require an extensive education, followed by demanding work hours and time away from her family and other social obligations.
She however noted that there is a need to prepare the men to not feel threatened by a growing generation of women seeking leadership roles, and thriving in them.
For instance, she said this can be done by creating and availing opportunities for capacity building, training, especially on leadership, creating strong female networks, from which the next generation of female health practitioners, can get the mentorship, and guidance they need, to take their careers to the next level, and by organising and promoting platforms, such as this conference, that allows those concerned, to genuinely discuss the common challenges, and collectively come up with solid solutions.
To back this, Jordanian Princess Gina said that without addressing the gender gaps in healthcare, the set development goals in health cannot be achieved since women are not only part of the solutions but drivers of the solutions in health for all.
She warned that even if the process of gender equity is still low, except for countries like Rwanda and Kenya, the time has come for tables to be turned upside down and men should be prepared for it in all ways.
"Change is coming my friends (men), whether you like it or not…this be a remainder to the other half (men) because without us you cannot hold up the sky," Her Highness Gina said.
Participants at the conference will spend the next two days looking at how gender gaps can be reduced in the health sector, the journey of women in the health sector, the role of stakeholders in improving women leadership roles in the health sector.