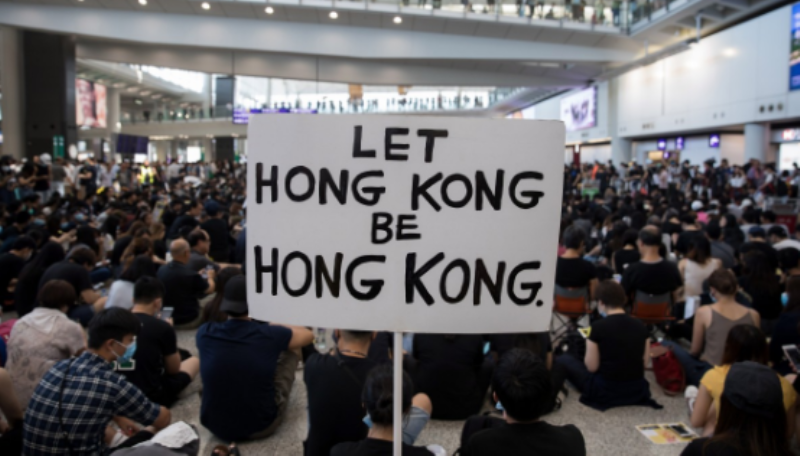 Several days ago, the US President signed a so-called law bill "Hong Kong human rights and democracy act" and the US House of Representatives passed a so-called "Uyghur Human Rights Policy Act of 2019". The two law documents seriously violate international law and basic norms governing international relations, and grossly interfere in China's internal affairs. China is firmly opposed to them.
Those who truly care about Hong Kong Special Administrative Region and Xinjiang Uygur Autonomous Region would ask the question: What is happening there?
Hong Kong has long been known for its free and open economy, inclusive and diverse culture, professional and efficient management, and law-abiding and safe society. It has been honored by the world as the "oriental pearl" and the "fragrant harbour". Since the handover of Hong Kong from the UK in 1997, under the "One Country, Two Systems" arrangements, which is regulated by the Hong Kong Basic Law and has functioned as the cornerstone to maintain the city's security, order and long-term development, Hong Kong has kept stability and prosperity for more than 20 years.
However, since June this year, Hong Kong has been suffering accelerated violent activities. What started as protests to oppose a piece of local legislation has turned into extreme violence, putting Hong Kong citizens' life and property under severe threat and terror, disrupting public order, and gravely challenging the principled bottom line of "One Country, Two Systems".
Due to such violence, from June to September 2019, tourists have dropped by over 3.78 million; profits of tourism, retail, catering and trade fell by about $38.3 billion compared with the same period in 2018. Hong Kong has sunk into economic recession for the first time in 10 years.
Xinjiang-related issues are not about human rights, ethnicity or religion, but about fighting violence, terrorism and separatism. From 1990s to 2016, people in Xinjiang suffered gravely from the above "three evil forces". Thousands of innocent people were killed and injured in the terrorist incidents happened in Xinjiang.
To safeguard national sovereignty, territorial integrity and the people's interests, the Chinese government lawfully fought violent and terrorist crimes and addressed the root causes by advancing de-radicalization, strengthening ethnic solidarity, promoting economic growth and social harmony. Thanks to those efforts, no terrorist attack has happened over the past three years.
Last year, Xinjiang witnessed an increase of 40% in tourists and 6% in GDP. At the same time, people's religious right and ethnic tradition are also fully respected. Xinjiang boasts 28,000 religious sites and 30,000 clergymen, more than many Muslim countries in terms of ratio.
The international community speaks highly of China's Xinjiang policy. Since the end of 2018, over 1,000 representatives have visited Xinjiang, including officials from various countries, regions and international organizations, and people from the press, religious groups and the academic circle. From their point of view, Xinjiang's experience in counter-terrorism and de-radicalization was worth learning from.
In March this year, the Council of Foreign Ministers of the Organization of Islamic Cooperation adopted a resolution which commended China's efforts in providing care to Muslim citizens. In October, at the Third Committee session of the 74th UNGA, more than 60 countries commended in their statements the tremendous human rights progress achieved in Xinjiang.
However, some foreign forces have been selectively blind and deaf to such solid facts, and publicly supported the extreme violent offenders. The two law documents openly backed violent criminals who rampantly smashed facilities, set fire, assaulted innocent civilians, trampled on the rule of law, and jeopardized social order.
Their very aims are to sow discord among various regions and groups in China, undermine prosperity and stability in Hong Kong and Xinjiang, and contain China's growth. But the Chinese people will stand in greater solidarity, and their attempts are bound to fail.
Hong Kong and Xinjiang are parts of China. It's very clear that Hong Kong and Xinjiang affairs are purely China's domestic affairs that should be decided on by the Chinese people and allow no foreign interference. We would like to tell these external forces solemnly that the Chinese Government remains unwavering in its resolve to safeguard national sovereignty, security and development interests. We urge these forces to immediately stop any form of interference in Hong Kong and Xinjiang affairs, and immediately stop adding fuel to the violence.
We call on friends around the world to lend a helping hand to Hong Kong and Xinjiang, support the HKSAR Government and the Government of Xinjiang in fighting against violence, extremism and upholding the rule of law, combat and oppose any words or deeds that interfere in Hong Kong and Xinjiang affairs, and do more things that are conducive to the prosperity and stability in Hong Kong and Xinjiang.
RAO Hongwei is Ambassador Extraordinary and Plenipotentiary of the People's Republic of China to the Republic of Rwanda