The Food and Agriculture Organization (FAO) has said that Rwanda needs to conduct a comprehensive research on effects of the dairy industry on climate change as the number of cows continues to increase.
So far figures show that there are over 1.2 million cows in Rwanda and the largest percentage is composed of the one cow per family program commonly known as 'Girinka' cows.
Global Research shows that livestock residues; methane gas and nitrous oxide contribute to a high impact of green gas emissions with an effect on global warming 28 times higher than carbon dioxide.
Though Sustainable development goals (15) show that animals also have a positive impact on climate change especially in semi-arid areas, the negative effects are also equally the same.
For example according to FAO, dry areas like Kayonza district have benefited positively from animals in improving soil fertility as a result of livestock and animal manure.
"We are discussing seriously how livestock contributes to climate change in Rwanda and a research plan is already underway," said Otto Muhinda, Assistant FAO Representative in Rwanda.
Otto said that the research task will be handled by Rwanda Dairy Development project (RDDP) which already has $65.1 million International Fund for Agricultural Development (IFAD) financial support covering 12 districts.
The RDDP projects intends to benefit over 100,000 rural households, of whom 80,000 are involved in dairy farming and 20,000 in off-farm activities along the dairy value chain.
"The funds are already there and FAO will support the program once discussion are finalized with the ministry of agriculture," Muhinda said.
Muhinda was speaking at the launch of the 1st annual veterinary scientific conference in Kigali held under the theme: "The role of veterinarians and Animal Scientists in addressing Challenges to Sustainable Development"
This research according to FAO will help Rwandan veterinarians to tackle effects of climate change, which is part of the plan for the Rwanda Council of Veterinary Doctors (RCVD) and at a time when the country plans to privatize veterinary services.
According to the RCVD, tackling climate change effects will be possible using the numbers of veterinarians has grown from 100 in 2013 to 3,000 registered members, who will be tasked with educating farmers on how to balance effects of climate with the positive ones.
"We plan on using our veterinarians to not only provide veterinary services, but also train and educate farmers on effects of livestock on climate change," said Francois Xavier Rusanganwa, the chairperson of RCVD.
One of the vets and livestock farmer in Kamonyi district, Dr. Emmanuel Bizimana, told KT Press that the first step is to educate farmers to manage animal residues by having a proper waste storage and using biogas systems.
Bizimana argues that if a farmers manage their animal waste, they can benefit by getting biogas energy and there will be no worries about greenhouse emissions.
"The problem is that farmers have not been taught how to utilize this technology, which calls for privatizing of the biogas programs, so that this agenda can be successful," said Bizimana.
This is proven by a parliamentary field report in September, which showed that though 697 technicians were trained and two stationed at sector and district level, technicians vanished after the installation leaving some resident without skills to operate e biogas equipment, and local leaders couldn't tell who was in charge.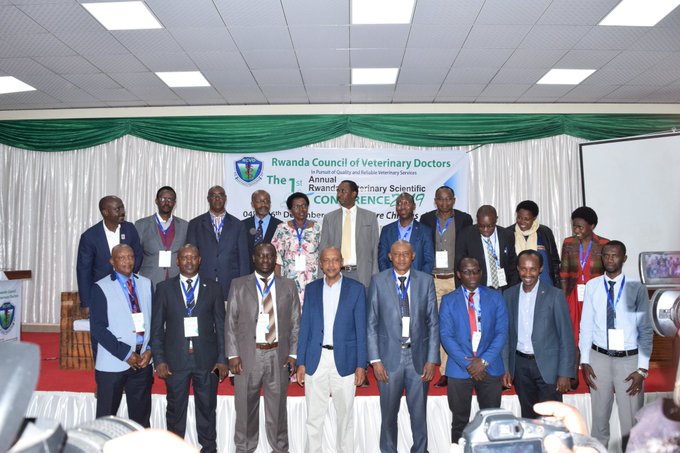 The idea of privatizing vet services come up strongly at the conference and Rwanda Agricultural Board official in charge of livestock, Dr. Fabrice Ndayisenga said that the process of privatizing these service will start soon and the line ministry has already given the directives to do so.
"This will improve vet services but also give all young vets the opportunity to be deployed and employed across the country, to respond to the needs of the farmers," Ndayisenga revealed.
On other hand expert veterinarians, like Dr. Egide Gatari also pushed for a game changer in the way Rwandans feed cows, after it emerged that farmers only collect two to four litres of milk daily, instead the projects of four to six liters per day from the girinka cows.
Gatari said Rwanda shouldn't be using concentrate feeds for cows, because it cannot be monitored by farmers and suggest adding on farmer's package the use forage legumes to feed cows but also help them to plant the seeds on the farms, because it has proven to good result for the farmer's in Kenya.
"One kilogram of forage can replace three kilograms of concentrate, but to make this happen, we want them to be in the performance contracts (imihigo) of local leaders so that we solve this problem milk from girinka cows," Gatari said.
For Dr. Tharcisse Gatwa former Heifer International Rwanda Director, the need to motivate livestock farmers under the girinka program is a missing link that needs to be dealt with by Rwandan veterinarians, arguing that farmers need to see cows beyond milk and fertilizers but as a source of livelihood for the family.