The First Lady Mrs Jeannette Kagame has challenged adolescent girls and young women to be in charge of their own destiny and take advantage of the immense power they have to safeguard themselves from the HIV/AIDS scourge.
Mrs Kagame made the call on Wednesday while addressing a Youth-led session themed "Ending the HIV epidemic among adolescent girls and young women in Africa: What will it take?" at the ongoing 20th International Conference on AIDS and STIs in Africa (ICASA).
The session organized by UNICEF on the sidelines of ICASA was aimed at reviewing the status of Africa's response to the crisis of HIV among adolescent girls and young women, through the eyes of African elders, major institutions on the frontlines of the response and adolescent girls and young women themselves.
In her remarks, the First Lady pondered a question to the gathering, wondering what it will it take for the elders to prepare young girls to face the realities of the world and for the youth to appreciate that only them can be in the driver's seat of your own lives.
"What will it take for you, our girls, to recognize the tremendous power inherent in each one of you, and act upon it?" she asked.
"You are the pillars of our communities. You have the agency to bring about change for yourselves, and those around you," Mrs Kagame reiterated.
The First Lady, who through her foundation Imbuto Foundation, has been championing initiatives to empower adolescent girls said that despite the tremendous potential, girls remain one of the most vulnerable groups affected by HIV/AIDS.
"According to UNAIDS, girls account for three of every five new HIV infections in Sub-Saharan Africa among 15-to-19 year-olds,"
"Adolescent girls and young women are twice as likely to be living with HIV, than young men of the same age," she pointed out.
The First Lady however said there are signs of hope because the number of new, annual HIV infections, among children in Global Plan priority countries in Africa, fell by 43 percent between 2009 and 2013, which is the lowest level since the 1990s.
"In Rwanda, mortality among people living with HIV has decreased by 82% in the last two decades. However, we cannot afford to be complacent. We cannot allow this epidemic to rob us of you, our future leaders and pioneers," she warned, emphasizing that challenges remain.
She said that countries are striving to attain universal health coverage, too many adolescent girls and young women continue to fall through the cracks, urging the international community to assess what is missing and find solutions.
The First Lady said that this is an opportunity to address preconceived notions about gender roles and the meaning of bodily integrity while addressing key challenges that affect young people.
She highlighted inadequate access for adolescents to sexual and reproductive health information and youth-friendly services as well as harmful gender norms and practices as some of the challenges that need to be tackled.
Citing some examples of the work of her foundation Imbuto, she said that they have been working and continue to work to address some of these challenges.
"The 12 Plus project created 'safe spaces' to teach young girls aged 10-12, about their sexual and reproductive health, and to reduce their vulnerability by promoting a savings culture. So far, 30,000 girls have been mentored,"
"Our projects in Adolescent Sexual Reproductive Health have helped over 300,000 adolescents and youth access birth control counseling, HIV and STI testing, as well as gender-based violence prevention services,"
Mrs Kagame said that they are also working to improve communication between parents and adolescents, and to reintegrate teen mothers within their families.
She called for a need to deepen commitment to the partnerships required to bring about sustainable change for adolescent girls and young women.
The session which was moderated by young female leaders from Tanzania and Eswatini discussed ways to catalyse momentum in the HIV response for young populations especially girls, by showcasing home-grown solutions and a broad range of partnerships that can turn the tide of the epidemic for African girls.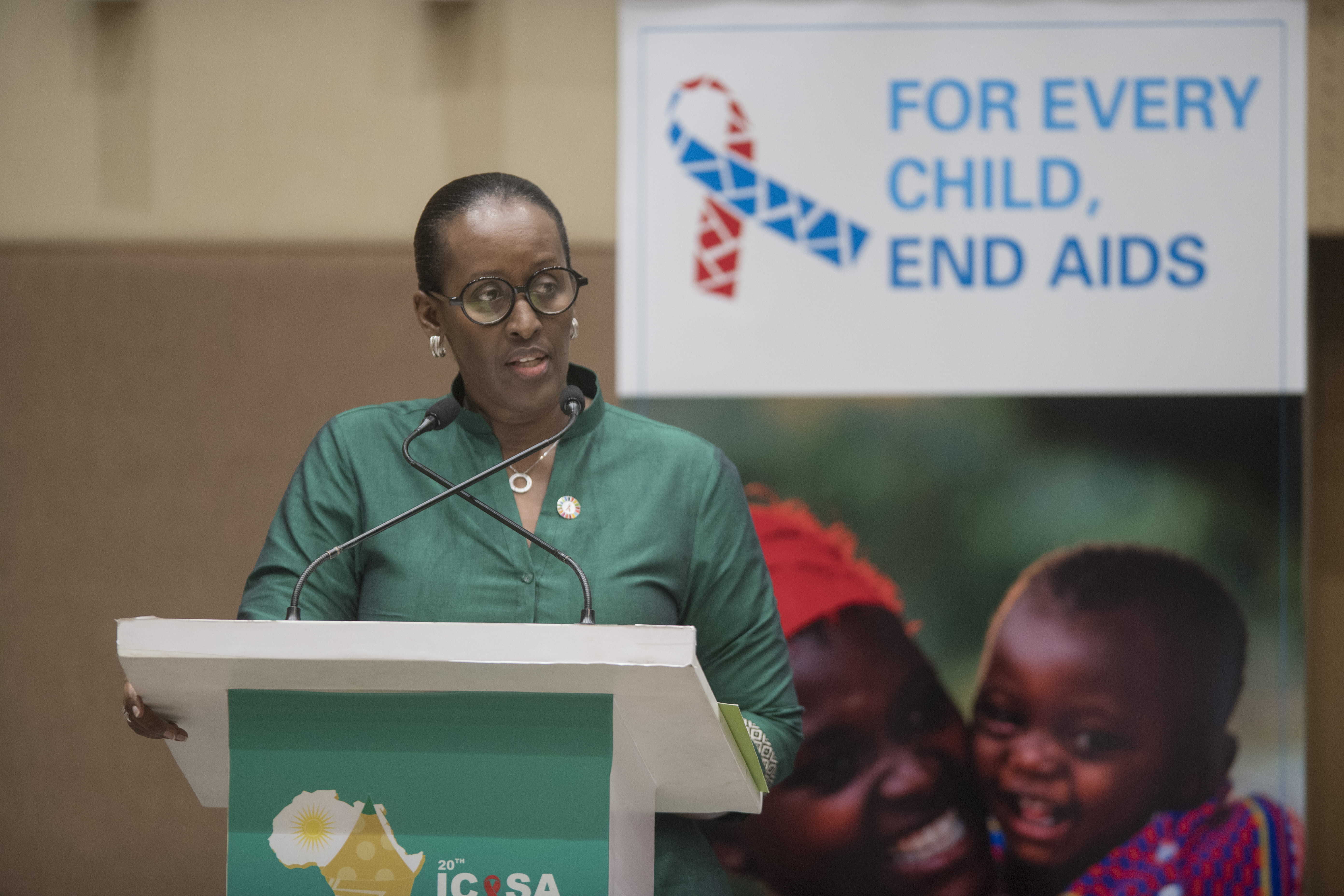 Joyce Ouma from Sauti Skika, a network of young people living with HIV in Kenya, and is turning 23 and lives positively said that adolescent girls and young women face many challenges, from their bodily anatomy to other socio-economic reasons that expose girls to HIV and AIDS.
"Adolescent girls and young women are more susceptible to these problems because of the nature of their bodies and socio-economic factors that lead them to prostitution or trading their bodies for sex,"
"The issue is dynamic, it keeps evolving with time. Government should give us the means and the resources to be in charge of our lives. They should trust us and make us part of the decision making process. Involve us in the process because HIV/AIDS directly affects us," Ouma said.
Dr Landry Tsague, the UNICEF Advisor for West and Central Africa said that young girls and women continue to be affected by HIV/AIDS as the UNAIDS report indicates.
"This panel brought a lot of perspectives from adolescents themselves, young people and the elders. We need to make sure that we demystify information around sexuality and we also need to make sure that young people have access to reproductive health services,"
"We need to make sure that parental consent is no longer a barrier," Dr Tsague said.