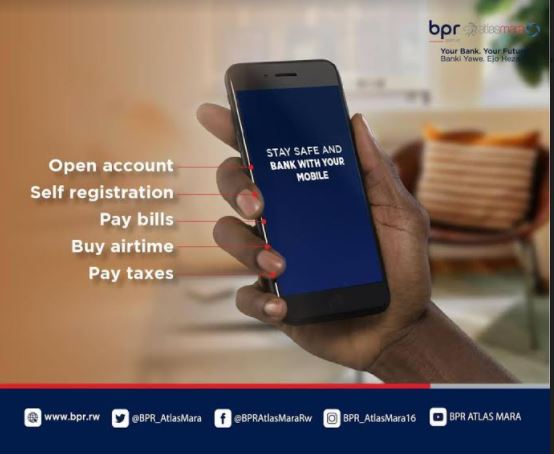 The Government of Rwanda has over the years been promoting the use of cashless transactions as opposed to cash.
With nearly 80 percent of Rwandans connected to mobile phones and about 60 percent able to access the internet, coupled with the New Coronavirus outbreak, cashless transactions have even become more necessary than ever before, to minimise human contact.
Banque Populaire Du Rwanda Plc. (BPR Plc Part of Atlas Mara) has been at the forefront of promoting cashless transactions through BPR Mobile Banking offers, which allow customers to use cashless means on their mobile phones or laptops to access their accounts and do any transaction without having to line up in the bank.
BPR state-of-the-art mobile banking gives clients the freedom to do more with their phones, by choosing to use the USSD code or the mobile banking Application for smartphones and other Gadgets and have access to their bank 24/7 without any hustle.
BPR Mobile Banking is easy to use by anyone as it works on any type of mobile device with no further configurations required. No registration fees and monthly fees are charged on clients.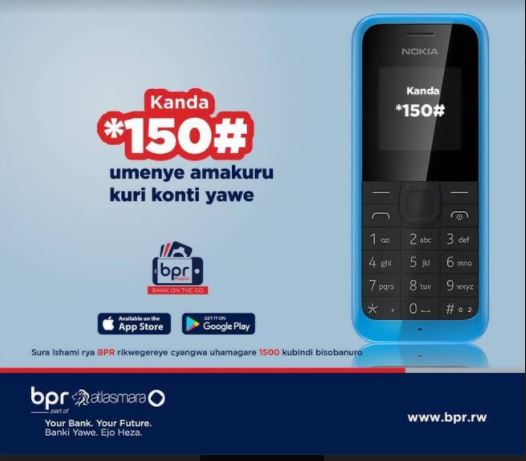 The mobile banking service is very safe and gives customers the flexibility to do transactions at any given time, anywhere.
All you need to have is an active BPR account or a mobile phone connected to a network that is MTN Rwanda and Airtel Tigo.
Clients with BPR accounts can easily register themselves to mobile banking without going to the bank on both the Mobile App and USSD. Those with feature phones can dial *150# and follow the prompts whereas for smartphone users, all you need is data and download the App from Google play (Android) and App stores (IOS).
Once you do that, you can do balance inquiry, you can view the full account statement and mini-statement (last three transactions), conduct Inter-Accounts transfers, transfer funds to BPR account, transfer to funds to Izi cash and you can also transfer to other bank's accounts instantly.
You can also transfer money from your bank account to mobile money account, pay water bills and other bills, TV subscription, pay all RRA taxes, order for chequebooks and debit cards, among other things.
You can send funds on izi cash and send a cash-out code to the receiver to withdraw on only BPR ATMs and Hafi Agents countrywide and send money to your mobile wallet on both Airtel Money/Tigo Cash and MTN Rwanda.
You can also save to the government saving scheme Ejo heza, purchase electricity (cash power), and do airtime top-up.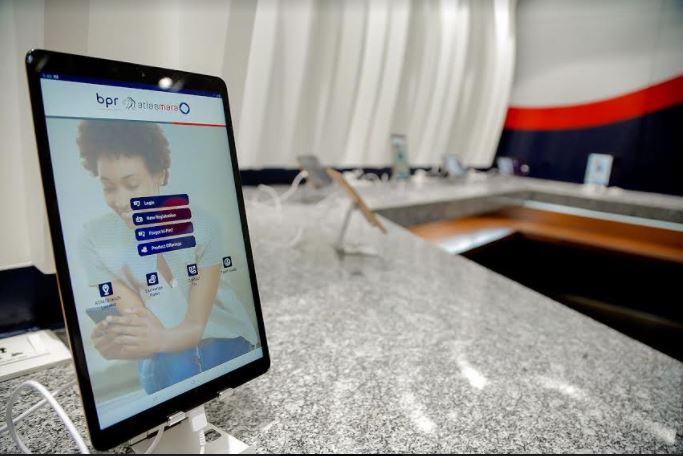 In addition to the services available on BPR mobile banking listed above, customers are able to transact in a more personalized, secure, convenient and cost-effective way and save money and time from queuing in branches.
During this COVID-19 period, more BPR customers adopted the use of digital channels for their banking needs including mobile banking.
The bank has seen numbers in usage and transactions on the mobile banking platform exponentially growing consequently reducing the congestion in the branches.
The costs for BPR mobile banking are relatively affordable. BPR recently reviewed its tariff guide where all transfers to own accounts (other accounts customers have with BPR), pushing to mobile wallets (MTN Momo and Tigo/Airtel Money), buying airtime, Pay for TV subscription (DSTv, Startimes, Canal+), buying cash power, among so many other services, is currently free.