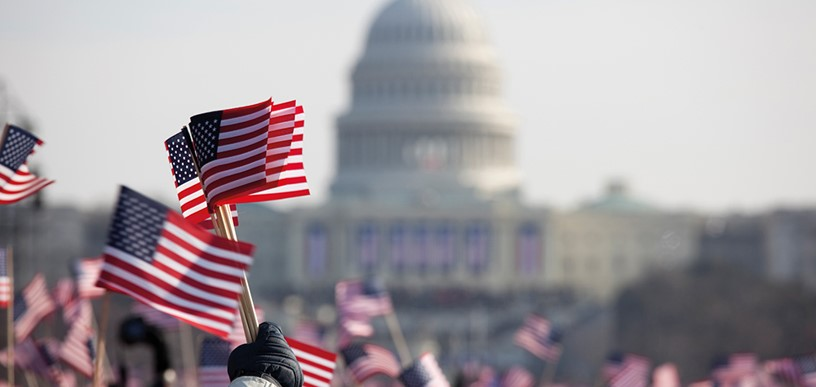 The US election is decided, Joe Biden is to be the forty-sixth President of the United States of America. That is if you believe the forecasting organisation, the Decision Desk Headquarters (DDH) which analyses election results.
According to DDH, the Democratic candidate Joe Biden has taken Pennsylvania, which with its twenty Electoral College Votes, takes Biden total to 273. The absolute majority required for a candidate to declare a win is 270.
Although the call is running ahead of official results, which are traditionally called by the Press Association, it does appear to be accurate. Joe Biden is ahead in the Pennsylvania count, and with 264 electoral college votes already, against President Trump's 214, a win in Pennsylvania would take him beyond the magic 270 total, and to the White House. No one now thinks there is any other likely outcome.
No one that is, except the Trump camp. According to a statement from the campaign's general counsel, Matt Morgan, the election is far from over.
"Thiselection is not over" read the statement, "The false projection of Joe Biden as the winner is based on results on four states that are far from final." But this almost ignores the 264 lead that the Democratic nominee now holds.
The statement goes on to claim,  "There are many irregularities in Pennsylvania, including having election officials prevent our volunteer legal observers from having meaningful access to vote counting locations."
There has however no evidence of any irregularities in Pennsylvania or anywhere else, and the Trump campaign observers have been given the exact same, equal access, as their Democratic rivals. The Trump campaign refuses to say exactly what it defines as "meaningful access."
Against all evidence, Morgan goes on to claim that Arizona will declare for President Trump.
"Finally, the President is on course to win Arizona outright, despite the irresponsible and erroneous 'calling' for Biden by Fox News and the Associated Press. Biden is relying on these states for his phony claim on the White House, once the election is final, President Trump will be re-elected."
The Associated Press, whose projections are generally accepted as accurate, and Fox News, which is proudly leans to the extreme right, and is raucously pro Trump, are both standing by their projections. Other outlets are expected to follow their calls.
It is in truth all but over. Priorities USA, a political action committee, or a Democratic so called Super PAC, has released a statement from its chairman, Guy Cecil, declaring victory for Biden.
"The American people have spoken clearly." reads the statement, "Voters across the country stood up, made their voices heard and chose Joe Biden to lead us towards a better future. This is a victory for every single American – we have restored decency, honesty, and compassion to our nation's highest office…"
Meanwhile, CNN reports that aerial security is already evident over Joe Biden's house, the first trappings of Presidential authority.
Hillary Clinton who was defeated by Donal in 2016, is also clear that the Presidency has gone to her party, and Joe Biden. She remembers the great civil rights campaigner, John Lewis who died earlier this year, before he could see the back of a Presidency that so disturbed him.
Posting a tweet from John Lewis, "The right to vote is precious, almost sacred. It is the most powerful nonviolent tool or instrument in a Democratic society. We must use it," she tweeted,
"He would be Proud today."