The Rhodes Scholar from East Africa for 2021 will be Billy Byiringiro of Rwanda, a communique from Rhodes Trust reads.
Rhodes Scholarship is an international postgraduate award for students to study at the University of Oxford  Established in 1903, it is the oldest graduate scholarship in the world. It is the most prestigious international scholarship program in the world.
Beyiringiro, the scholar from Rwanda, this year broke the record becoming the only candidate from East Afircan memember countries Burundi, Rwanda, South Sudan, Tanzania, and Uganda.
At the same time, he is the very first Rwandan to get this prestigious scholarship since it was estanlished in 1903.
According to the Rhodes Trust, Byiringiro was selected after a virtual selection process due to COVID, the first time in the history of the Rhodes Scholarships when final interviews have not occurred in person.
The communique further reads that Billy Byiringiro will graduate next year with a first-class degree in Artificial Intelligence and Computer Science from the University of Edinburgh in Scotland, where he studied as a Mastercard Foundation Scholar.
Back home in earlier levels of education, Byiringiro attended Saint-André secondary school in Nyarigenge district, city of Kigali where he excelled at National Exams. This was a well succeeded Ordinal Level at  Groupe Scolaire Janja located in Gakenke District, Northern Province.
Already, Oxford is aware that the scholarship awarded to Byiringiro is well deserved.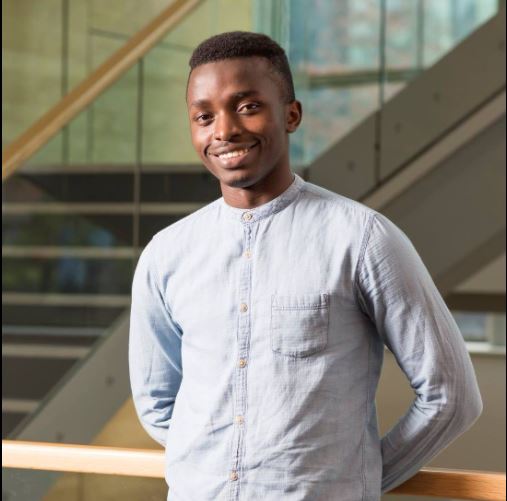 Records indicate that at Edinburgh, he was founder and captain of the university intramural basketball team and also served as Class Representative.
"He is a co-founder of BuniTek, a student-led social enterprise that introduces young people in Africa to new technology through interactive activities. He has interned at a number of tech and software
start-ups in the UK, and was the winner of the Microsoft and Ears IoT hackathon," the communique reads in part.
"At Oxford, Billy intends to read for an MSc in Computer Science and a DPhil (PhD) in Autonomous Intelligent Machines and Systems."
Mauro De Lorenzo, Acting National Secretary for East Africa, commented: "The Rhodes Selection Committee
looks for excellence across academics, personal energy, leadership, character, and a commitment to service.
Billy Byiringiro impressed the committee in all these areas, in the context of an incredibly talented group of
Finalists from all five countries in the East Africa jurisdiction."
" We have selected an incredibly diverse and passionate cohort of Scholars-elect this year, each in their own way exemplifying the Rhodes values. I will be very proud to welcome them to the University of Oxford next year," said Dr Elizabeth Kiss, CEO and Warden of the Rhodes Trust.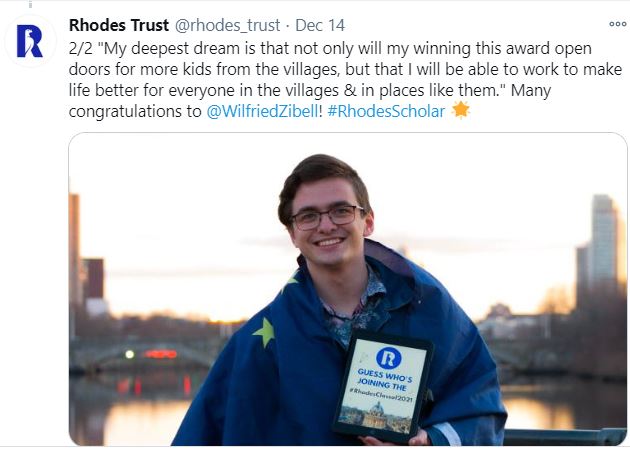 One among other Rhodes Scholarship winnersAdministered by the Rhodes Trust in Oxford, this program awards over a hundred fullyfunded Scholarships each year to students from across the world with proven academic excellence who also show exceptional character, leadership, achievement in extra-curricular activities and a commitment to solving humanity's challenges.
The Rhodes Scholarship was recently expanded to East Africa, alongside other new countries/blocs like China, West Africa, Israel, Jordan, Lebanon, Malaysia, Palestine, Singapore, Syria, and the United Arab Emirates.